Guide to '80s Retro Clothing Style
It's no wonder that 80s fashion trends are taking us by storm again. When we consider that 80's fashion was about health, style, and comfort, it all starts to make a bit more sense.
The 80s aren't necessarily known for the most refined of fashions, but they certainly were a time to experiment with color and silhouette like never before—and get a lot more daring in the way of unisex duds.In the 80s, trousers got tapered and stylish bright colors took the place of drab grays and basic sweats. We accessorized with overblown graphics and ankle-high boots and sneakers.
For your 80s retro clothing inspiration, look to series like Miami Vice and Magnum P.I. for the most popular eighties styles. Bomber jackets in leather or twill, pastel colored tees, and cardigan sweaters were all details that 80s men didn't take lightly. These were staples of the decade, and many of these pieces can be used to shape your own look today.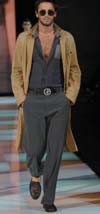 Eighties jackets were boxy. There were button-up styles modeled after Civil War cavalry shirts that were popularized by bands like Adam and the Ants, as well as the ever-popular baseball coat, worn extra-tight.
Layer a coat with your essential '80s style tee: the polo shirt. It was available in every color—bright pinks, bold reds, and strong greens were all '80s essentials. The most successful eighties designer was Ralph Lauren, who sold his products in almost fifty retail shops and over a hundred and thirty department store boutiques. "Pop" the collar of your polo up high to give your shirt some real eighties flair.
Bright neons and highly stylized prints are found everywhere, including urban and street art-inspired tees and accessories. The 1980s used dusty pastels and even touches of sparkle with large cartoon-like pictures. If you're the type who collects nostalgic or cartoon tees, going for an '80s retro style will give you an opportunity to break out all your bold logo shirts. Pair them with your favorite jeans for a casual feel with new retro impact.
An easy way to add to your 1980s look is in the accessories. Shoes often had a oddly Victorian look, coming up to mid-ankle length with lacing. Our still much-admired Converse sneaker high-tops were essentials in the early part of the decade, and from post-1985 we saw basketball sneakers like the Air Jordans. For your own eighties touch, wear your favorite Chucks or go for white velcro sneakers.
As exciting as '80s looks are, don't go overboard. Too many layers and accents drown the look you're going for. Find a few accessories that you really enjoy, and wear, wear, wear them. They will be an undeniable nod to fashion of the era, but you won't look confused or sloppy.