And The Oscar Goes To…
Of all the events about which there is much ballyhoo and hullabaloo, the Academy Awards really takes the biscuit. 41 million people tuned in this year, equivalent to the population of Argentina. For an event that has so little bearing on the lives of those watching, it is certainly extraordinary; film industry back-slapping and back-handing is hardly the bread and butter of a meaningful existence. However, the punters seem drawn to the spectacle year after year, not least for one of its early sequences – the famed 'red carpet arrivals.'
Thousands of people are squeezed into the street outside the ceremony's venue, screaming for the stars – come rain or shine. Security staff fiddle with velvet ropes, cameras flash in expectation, reporters hyperbolise and finally the limousines, which have trundled along at a funereal pace, release their hand-waving celebrated passengers to a cacophony of noise.
The apogee of this anticipation is the sight of silver screen stars decked out in glittering gowns and borrowed gems; a catwalk of prom-dresses that range from the sleek and chic to the truly absurd. In between the teeth-flashing females are the dark figures of Hollywood masculinity; most wearing black tie, the odd few favouring outfits that belong at board meetings.
The women are, naturally, the focus of the camera lenses; having spent hours preparing for the rigours of the red carpet, they make the most of their moment. The men, though not neglected, are merely asked "Who made your tux?" It is a matter of sad predictability that the answer is invariably "Armani." The male models on the world's most watched catwalk show are no uniform group of 'boys.' They are one of the most representative collections of men; from the short and fat to the tall and lean, the impossibly attractive to the downright ugly. And the variation does not end there. Whilst it seems, from the glossy photographs in my compendium on the Academy Awards, that 'old Hollywood' ceremonies were occasions at which nearly all men and women dressed with a considerable level of elegance, these days, the right thing is done by fewer and fewer men.
Red Carpet Winners
And the Oscar goes to… Tom Ford
Tom Ford was, unsurprisingly, one of the most elegant gentlemen on the red carpet. Not only sporting a subtle hint of pocket square, but also a tasteful buttonhole, Mr Ford was a splendid advertisement for his own brand. His jacket was shawl collared, perfectly tailored and was worn buttoned which accentuated the quality of its shape.
Nominated: Ryan Reynolds
While not as recherché as Mr Ford, Ryan Reynolds was comparatively dapper in a single-breasted peak lapel number. No accessories adorned the actor but he cut a sleek figure on the carpet thanks to his physique and a decently cut, and buttoned, dinner suit that, mercifully, avoided vulgarity. A small bow tie that appeared to be a clip on was the only let down.
Nominated: Colin Firth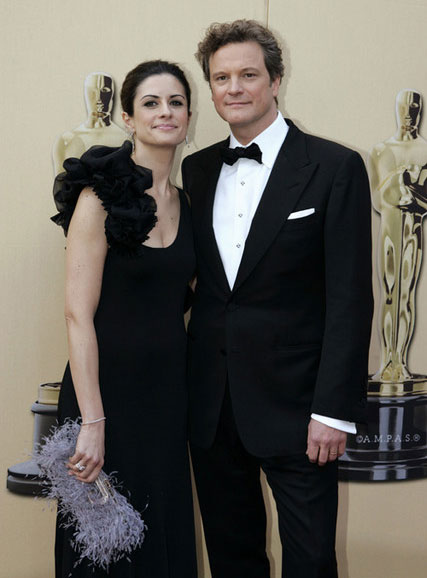 It was fitting that Tom Ford's leading man, though evidently not 'single', represented the designer as well in the sartorial stakes as in the theatrical. His dinner suit, Tom Ford naturally, was similar to his directors. Firth looks good in a properly cut suit – his tall frame is flattered by a properly accentuated waist. His bow tie, undoubtedly hand tied, was charmingly imperfect. The subtlest 'old Hollywood' hint of white poked out of his breast pocket.
Red Carpet Losers
And the Razzie goes to… Jason Bateman
I had expected to award the Razzie to someone with a sheeny necktie like Zac Efron or Jeremy Renner. The former is too young to judge too harshly and, like Taylor Lautner, made a decent effort considering his unremarkable, teeny everyday wear. It would be too cynical and somewhat unfair to criticise those youths who were, no doubt, feeling extraordinarily lucky to be pacing the crimson pile.
And so the award goes to Mr Bateman for one of the laziest 'dinner suits' I have ever seen. If he were a penniless student who did not possess black tie and could not afford rental, he would be excused. As it is he is a successful actor with plenty of money and time on his hands. His suit, for it is certainly no 'tuxedo', has a skinny notched lapel, oversized arms and has a disturbingly tacky sheen. His bow tie, evidently a clip on, attempts to out-sheen the suit and though his inclusion of a pocket square is to be applauded, his shoes look like they've been borrowed from a sixth former.
Nominated: Robert Downey Jr
It's sad to include Downey Jr as he is clearly having fun with his clothing; for the premiere of Sherlock Holmes he wore a fedora and a three-piece suit. However, as much as he is to be applauded for such a triumphant return to form, this celebratory outfit is awkward and, though interestingly whimsical, clownish in this context. Had the bow been smaller and self-tie and perhaps instead of wearing what appear to be Vans, he could have worn evening pumps (now that's a real statement Downey) with light blue silk socks, he could have run away with the Oscar.
Nominated: Matt Damon
Considering the bucks at his disposal, you'd think that Mr Damon could afford to purchase a suit that actually looks good on him. As it is, he is attired in the sort of thing people who don't care about clothes hire from Moss Bros to jeer, jest and vomit in. The lapel is sheeny-shiny, the suit is distractingly boxy, the tie is a satin clip-on and he looks like he picked up his clumpy dress shoes from GAP. Unfortunately, though he is rather different from them in taste, he looks a lot like the rest of the anonymous Hollywood-hunk crowd; uncomfortable in black tie.