Style Icon: Sir John Steed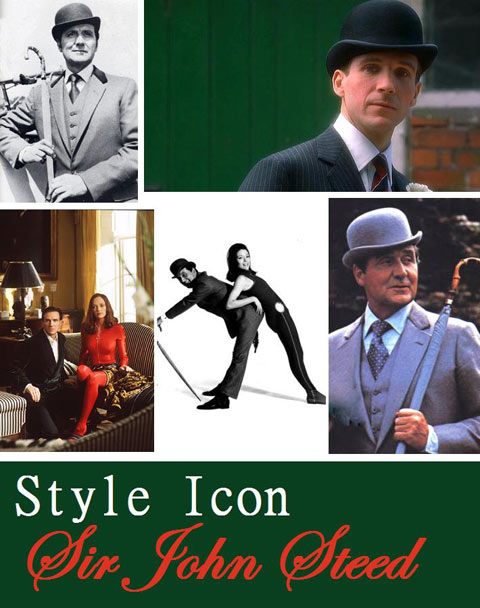 Of the most celebrated fictional secret agents, John Steed (later knighted for services to the country) is one of the most beloved. While Bond is the womanising, martini-swilling superman, Steed is loyal, gentlemanly and resolute. While Bond carries with him the feint musk of misogyny, Steed's estimation of Emma Peel leads us to believe he has a rather different view. Of course, their similarities are many – improbable hand-to-hand combat skills, an irresistible charm and a reputation of sartorial elegance.
However, Steed's style is far more decorative than Bond's. Steed often wore strollers – a short jacketed version of morning dress – and in the television series, a bowler hat. His umbrella, slim and whangee handled, concealing a lethal sabre, was ever present. He sometimes wore buttonholes. It was Steed, far more than Bond, who was the picture of English elegance. Even Fleming's idea of Bond, a dream that needed to be tempered for obvious reasons of credibility, was staid in comparison with the character so brilliantly portrayed by Patrick Macnee. "Englishness" I was told by my grandfather's Resistance veteran friend, "is elegance and eccentricity. You are not afraid of the world enough to avoid being yourself." Remembering this neat little statement put me in mind of many gentlemen; Prince Charles, the Duke of Windsor, Noel Coward – men who seemed to marry eccentricity and elegance with ease and grace. Steed is the textbook example of this type; he is the model of Englishness, to some the very idea of Britishness.
Though he was sometimes forced to work undercover in a variety of outfits, many of which were of decent cut but questionable aesthetic, Steed always returned to his Savile Row worsted and Lock's bowler. It is interesting to note that among contemporaries, Steed has a reputation as a dandy. To me, Steed has always been too well-dressed to be considered a dandy. His metier could not permit too outrageous or too decorative a wardrobe (though he is certainly more ornate than Bond), his suits are representative of a bygone fashion and naturally, his bowler adds an antiquated Edwardian touch to his capers in and out of Swinging London, but he is far more conventional: Austin Powers he ain't.
Anyone looking to ape, or plagiarise, the classic Englishman – in wardrobe, conversation and manner – could do far worse than Steed. Sadly, they'd be representing a category of gentleman in general decline; there are hardly any Steeds left. Cynics point out that Steed was merely a cartoonish nod to the George W Banks era of Victorian born gentlemen; that we should never see the likes of him again is merely a reflection on such gentlemen's awkwardness and unsuitability for our modern world. I conceal pangs of regret when in audience to such slights; I am of the unfashionable opinion that gentlemen like Sir John, with their sense of duty, their optimism and elegance, are precisely what the world needs.