9 Major Men's Hair Trends For 2023
A celebrity hairdresser details the key styles you need to know in 2023. There's options for every hair type.
It's true that trends aren't what they used to be. Whereas once upon a time the catwalks, the premier league football pitches and the red carpet dictated what cuts to ask for in the barbers – here's looking at you curtains, frosted tips and undercuts – now the trend is to work with the hair you were born with. So, if it's curly, embrace it. The same applies to thick, fine, afro, wavy or even a receding hairline.
That said, if you do like to keep your hair on point and are keen to change your style on a regular basis, these are the cuts to make a beeline for. As for celebs in the spotlight who are getting it right: "I'd suggest looking at Tom Grennan for curls and movement, George Ezra for a longer sleeker style and Roman Kemp for texture and that natural, dry rougher finish," says celebrity hairdresser Luke Benson. "If you want any over 40s inspiration, David Beckham, Brad Pitt and David Gandy remain at the top of their game when it comes to switching up their styles."
Want to discover what to ask for next time you sit in the chair? These are the biggest men's hair trends for 2023 and beyond.
The wolf cut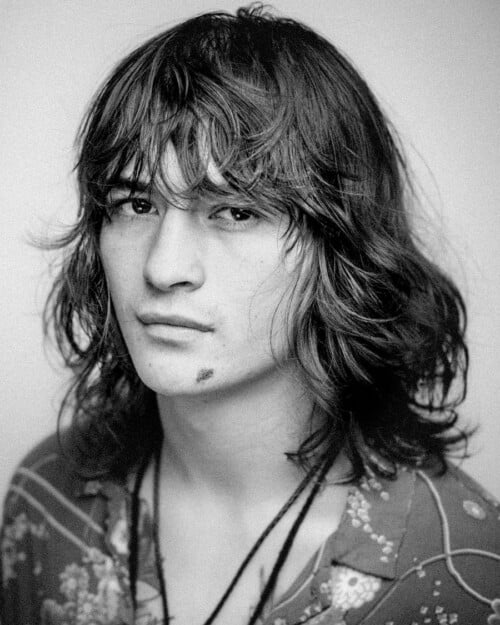 Consider this the modern-day mullet. Slightly more wearable than the long, in-your-face 80's take, it's about "[keeping] length at the sides and back and embracing texture through the top," says Luke. "Look at Paul Mescal who has his own version going on."
Texture sprays, sea salt sprays and volumizing dusts that don't weigh the hair down are key when it comes to styling the wolf cut. Apply roughly using your fingers to create movement and definition.
The natural fade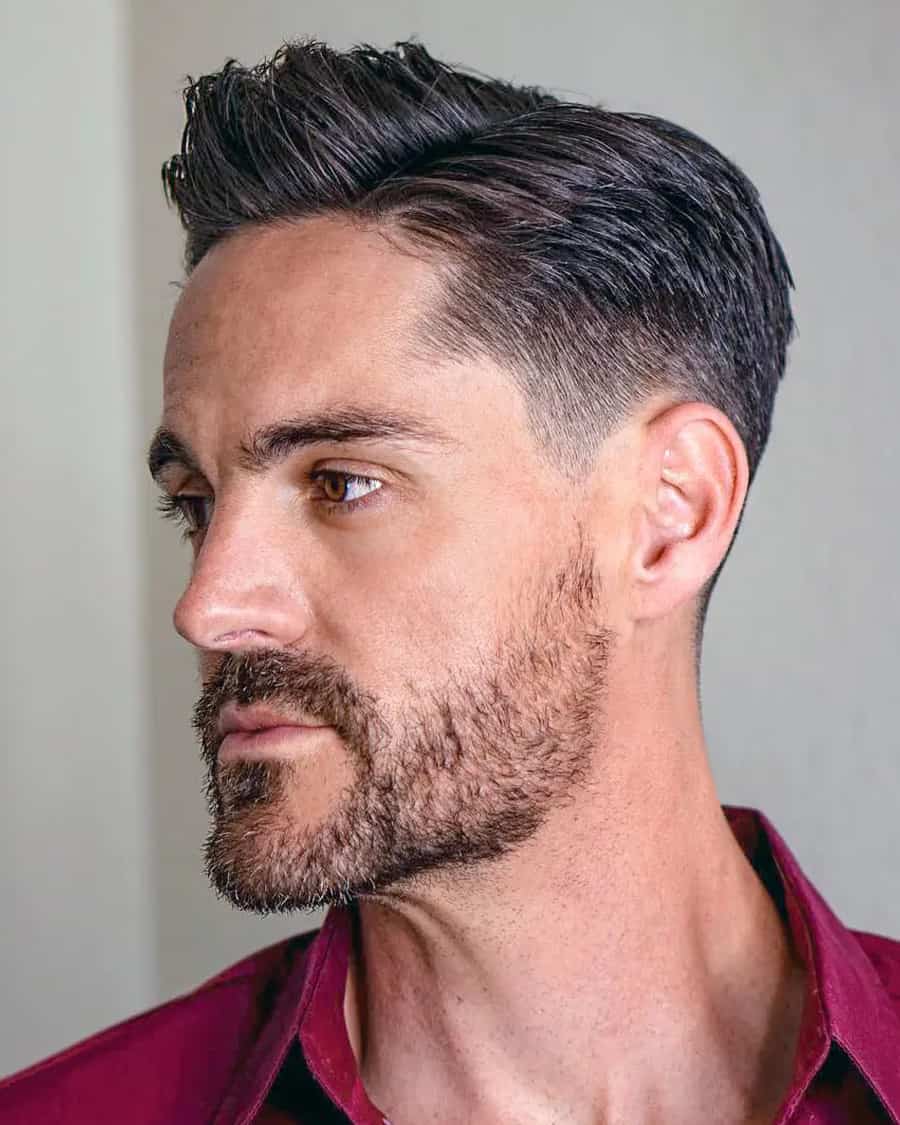 There's a move away from higher maintenance, super-short and extreme fades towards natural tapers and scissor-cut sides, which have a more authentic feel.
Starting the fade slightly lower down the head (think a low fade or temple fade) and allowing it to look slightly 'grown out' makes for a relaxed vibe that complements most face shapes and hair types. Not only that, it also requires much less upkeep and barber trips.
Matte finishing products are your friend here – try a clay or pomade that you can work through the hair with ease to create a natural, effortless finish.
Curl collective
Great for curly or afro hair, this style keeps the curls compact and neat on top while a low fade ensures it looks sharp and dapper at all times.
"Using products that enhance this look is key," says Luke. "I like a curl cream for a defined texture or a salt spray to give a beachy texture."
How you style the hair is also important. "Air drying the hair and letting it do what it wants to do on top is the best approach," says Luke. "You'll get away with it because the back and sides are taken tighter, which prevents the overall silhouette from becoming too wayward or messy."
The natural choice
Taking the essence of the previous look, it's time to fully embrace what God gave you. "A good cut that works with, and not against, the natural movement of the hair is a huge trend right now," says Luke.
What this means is you need to ask your barber to scissor-cut your hair to emphasize its natural texture and direction, allowing it to do as it pleases. It's another easy-to-maintain style that gives an effortless, almost nonchalant feel but has the flexibility to look groomed and manicured if the shaping is done well.
The same applies to black and afro hair – allowing the curls and spirals to fall naturally is the only rule here.
High-shine hero
The wet look isn't for everyone and it takes a certain aesthetic and style to pull it off. But if you have thick, dark hair that will reflect the shine so it looks glossy and 'wet', it could be the update you're looking for.
The hair doesn't have to be worn flat to the head either. Yes, you can slick it back but you could also add a side parting, let some of the front sections hang down (a la Jack Grealish), style it into a modish quiff or drench your curls so you look fresh from the shower.
As you might have guessed the secret ingredient here is wet-look products such as gels and pomades, as well as a good comb.
Bit on the side
The side parting is a classic men's hairstyle that never goes out of fashion and a sophisticated look that can be adapted to all ages and hair types.
In 2023 though, it's about a longer length and creating more of a side sweep – a bit like Leonardo DiCaprio in his Titanic era. Leaving the sides longer or tapered rather than adding in a fade also creates more movement and gives you the freedom to brush it back and/or tuck it behind your ears.
A hairspray will be your go-to here as it will help provide the all-day hold you need.
Spike central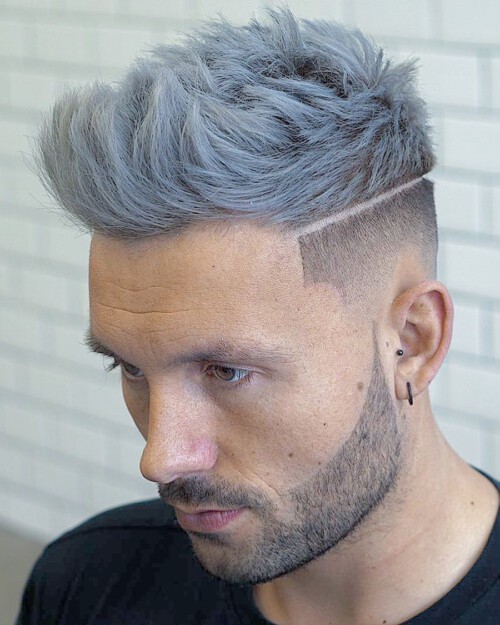 If you've been there, done that with spikes in the 90s, fear not, this is not the same. We repeat, not the same.
That's right, there's no slathering of gel or frosted tips here, just texture, height and a matte finish that's flattering and far more natural looking. Ideal for those with thick, straight locks, it's best to go for short, neat spikes (think a modified faux hawk) and then dial up the drama with a fade on the sides.
To style, apply a root powder to damp hair then blow dry upwards with the help of a vented brush. Apply a matte, high-hold clay or putty and then give the whole thing a liberal dose of hairspray. Seems a lot, but you don't want your style to go limp halfway through the day.
Braids with fades
A style that Drake has been sporting of late, this is all about intricate braiding through the top sections with – you've guessed it – a fade on the sides.
Whether it's cornrows, box, zig-zag or Dutch braids, the fade creates a stark contrast and helps to show off the plaited artistry.
This is a real statement style that will garner double takes and compliments everywhere you go when executed correctly.
Creative color
"Colour enhancement is a fantastic way to update your style, whether it's a full bleach or a pop of color to detail movement in the haircut," says Luke.
In particular, it's platinum blondes that are appealing to guys this season. While most experts are chalking it up to Ken's (Ryan Gosling) white blonde hair, it's also a good base for being experimental. So if you fancy toying with some blue, red or even a pastel wash, bleaching all over is the place to start.
Buzz cuts, Caesar cuts and textured mops are good styles to ask for if you're keen to dabble with some dye.