How To Style Thick, Wavy & Unruly Men's Hair
Thick, wavy hair can be a blessing and a curse. Our expert styling guide will ensure your locks are kept under control and always look their very best.
Thick, wavy hair is a pipedream for some men but for those who have it, it can be a both a blessing and a curse. Often more difficult to maintain than fine or straight hair, it can require more trips to the barbers, multiple styling products and the patience of a saint when it comes to getting ready each morning.
The good news is that once you find a hairstyle that suits (and will control) your specific hair type, it becomes easier to manage, looks consistently good and will help to define your overall style.
Read on to discover everything you need to know about styling thick, wavy and unruly hair, including the best cuts for each. You can thank us later.
How to style thick hair
There's no denying a head full of thick hair is the holy grail for the majority of men, particularly those who are dealing with a receding hairline or male pattern baldness. But to get it behaving itself and sticking to your desired style requires some prep work, because know this – what products you're using can make or break how your hair looks, performs and feels.
You might have noticed that thick hair has a tendency to become drier and can fall victim to split ends, especially if you use brushes and hairdryers to style it. Therefore you need to counteract this with shampoos that contain oils to smooth (they won't make your hair greasy) and hydrating ingredients to keep the hair cuticles plumped up and healthy. This will also help to prevent frizz and any 'pouffiness' you might experience.
Styling-wise you need formulas that give hold without adding extra volume so steer clear of mousses, dusts and root powders and opt for clays, pastes and pomades. Hairspray can come in handy as well to provide the hold you're going to need to last the day.
Best men's hairstyles for thick hair
Want to keep those luscious locks of yours under control and behaving. Try one of these barber-recommended cuts.
Pompadour or quiff
A timeless classic, the pompadour isn't the easiest hairstyle to maintain, but done right it works (and looks) a treat with thick men's hair. The key is to take the back and sides shorter to prevent the style becoming too wide (the dreaded 'mushroom' effect) and then embrace the natural height and volume your hair has through the top section.
To ensure it doesn't flop, your barber should keep the front longer than the back. This gives the style the necessary support structure when you brush it back, stopping it from falling down or to the side from the weight of the hair.
A hairdryer will be your best friend or worst enemy with this style; too much hot air will dehydrate the hair causing flyaways and frizz. To avoid this pitfall, keep it on a low or cool setting and add a styling crème when your hair is still damp to guide the hair into place and keep it smooth. Use a brush or your fingers to position your pompadour or quiff where you want it and then set with a hairspray.
Caesar cut
Similar to a French crop but with a short, blunt fringe, the Caesar is ideal if you don't want to go as short as a military-style buzz cut or even a high and tight.
A great option if you have little time for upkeep, it's defined by short hair on the back and sides and a longer length on top that is pulled forward to rest on the forehead and accentuate that full, thick fringe. It's then up to you whether you want to keep the top section messy and roughed-up or smooth it down.
A little matte clay or paste run through the hair is all it needs, making it a breeze to style each morning.
Side parting
Helping divide the weight of the hair into two, the side part is a sophisticated style that can be combed into place when the hair is wet. This will also help train your hair to fall in that particular direction so the more you do it, the more natural it will become.
There are multiple ways to style a side parting. For a sharp, polished aesthetic, take your side part further over and use a pomade to add a sophisticated shine reminiscent of Don Draper. For a more laid-back approach, part the hair just off centre, creating a modified middle parting. This works particularly well for wavy hair and for those with longer locks that can be tucked behind the ears. Those looking for a more contemporary finish can try a comb over fade, taking the sides high and transitioning down to skin to create a striking contrast.
Product wise, a gel and hairspray works wonders if you like a high-shine or wet-look effect. For a more undone look, a strong hold matte paste worked through the hair from root to tip will keep it under control without looking too precise.
How to style wavy hair
The first thing to distinguish before you sit yourself in the barber chair is: do you have wavy hair or do you have curly hair? Because they're very different. Whereas curls are tightly coiled, waves are not – they're far looser, which means you can consider adding things like layers into your style to stop hair flattening or becoming weighed down. Try the same thing with coils and you could end up with a dreaded 'triangular' silhouette.
Air-drying often works well with waves as it allows the hair to fall and sit in its own shape, but you could also use a hairdryer with a diffuser to enhance the natural formation – just make sure you look for control creams and smoothing serums to stop your waves going awol.
There are also specific shampoos designed to boost curls and waves so if you want to up the ante and help support your spirals, invest in those too.
Best men's hairstyles for wavy hair
When styling men's wavy hair, the key is go with the flow and not fight your natural hair patterns. These cuts embrace the waves.
Mid-length waves
Wavy, mid-length hair is a classic go-to. Timeless, relaxed and natural, you can push it back, tuck it behind the ears or just leave it to do its own thing. Add a parting – middle or side – or don't add a parting, there really are no rules except that you just need your hair to skim your brows and cover most of your ears.
To enhance the texture in a controlled way, products like salt sprays and texture creams will be your ammunition for getting it right. Note that wavy hair has a tendency to become dry, so it could be worth adding in a small drop of oil too.
Shag hairstyle/textured mop
The clue's in the name. Leaving hair dishevelled and naturally textured, the length of this cut tends to be kept the same, with scissors being used to add texture through the ends, rather than via cutting in layers.
Curl cremes will help define the waves and keep frizz at bay, then all you need to do is let hair air-dry. However, if you want more of an 'organised chaos' vibe, use a diffuser to create thicker 'clumps' of hair that fall in different directions.
Short back and sides with fade
Just because you've got wavy hair it doesn't mean you can't embrace a short, back and sides – or at least a version of it.
Combining a short, neatly cropped top section with a low fade on the back and sides is a great way to emphasise naturally wavy or curly hair while taking the bulk away so it looks smart and well put together.
Look to increase the definition through the top by applying a texturising paste or cream through it – simply rub it into your fingers and then run them through your hair to crease the desired separation.
How to style unruly hair
Double crowns, cowlicks, frizz – there are a multitude of reasons your hair can be labelled 'unruly', but there are ways you can keep it under control and stop your hair looking wild and unkempt.
First, identify the issue: if you have a double crown, let your barber or hairdresser know because it means they will have two centres of growth to style around. A cowlick on the other hand is a small section of hair, usually around the hairline, that goes against the general direction of hair and could show itself as a flick, tuft or quiff.
Then there's frizz, which can be a side effect of dry hair, damage (from heat, hair dye or lack of care) and friction – things like when you get out of the shower and rub your hair with a towel, pulling beanies on and off or sleeping on rough pillowcases. It sounds crazy but they can all have an impact on how well behaved your hair is.
Product wise, it isn't a one size fits all. With unruly hair, it comes down to assessing the problem and then finding the right solution. As a general rule, smoothing creams, leave-in conditioners and dry shampoos can help because washing the hair less will encourage the natural oils to weigh down the roots, almost 'taming' the hair.
Best men's hairstyles for unruly hair
Bedhead hair isn't always 'the one'. These cuts will help disguise unruly growth patterns while whipping your locks into shape.
Textured crop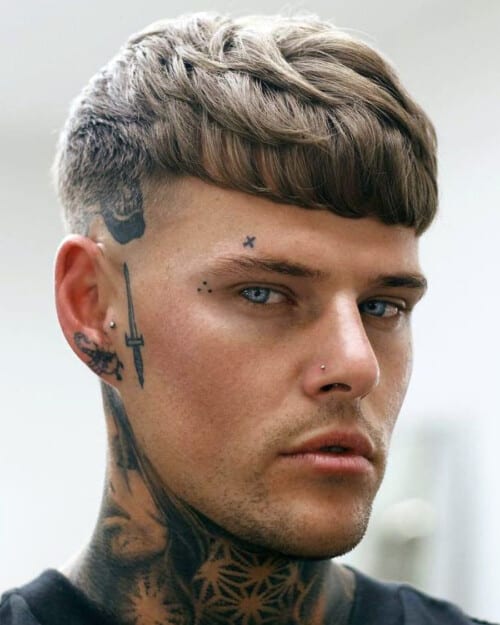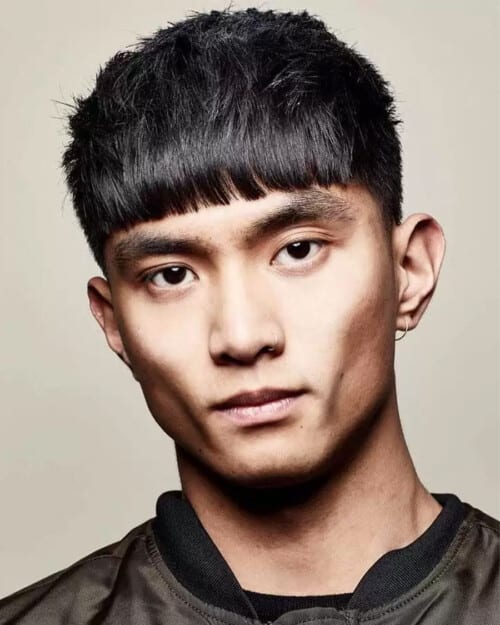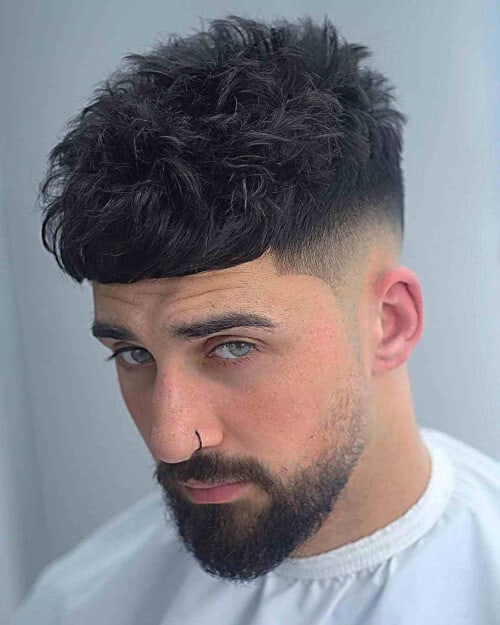 Also known as a French crop, the natural messiness and relaxed styling of this cut makes it hard to distinguish which bits are meant to look unruly and which ones are genuinely wayward.
Keeping things neat and trim at the back and sides and leaving more length through the top, a longer fringe will help control a cowlick due to the added weight, while you could always modernise the look with an undercut or skin fade.
When styling, root boosting powders, salt sprays and matte pastes or clays help to add texture and control.
Surfer style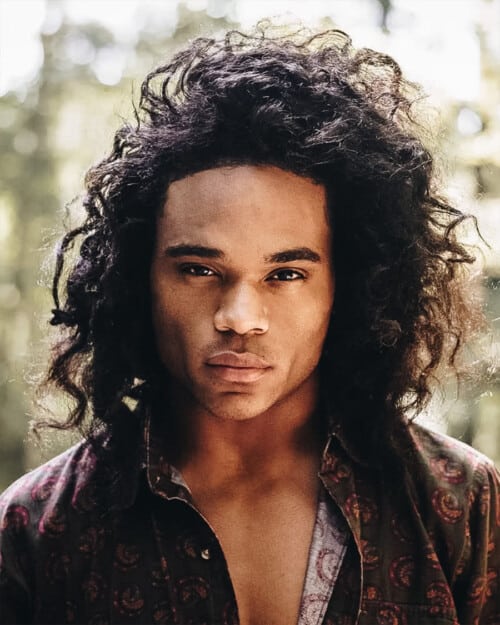 In the same way the hair's natural oils can help to control hair by adding weight, so too can some extra length – which is why growing your hair longer could be an option. It will also decrease the drama brought about by double crowns and cowlicks as their unruly side effects will be stamped out.
Curl sprays and salt sprays are a great shout for longer hairstyles and help to keep your hair looking like you've just stepped out of the sea – still gritty and dishevelled, but in a more purposeful fashion.
Buzz cut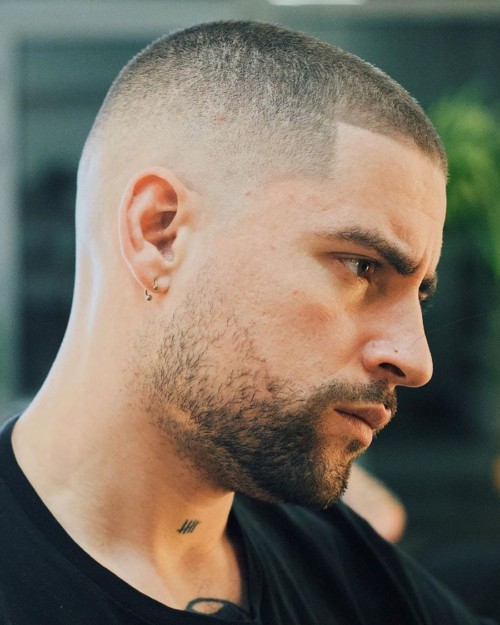 Don't fancy long hair? Had enough of the mop making your life misery? You could always go all out and get a buzz cut. Super low maintenance, it's a contrast to your natural hair texture but keeping it short and sharp will eliminate hyperactive hair and give you extra minutes back in the morning.
Far from being a boring option, these days you can modify a buzz cut by introducing a fade – whether that's a temple fade, high fade, bald fade or subtle taper fade is completely up to you. Just know that you do have the ability to make this style as unique as you are.
Depending on how short you go, you could even invest in a set of clippers to keep your neatly manicured mane looking sharp 24/7.