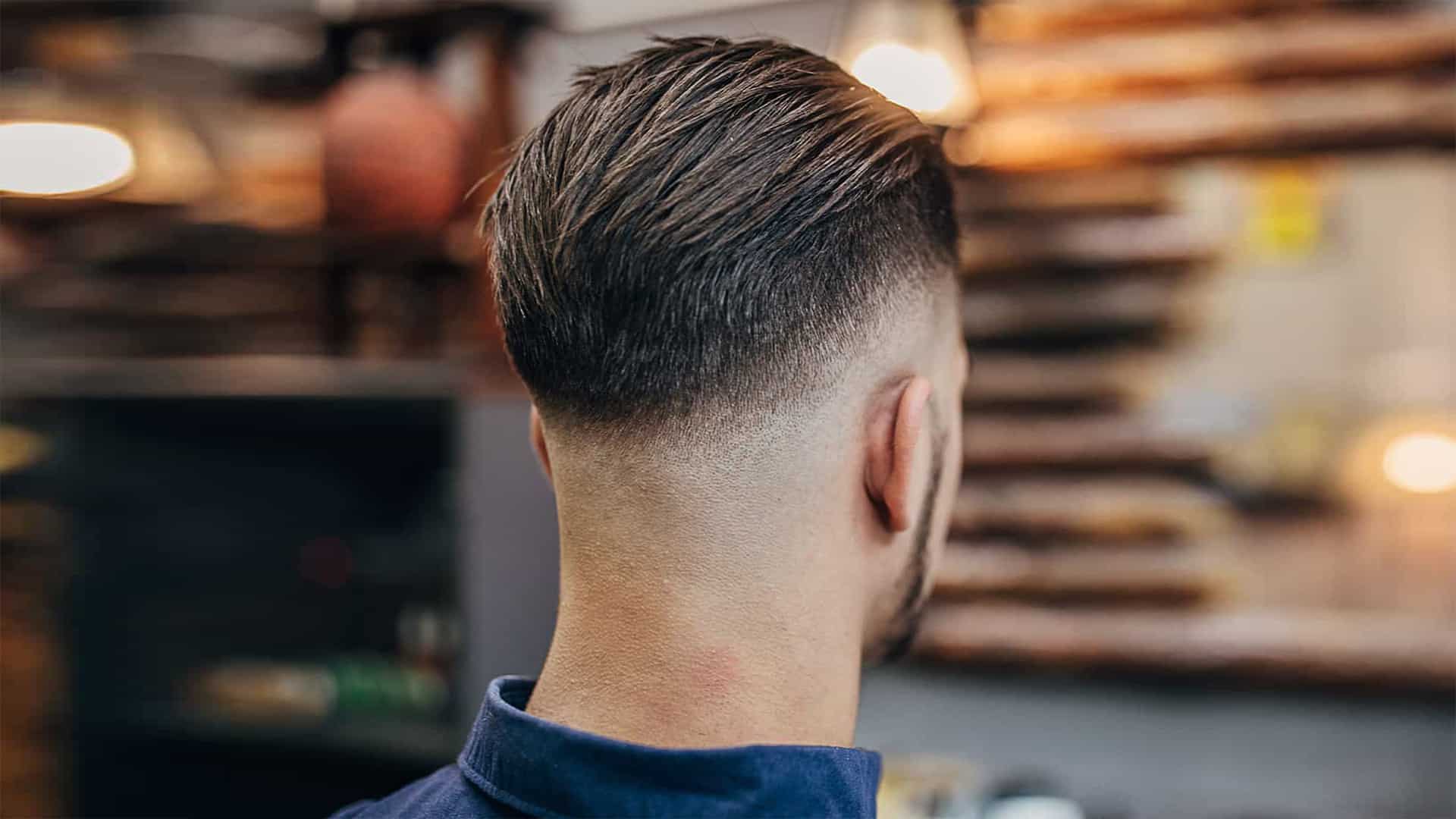 Bald Fade Haircut: What It Is & The Best Styles For 2023
A bald fade can look extremely cool and contemporary, instantly bringing any classic cut up to date, but it can also appear severe and jarring if you don't get the balance right.
When it comes to hair, seeing the word 'bald' will likely strike fear into the majority of men – particularly if you're someone who's thinning on top or concerned about hair loss. But you needn't worry, a 'bald fade' is something far less scary and far more controllable. It's simply a reference to a section of hair being cut down so short that it exposes the skin.
As you can probably imagine, cutting the sides and back so close makes a huge impact on the rest of your hairstyle. The overall result can look extremely cool and contemporary, instantly bringing any classic cut up to date, but it can also appear severe and jarring if you don't get the balance right.
To help you work out whether this type of fade is right for you, below we break down everything you need to consider before taking the plunge, then showcase a selection of barber-approved bald fade haircuts for every hair type and length.
What is a bald fade?
A bald fade is essentially the same as a 'skin fade' – a term you may well be more familiar with. Whether described as 'bald' or 'skin', these two fades refer to the exact same technique and detail, so asking your barber for either should result in the same precise cut.
"A bald fade should be cut right down to the skin through the sides and then faded up to create a lot of contrast between the top and side sections," says Steven Chapman, founder of The Hoi Polloi barbershop.
What sets this type of fade apart from, say, a taper fade or traditional low fade, is the depth of the cut. In order to create the cleanest possible shape and maximum impact, there should be no hair left above the ears after the clippers have got to work. That said, the fade itself should be gradual and done in such a way as to complement the rest of the haircut, rather than look too blunt and like an afterthought.
What you need to know before getting a bald fade
Clippers are essential in order to achieve this cut, but for the best possible results your barber should be using a foil shaver on top of what you would consider their 'regular' clippers.
This is an extra step that some barbers may not be willing, or equipped, to take. "Many barbers won't want to bother foil cutting because it takes longer to do, but this is a very important part of the process in order to cut a bald fade well," advises Steven – highlighting an immediate talking point to have in advance with your barber.
Best utilised around the nape and ear, the benefits of using a foil shaver on a faded hairstyle like this is the extra level of precision they offer. Foil shavers can cut hair to ultra-fine levels (as detailed as 0.05mm), leaving a satisfyingly smooth finish.
"It's all about the process and working through this cut systematically so you can get as smooth a blend as possible," Steven confirms from a barbering perspective. "The main visual requirement when this haircut is finished is to have a really smooth transition from the 'nothing' area into the top."
Who does a bald fade haircut suit?
A bald fade suits just about anyone willing to go so short on the sides. "It's a great option for guys with thinning hair," says Steven. "By keeping the sides as tight as possible, the contrast created makes the hair on top look thicker and like there's more of it." Opting to take the fade higher up the head only emphasises this effect.
For guys with thicker, curly or afro-textured hair, the difference in weight between the top and sides looks particularly striking, and has the added benefit of keeping the overall shape more manageable too.
However, as proven by the gallery below, a bald fade is extremely versatile and can enhance a wide variety of men's hairstyles.
17 of the best bald fade haircuts for 2023
Buzz cut with waves and bald fade
With a straightforward, even-length buzz cut all over the top, this afro-textured hairstyle is enhanced subtly yet effectively with a bald fade above the ear.
With a cleanly cut section like this, you draw all the attention to the sharp high and tight style sitting above.
Textured hair with high bald fade
A texturised hairstyle like this will always look great with the sides left slightly longer to better match the length on top. Yet, in this instance, by taking most of this section down to skin, using a high fade, you create a really striking contrast and much tighter overall profile.
With the sides kept so clean and simple you can afford to be more creative with the top section without the overall hairstyle appearing too messy or out of control.
Side parting with bald fade
A bald fade will commonly be paired with messier hair on top. But opting for a more regimented military haircut like this can work just as successfully.
A crisp side parting and sleek comb over swept away from the skin fade creates a handsome, formal look that is suitable for the majority of modern offices. But when the time comes to let loose, leaving a bit of length on top also gives you the option of styling your hair in a more playful way.
Flat top with high bald fade
An impeccably shaped afro cut like this deserves to be celebrated – you owe it to yourself and your barber.
By taking the sides down to skin you not only enhance the elevation created in the top section, but also separate the facial hair, allowing the superb shaping to take centre stage.
High & tight with high bald fade
For guys with finer hair who want it to appear more textured and weighty, a bald fade is ideal. Ask your barber to take the sides high to create the most effective contrast with the hair on top, then keep your fringe longer and lifted, as shown above.
The difference in length between the sides and top gives the visual appearance of thicker hair, then just opt for a matte, lightweight styling product like a salt spray or root booster to get that desired separation and volume through the front.
Quiff with mid bald fade
Growing a big beard can bring on some really testing phases of irritation. So once you're over the worst of it the last thing you want is for your hairstyle to start bothering you too.
A bald fade can be introduced to not only separate dark, thick hair from a beard for a sharper and more stylised finish, but to also alleviate any irritating bulk from around the sides and over the ears.
Short textured haircut with low bald fade
Having finer or even thinning hair doesn't immediately write off your styling options. Your barber will give you an honest appraisal about what's possible, but with a more structured approach to clipper work you don't have to 'settle' for a haircut that feels too simple or safe.
An easy mistake to make is applying a styling product that doesn't complement the natural texture and thickness of your hair, so try using something that isn't too watery or heavy as this can clump the hair together and exasperate the problem by leaving sparse patches.
With a light, matte product you can create a healthy textured finish with some subtle lift for added volume, even on short hair like this. It doesn't look too forced or 'blocky' and flows attractively up from the sharp, skin faded sides.
Short lifted hair with high bald fade
On a short hairstyle like this the styling should ideally be kept crisp and clean. Here, the hair has been brushed up and into position to create a manageable pompadour with a square, masculine profile.
The skin section of the fade is taken higher up to emphasise the weight of the hair above, while the top of the sides are left bulkier to balance out the height.
Short blunt fringe with high bald fade
A cropped hairstyle like this works so well when combined with a bald fade. By going as short as possible on the sides, the natural texture and weight of the top section – while also super short – is allowed to thrive. It's a cut that almost takes care of itself, making it a low maintenance option for guys with thicker and wavy hair.
The sharp blunt fringe and line up only emphasises just how strong the hair texture and hairline is here.
Quiff with hard parting and bald fade
On a straight, lifted quiff like this, going for a bald fade even just part way up the sides brings a little more edge to the cut and helps steer the overall look away from being a bit 'ordinary'.
Cutting in a hard parting is another contemporary tweak that allows for quicker styling each morning.
High pompadour with bald drop fade
A volumised hairstyle like this combines well with a strong beard, creating balance. But a bald fade takes it to the next level by creating such a distinct disconnect between the thriving sections of hair.
If you wanted, you could go even higher with the fade to put more emphasis on the volumised top. However, here the subtle curve better complements the rounded profile of the overall cut.
When it comes to styling, use a volumising primer such as sea salt spray or a mousse and blow dry into place for similarly dramatic results.
Thick curly hair with high bald fade
Curly hair is ideal for creating volumised styles such as this. And by removing the side section so cleanly, you really exaggerate the contrast of the top.
Even if you have unruly curls that aren't easy to control, by cutting so meticulously around the top section you can essentially leave them to shape themselves while the rest of the haircut sits much neater and shorter.
Short curly haircut with high bald fade
Thicker curls can provide a natural, rounded and volumised finish like this that a bald fade only exaggerates. With such flat edges, everything going on up top is enhanced.
Those extra sharp lines worked into the sides with the clippers provide further detailing that transforms this neat, textured cut into something more contemporary and individual.
Crew cut with bald fade
This bald fade is cut in low with the skin-revealing section curving around the ears for a bit of dynamic shaping. The notable amount of length left higher up the sides also stops the top from feeling like it is completely disconnected.
If your hair is quite static and straight, a cut like this will allow you to introduce some volume up above, which looks particularly good when styled with a texturising, matte product.
Short pompadour with bald fade
This modernised take on the pompadour utilises great clipper work to achieve such an intricate style. The subtle side parting is really effective in creating a clean break from the top over to the sides, while the high taper fade makes a real impact thanks to it being cut in a diagonal line down to skin.
Lifted up and slicked over using a shine product like pomade, it produces a smart finish that's perfectly suited to the sharp nature of this attention-grabbing cut.
Slick back hair with undercut and bald fade
For men with longer hair, this swept-back-and-over hairstyle offers a slick retro finish.
The heavy parting splits the top and side sections definitively, while the fade above the ear starts bald then graduates up to create a clean contrast without taking the entire side section out in one harsh and unconsidered length.
Caesar haircut with high bald fade
When you're working with thick, dark hair, a Caesar-inspired cut like this almost looks after itself. With a bald fade taken high up the sides and the rest of the hair scissor cut nice and short, you are left with a neat overall outline and rounded top section through which the hair flows naturally forwards.
When it comes to the finishing touches, instead of a blunt line cut across the fringe, ask your barber to point cut it for a jagged, more natural finish. To up the texture further, try using a matte styling cream or clay through the top, applying it roughly using you fingers to create the desired separation.