The Best Heavyweight Hoodie Brands For Men
Every man needs a heavyweight hoodie in his cold-weather wardrobe. And these are the labels producing the thickest, most substantial hoodies on the market right now.
We all know the virtues of a hoodie. This streetwear staple has adapted and evolved over generations, from its humble beginnings on the American sports field through to its recent appropriation by the luxury fashion industry.
Comfortable, easy to wear and low-key cool, it's a certified menswear essential. But those light cotton-jersey versions we reach for time and time again just don't seem to cut it when the weather takes a turn and the temperatures tumble. Enter, the heavyweight hoodie.
Offering all the benefits of the classic design – handy front pockets, relaxed fit, a protective hood – but cut in thicker, denser materials, this is one garment you won't stop reaching for throughout winter and beyond. Here's everything you need to know before adding one to your rotation.
What makes a hoodie 'heavyweight'?
With heavyweight hoodies, the usual details are all there: drawstring hood, knitted cuffs and hem, front hand warmer pocket. However, where they differ from your everyday versions is through fabric.
Although they're still typically made using cotton-jersey, the same stuff you know and love, the cloth is heavier and woven with denser threads. When evaluating the weight of a hoodie, look out for two key measurements: gsm (grams per m²) or oz (oz/yd²). Anything from around 400gsm/12oz we would class as heavyweight, with some brands even producing coat-replacing 24oz versions these days.
The heavier the cloth the warmer it will be, but you need to balance that with how comfortable it will be to wear that type of weight for extended periods. Not only that, higher gsm figures will alter the silhouette and drape, too. Naturally, thicker fabrics are quite rigid and bulky – if you go too far it can make you appear top heavy and out of proportion (as well as making it difficult to layer a jacket on top).
When it comes to fabric type, there are multiple variations on cotton-jersey, which you may or may not be aware of. There's the classic loopback style, with its distinctive fabric loops on the reverse of the fabric (designed to wick sweat and moisture), which gives a classic, sporty feel. Meanwhile hoodies made from 'flatter' jersey, where there are no loops, appear smoother and are therefore slightly smarter in appearance.
Finally, if staying warm is your number one concern, look out for fleece back cotton designs which boast a soft, fleece-like weave on the reverse of the fabric that not only feels cosy but will trap heat and keep you toasty.
The best men's heavyweight hoodies brands
CDLP
CDLP transformed the men's underwear industry back in 2016, quickly separating itself from shoddy designer alternatives by focusing maniacally on fabrication and fit. The Scandinavian brand elevated this humble wardrobe essential into an everyday luxury, and it has done it again with its Heavy Terry sweats collection.
Made using a scale-tipping 550 gsm loopback material, the unique 50/50 recycled and organic cotton blend ensures that these heavyweight hoodies are both durable and won't shrink on first wash. Available in timeless black and grey, they feature subtle embroidered branding to the chest as well as a relaxed, boxy fit, making them incredibly wearable.
ASKET
For responsibly-made, minimal wardrobe essentials, ASKET is our go-to. Offering a tightly curated, permanent range of menswear staples, every single garment is made using the highest quality fabrics at Europe's finest independent workshops.
The brand produce just two hoodies – one zip up, one pullover – in four classic colourways. Coming in 390gsm organic cotton loopback, they hit the sweet spot between weighty and easy to style – offering more protection than your everyday version but without the unnecessary bulk that makes it difficult to layer.
As you'd expect from a Swedish label, the design is typically pared back. There's no front pocket and the cut has been streamlined, reinforcing that this hoodie should be worn in the same way as your current rotation – under a lightweight jacket for an interesting, layered look.
Axel Arigato
Axel Arigato has always been one of the most sought-after names in sneakers, but now the brand has expanded to offer a full menswear range, including all the core streetwear staples: graphic tees, loose-fitting pants, bold colour puffer jackets and, of course, sweats.
Its hoodies are cut from a substantial organic cotton and fit slightly oversized with dropped shoulders for a relaxed, comfortable feel.
Designs as are you'd expect from a streetwear label, with a variety of subtle and all-over logo treatments being used.
Champion
You can't go wrong with Champion. The original inventor of the sweatshirt (back when it was known as the Knickerbocker Knitting Company), this American label has been making sportswear for decades, giving it an unrivalled heritage when it comes to the other names on this list.
The brand's bestselling Reverse Weave Hoodie was a gamechanger for athletes over 80 years ago and remains a modern-day icon that looks just as good on and off the track. Coming in a heavyweight 12oz fleece with a cosy brushed interior, it's cut on the cross-grain and features double-needle construction throughout to resist shrinkage.
Available in a wealth of contemporary colours, from bright primary shades to understated neutrals, each features that instantly recognisable 'C' branding to the chest, which has long been a signifier of quality.
Carhartt
As a workwear brand with over a century of experience, you'd expect Carhartt to know a thing or two about durable clothing that can take a beating. And so it goes with its hoodies.
The Detroit-based label offers a wide variety of heavyweight styles, including thermal-lined options and even a flame-resistant version for those of you who like to get the blowtorch out at the weekend. However, our favourite has to be the Rain Defender hoodie, which is not only cut from a supremely thick 13oz cotton-poly blend, but features a water-repellent finish to help deal with any sudden downpours.
Offered in an overhead and zip-through design, it's the type of hoodie that could legitimately be used in place of a jacket come fall, bringing some clout to your streetwear looks courtesy of that yellow Carhartt patch on the front pocket.
Arket
For a more directional take on a design classic, try Arket. The sustainability-focused H&M offshoot is known for its contemporary takes on age-old designs, and its heavyweight hoodie is no different.
Made from a blend of organic and recycled cotton, with a substantial 520gsm cloth weight, it's finished with dropped shoulders, a boxy middle and slightly longer arms, giving it a relaxed, oversized feel.
Offered in three colourways (we love the striking blue option), this is the type of hoodie we see ourselves lounging around the house in at the weekend or throwing on over the top of our gym kit on those freezing winter mornings.
Reigning Champ
Reigning Champ's vintage Americana-inspired sportswear is among the best on this list, offering throwback aesthetics rendered in modern performance fabrics.
Its signature heavyweight fleece hoodie is an industry classic, made entirely in Canada using the same material the brand developed in 1999. Professionally washed prior to stitching to reduce shrinkage and with a brushed fleece back for superior warmth, it's extremely durable and slightly rigid, softening and moulding to your body over time like a good pair of raw denim jeans.
Available in black and a nice pale pink option, the fit sits somewhere between slim and relaxed, with dropped shoulders for comfort.
Service Works
As the name suggests, Service Works is dedicated to all things workwear. The UK's answer to Carhartt, the brand produces rugged, durable garments that could withstand manual labour, but you're more likely to spot on city streets.
With a streetwear slant to the designs, the label is quickly rising up the ranks, and its hoodies offer the perfect chance for you to buy in. Made in Portugal in collaboration with another name on this list, Power House, these heavyweight hoodies come in a thick, 12oz cotton blend.
Whether you go for the black, forest green, grey or navy option, that small, screen-printed logo to the chest is sure to secure you some nods from those in the know.
Note: the fit runs slightly small and you should expect the hoodie to shrink around 4-5% on its first 30-degree wash. We'd recommend trying a size up to accommodate.
Camber USA
Camber USA doesn't make that many clothes, but what it does produce, it does very well. So well in fact that it has become renowned for producing the very best 'blanks' in menswear (i.e. the garments other brands slap their own label on and sell).
Its pullover hoodie is one of its most widely adopted products and it's easy to see why. It comes in a 12oz cotton-poly blend (expect ~4% shrinkage on first wash) and features heavy-duty side stitching for increased mobility (required with fabric this thick), quality gold drawstring eyelets and a fit that's comfortable and oversized with dropped shoulders.
It's also made entirely in the USA – what more could you ask for?
Standard Issue
Standard Issue makes its garments the way they used to be made. That is, with robust, soft and heavyweight fabrics, all spun and knitted in the heart of California.
Its heavyweight hoodie makes use of a mammoth 24oz cotton jersey, which has been pre-shrunk to ensure the classic, relaxed fit remains consistent after each wash.
Coming in both overhead and zip-up designs, we're big fans of the washed-out, garment-dyed colourways, which bring that easy-going, West Coat vibe to any fit.
Power House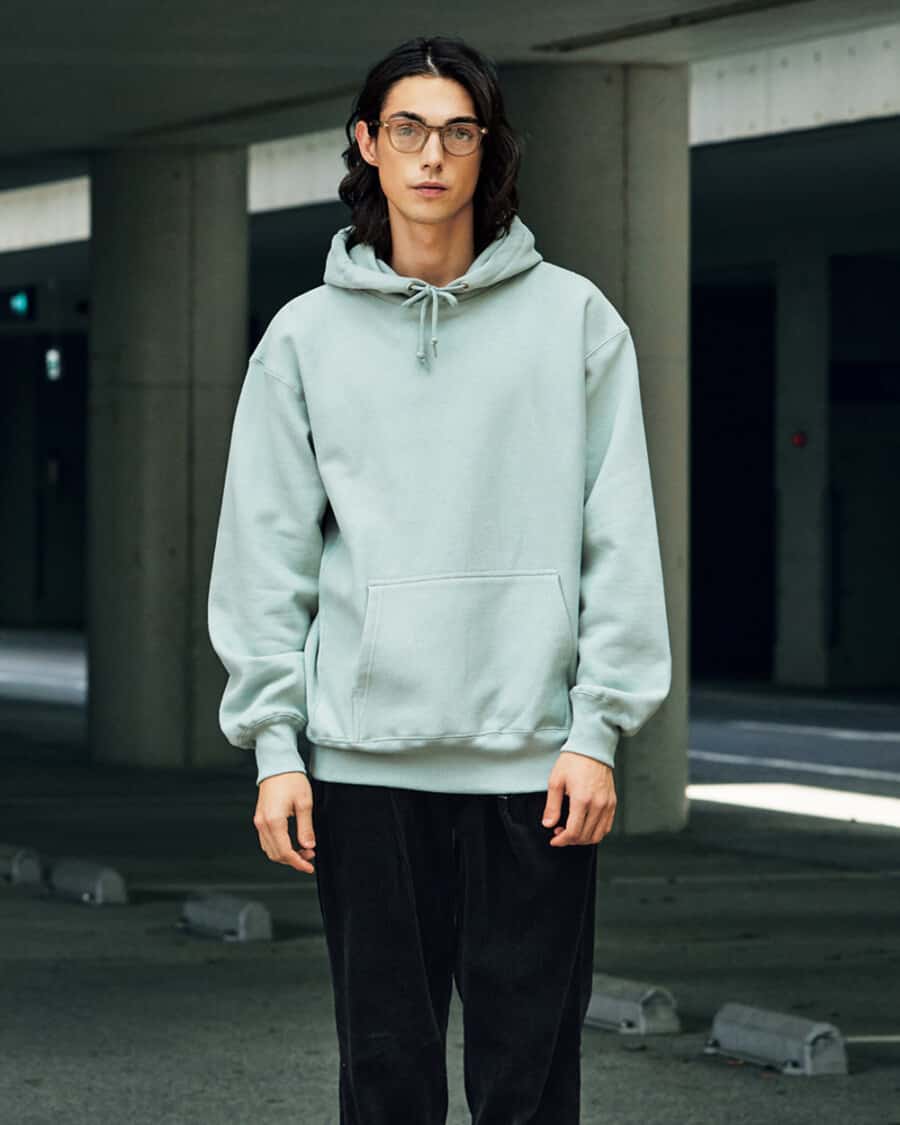 For an authentic American hoodie crafted through the lens of Japan, turn to Power House. The Tokyo/London-based brand is fast making a name for itself thanks to its minimalist, hard-working apparel, which span sweats and tees through to work vests and beanies.
Its heavyweight hoodie is made in conjunction with United Athle, a Japanese clothing manufacturer that specialises in the highest quality blanks. It's cut in a raw 12oz/400gsm cotton fabric (again, expect 3-4% shrinkage) and features high quality metal eyelets and side ribbing for comfort.
With no visible branding and available in four neutral colourways, it makes a versatile addition to any capsule wardrobe.
What to consider when buying a heavyweight hoodie
To zip or not to zip
Zip-up hoodies aren't for everyone. The full-length metal fastening makes the garment feel more like a jacket, and while there are a number of practical benefits to this, we can't help but feel the zip makes the design a little too fussy.
However, seeing as heavyweight hoodies are often weighty enough to be used as outerwear, zipped versions perhaps make more sense. Treat it like you would a bomber and wear it over a simple tee and jeans combination, or go classic and minimal with a pullover version. The choice purely comes down to personal preference.
Don't shy away from colour
Hoodies are great for introducing colour to your wardrobe, regardless of the thickness of their fabric. Heavyweight hoodies work extremely well in dark, neutral shades like grey, navy and black, but if you want to make more of a statement then your options are endless.
Thanks to their association with streetwear, you can pick up all manner of block-colour versions, alongside patterned takes and logo designs.
Remember, you can always layer a muted piece of outerwear over the top should you want to tone something loud down slightly.
Pay attention to fit
There are no two ways about it, heavyweight hoodies are best when cut in slightly oversized, boxy fits. Due to the thickness of the cloth, there needs to be a bit of room for air to circulate and your body to breathe, otherwise it makes for a particularly sweaty, uncomfortable experience.
Not only that, due to the fabric's thickness, you still need to be able to fit layers underneath it without things getting too Michelin Man. If you're able to comfortably wear a T-shirt or long-sleeved top underneath a heavyweight hoodie without feeling restricted, you're on the right track.