The Best Heavyweight Sweatpant Brands For Men
Every man needs a pair of heavyweight joggers in his cold-weather wardrobe. And these are the labels producing the thickest, most substantial sweatpants on the market right now.
In today's sartorial climate, a decent pair of heavyweight sweatpants is every bit as important as a hoodie or an overshirt. Having shaken off their scruffy reputation thanks to the rise of athleisure, these fleecy pants are quickly becoming an acceptable (and practical) everyday option.
Yes, they're great for the gym and lying around on the sofa, but they can also be elevated by styling them with more upscale pieces, which increases their versatility dramatically. Go and have a flick through an Aimè Leon Dore lookbook if you're not sure what we mean.
Not any old sweatpants will do – they have to be thick and HEAVY. A nice weighty fleece-backed fabric will be warmer, cosier, more durable and drape better than a thin alternative. Not only does that mean that heavyweight sweatpants look better, but they'll more effectively conceal your modesty, if you catch our drift.
The trouble is that finding heavyweight sweatpants – real heavyweight sweatpants – is tricky. There aren't that many labels making them, and it can be time consuming to trawl through product description after product description looking for the exact weight of the fabric. Not least because the majority of brands don't even bother to state it.
To save you some legwork, we've pulled together a list of our favourite brands for heavyweight joggers. These are the labels making the thickest, heaviest versions we've come across, and they all list the fabric weights for their garments, so you know exactly what you're getting.
What makes a heavyweight sweatpant?
So how heavy does the fabric need to be before a pair of sweatpants can be deemed 'heavyweight'? First you need to understand the type of fabric and how its weight is measured.
Classic sweatpants are made from fleece-backed jersey cotton. This material is insulating, soft against the skin, good at wicking moisture and stretchy. It comes in lots of different weights depending on how thick or thin the fabric is.
There are two units of measurement used for this type of fabric. Some brands will display the weight in gsm (grams per m²), while others use oz (oz/yd²). Generally speaking, we'd say anything over 12oz or 400gsm could reasonably be described as heavyweight.
That being said, some brands will make sweatpants much heavier than this. But you don't want them too heavy, because the extra weight and resulting stiffness of the fabric will reduce the comfortable feel of the fleecy material.
Best heavyweight sweatpants brands in 2023
Camber
Camber is an American brand that specialises in heavy duty tees, crew necks and sweatpants. Everything is made in the USA and is designed to be as rough, tough and heavyweight as possible.
Don't expect any outrageous colour schemes or eye-catching graphics – Camber is all about simple, high-quality blanks. Think Gildan or Fruit of the Loom if they were making their stuff to military spec.
Reigning Champ
Canada's Reigning Champ has long been the last word in high-end, classic athletic garb. We're talking classic jersey sweats, hoodies and joggers, but with a heavy focus on quality and attention to detail.
The heavyweight sweatpants here aren't cheap, but they are well made, durable and cut to perfection for a perfect fit.
The Heavyweight Fleece joggers are some of the brand's best-selling items, made from the durable fleece-backed fabric that first saw Reigning Champ rise to fame.
Noah
New York City's Noah blends elements of streetwear, skate culture, workwear, sportswear and Ivy style to create its own unique flavour of cool.
At one end of the spectrum there are blazers, pleated pants and soft tailoring, and at the other there's logo hoodies and sweatpants.
The label's signature Heavyweight Sweatpants are made from cosy 15oz fabric, with drawstrings to the cuffs and small embroidered branding to the outer thigh.
Carhartt WIP
Carhartt WIP is the style-led sublabel of American workwear brand Carhartt. It combines the company's experience in delivering hardwearing garb for manual labour with a slightly streetwear-infused aesthetic, resulting in clothes that look great and are built to last.
The brand's Chase hoodies and sweats are a firm feature all year round, with a range of colours to choose from, relatively accessible price tags and cut from a thick 440gsm fleece-backed fabric.
The Real McCoy's
Cult Japanese label The Real McCoys reproduces American vintage classics from sports, workwear and the military using authentic equipment and production methods. The aim is to get things as close as possible to the real deal (hence the name), which means the quality and durability is next level.
There are a number of different heavyweight sweatpant options available, the heaviest of which weighs in at an impressive 14oz and has been made using authentic manufacturing techniques from the 1950s.
The downside? A pair will cost you almost $300/£300.
Champion
This heritage American sportswear label has been making jersey cotton athletic apparel for longer than most. Champion has been in the business of joggers, hoodies, tees and sweats for over 100 years, becoming a true go-to brand in the process.
It's well known for its Reverse Weave fabric, which is woven in a particular way to prevent shrinkage when washing.
The prices aren't too bad either. You can expect a pair of heavyweight sweatpants to set you back around $55/£50, and there are all sorts of colours and designs to choose from.
Cole Buxton
Cole Buxton's luxurious British sportswear has taken the world by storm, helped by social-media madness and its fair share of high-profile influencers.
The brand specialises in upscale athletic wear, including things like hoodies, T-shirts, sweaters and sweatpants.
One of the label's best-selling products is its Heavyweight Warm-Up Pants. They're inspired by the gym gear bodybuilders wore in the 1960s and are cut from thick 420gsm fleece-backed jersey cotton.
Represent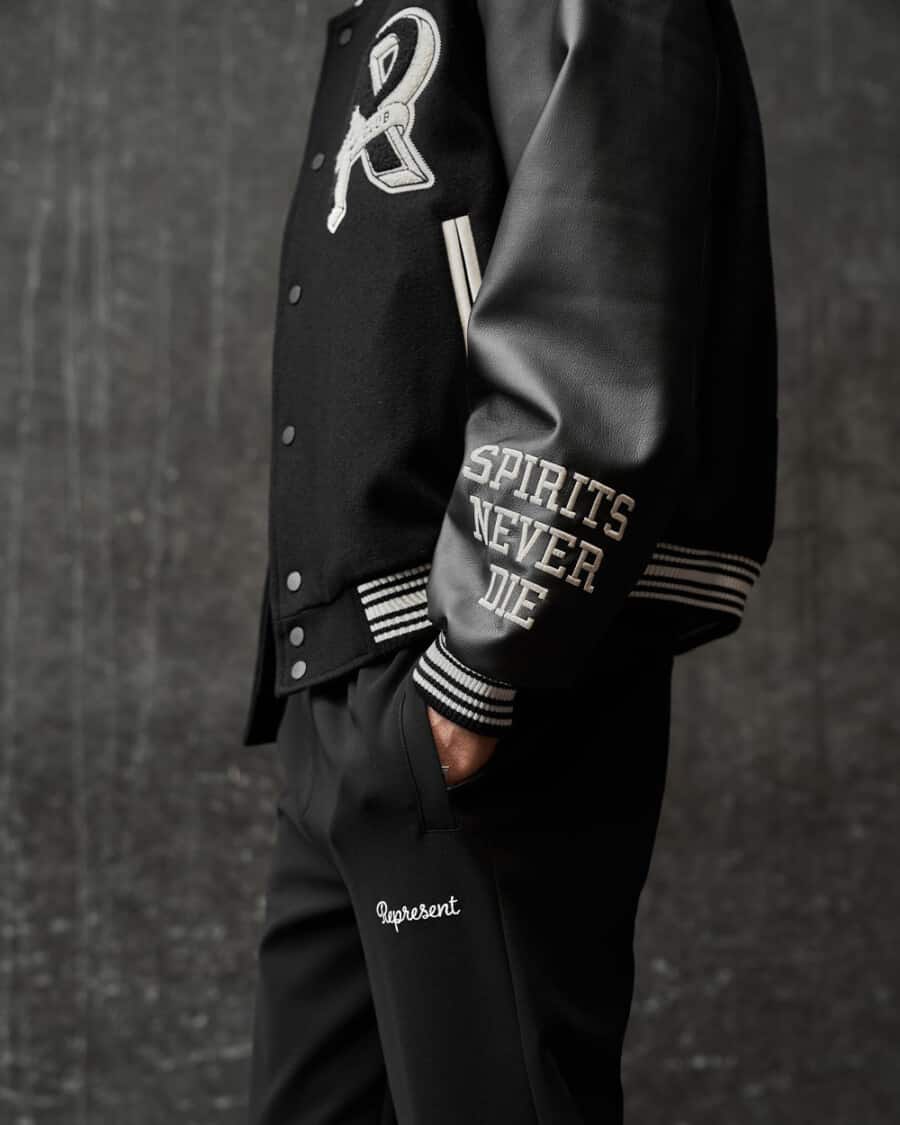 Not dissimilar to Cole Buxton, Represent is another British fashion brand specialising in premium athletic wear designed for day-to-day duties.
Its jersey cotton garments are made using heavyweight fabric that's warm, durable and looks great too.
The Owners Club Sweatpants for example, are cut from a weighty 480gsm fabric for maximum comfort.
MKI Miyuki Zoku
MKI Miyuki Zoku makes stylish contemporary menswear with relatively wallet-friendly prices when compared to a lot of similar brands.
That being said, a pair of MKI's heavyweight joggers will still set you back $80/£80. But when you consider that they're made from a sclae-tipping 650gsm fabric – heavier than any others on this list – the price feels justifiable.
They're made in Europe's textile capital of Portugal and feature tonal branding and patch pockets to the reverse.
Admiral Sporting Goods
Admiral Sporting Goods represents over a century of sporting tradition in the UK. Launched in 2020 as a sub-brand of Admiral Sportswear, its designs draw inspiration from Admiral's mid-century sportswear, including thick jersey cotton trackwear, T-shirts and more.
The brand's Stretton sweatpants are made from 395gsm cotton, so they're not the heaviest on the list, but they're still plenty thick enough to handle daily duties while being durable enough for many years of use.
What to consider when buying heavyweight sweatpants
Material
The single most important thing to consider when shopping for a pair of heavyweight sweatpants is the fabric. As touched upon, this will usually be a fleece-backed jersey cotton and it should weigh around 12oz or more.
This will give the garment more structure, durability and warmth. Sweatpants in this weight might sit differently on the body than what you're used to, but you'll likely find them more comfortable in the long run.
Fit
Fit is really a matter of personal preference. Some like their sweatpants to hang loose and baggy for maximum comfort, while others prefer a more fitted look.
Our advice would be to aim somewhere in the middle of these two extremes. There should be a good amount of room in the top block, with a slight taper from the knee down to the leg opening for a classic fit.
Colour
Grey is the classic choice, but it's by no means the only one. Simple neutrals work well, including navy and black, but we'd recommend staying away from anything too bright or bold.
Keep versatility in mind – you want something you can wear with lots of different things, so don't box yourself in with an awkward colour.
Weight & thickness
Again, look for a fabric that weighs around 12oz or around 400gsm. A bit higher than this is good too.
Anything below that weight can't accurately be described as heavyweight and won't feel nice and thick in your hand.
Price
The final thing to consider when shopping for a pair of thick, heavyweight sweatpants is the price.
Generally, you can expect heavyweight sweatpants to be slightly more expensive than their midweight counterparts, purely due to the additional materials required to make them.
You'll struggle to find a decent pair for under $50/£50, and for premium options you'll be paying much more than that.