The Brands Making The Thickest, Heavyweight T-Shirts For Men
These are the labels making the most substantial men's tees on the market right now, with each weighing in over 6oz/200gsm.
There's very little we need to tell you about T-shirts – aside from finding one that fits well, which admittedly, can be a challenge. Possibly the most worn items of clothing in the world, they rightly form the backbone of every stylishly casual wardrobe.
But while tees are ideal for spring and summer, the cooler months require something warmer and better suited to layering. Enter the heavyweight T-shirt.
Made from thicker, denser cotton, the heavyweight tee is just as easy to wear as its featherweight cousin. But its warmer fabric keeps you toasty in the fall when it's worn under a hoodie, while also working on its own as makeshift outerwear when the mercury rises.
So let's get into the thick of it. From what to wear them with to the best heavyweight T-shirt brands, here's all you need to know about this underrated staple.
What makes a heavyweight T-shirt?
The only thing differentiating a heavyweight T-shirt from a regular one is the fabric. While your typical tee will be made from a light cotton jersey and weigh seemingly nothing, we're talking about fabrics that come in at 6oz and above.
When you start shopping, you'll see 'gsm' a lot in the product descriptions. This stands for grams per square metre and it measures the weight of the fabric. Brands that are serious (and a little nerdy) about their T-shirts will tell you what gsm they are. For heavyweight styles, you're looking for 200 gsm (equivalent to 6oz) and above.
Usually reserved for the likes of crew neck jumpers and thicker hoodies, this denser cotton jersey transforms the humble T-shirt. You'll literally feel the difference between your fingers. It takes the tee from a garment traditionally used as underwear to a legitimate piece of outerwear.
If lightweight tees work well as a base layer, heavyweight versions are more robust and durable, working as excellent alternatives to polo shirts, short sleeve Cuban collar shirts and light knits.
What to consider when buying a heavyweight T-shirt
Fabric
The biggest thing to consider when investing in a heavyweight T-shirt is the fabric. It will be thicker than you're used to, but this is a good thing. You typically can't buy tees in fabrics heavier than the cotton jersey used for sweatshirts, but you probably wouldn't want anything thicker than that anyway.
Anything up to 10oz jersey or 350 GSM is perfectly doable, and will give the tee a more durable look and feel. Because of that trusty thickness, it will sit slightly differently on the body, and won't flow quite as well as the more breathable, lightweight stuff.
Fit
The way a T-shirt fits is largely down to the individual. You may favour something on the slimmer side, in which case you want to aim for a cut that fits close on the biceps, chest and underarm, but allows for a bit of room towards the waist so that it doesn't cling to you. Or maybe you prefer something boxier, meaning a relaxed fit with a roomy middle and longer, wider arms.
For heavyweight tees, it's much the same, but to be on the safe side it's worth going for the latter. A heavy tee that's too slim will just look strange, given the denser, thicker fabric.
Colour
Whether you go for colour or not depends on how you plan to layer your tee under other pieces. For maximum versatility you can play it safe with white, grey, navy or black designs, all of which you can easily wear on their own or mix and match with other wardrobe essentials.
Bored of neutrals? Don't worry. T-shirts, regardless of weight, are excellent ways of adding colour to your fits. So don't be afraid of going for a seasonal shade, like deep olive green or brown in fall, or more spring-friendly pastel shades in the warmer months.
Best heavyweight T-shirt brands in 2023
NN07
Although the 'NN' part of NN07 stands for 'No Nationality', this modern label was founded by a group of friends in Denmark in 2007. And it has since developed a cult following thanks to a unique blend of Danish and Japanese menswear aesthetics crafted from stunning natural fabrics.
It's heavyweight T-shirts are some of the most varied on the market when it comes to fabrications and styles. There are cotton-Tencel blends, 100% Pima cotton and even knitted boucle yarns to choose from, with designs ranging from classic pocket tees to slouchy drop-shouldered takes to printed streetwear options.
Whatever you're searching for, you're sure to find something you'll like.
CDLP
It started life making luxury underwear, but CDLP quickly moved on, establishing a full range of everyday menswear essentials.
For its heavyweight tees the brand has turned to a lyocell and pima cotton mix, which boasts a silky hand feel that's incredibly comfortable, while the fit is regular allowing you to size up or down as you see fit.
ASKET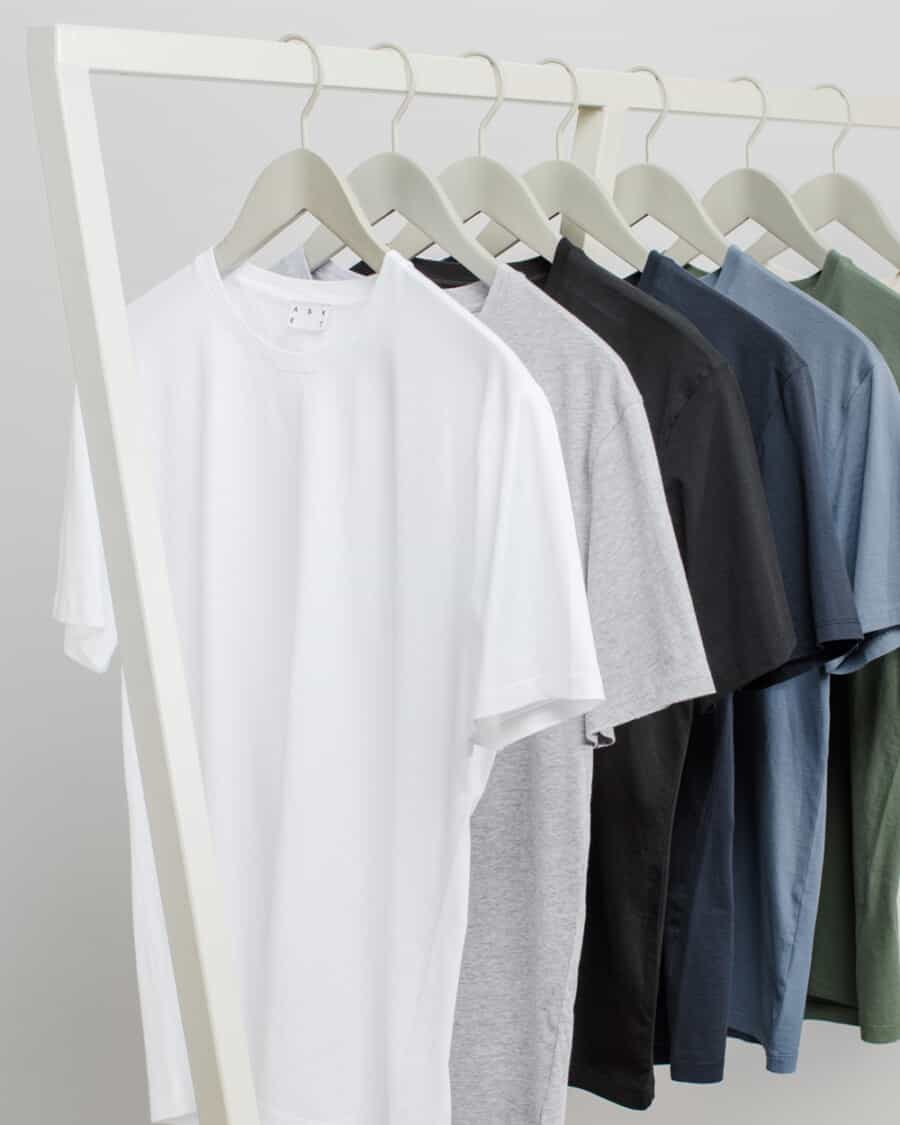 There aren't many labels that do well-made, beautifully designed basics as well as ASKET. The Scandinavian brand pays attention to the responsibility aspect of its production, choosing only to work with independent factories in Europe that treat both their staff and the environment with respect.
ASKET's T-shirts should be considered staple pieces, and will quickly form the backbone of your casual attire. Made using a heavyweight 180 gsm cotton jersey (just below the waterline we set, making them excellent as layering and standalone pieces) and with a contemporary tailored fit, they go with practically everything.
Hamilton + Hare
The aim at Hamilton + Hare is to create the best basics from the best materials, so you can expect its heavyweight T-shirts to be crafted from the finest, softest cotton jersey. The loopback fabric it works with is reminiscent of traditional sweatshirts, while its oversized fit makes them just as versatile.
Manufactured in small batches at a Portuguese mill, these are tees produced with care by an indie label on a mission to look good while doing good.
Carhartt
If you're in the market for a heavyweight tee, one of the first names that springs to mind might be Carhartt, and for good reason. The Detroit brand has been producing hardwearing, durable essentials for over a century, and T-shirts have been a big part of that.
Look out for its pocket tees, which are often made from sturdy cotton (220 gsm and higher) with subtle branding at the chest, bringing a little streetwear cred to any fit.
Arket
H&M's more considered stablemate does a fine line in well-made basics you can build a wardrobe around.
The brand's heavyweight tees are a good example: made from thick 220 gsm cotton, they're slightly loose fitting and have a coarse-but-comfortable, lived-in feel.
Everlane
Slow fashion label Everlane wears its green credentials on its ethically-made sleeve and carries that ethos into its garment design, too.
Like everything it produces, Everlane's heavyweight T-shirts are made to last, with densely-stitched 6.2oz cotton that gets softer and softer the more you wear it.
P&Co
For contemporary clothing with a workwear slant, P&Co is well worth checking out. From utility vests through to leather motorcycle gloves, the brand places great emphasis on quality materials and outstanding fit. And so it goes with its heavyweight tees.
Made using a scale-tipping 300 gsm cotton jersey, its relaxed fit, heavy T-shirts boast slightly dropped shoulders and boxy silhouettes, making them incredibly comfortable and easy to wear.
Camber USA
Classic US sportswear is good hunting ground for heavyweight T-shirts because brands often lean into the jersey-heavy college jock aesthetic. And few do it as well as cult favourite Camber.
Its small collection is only made up of tees, hoodies and sweats, all of which are obsessively – even secretly – made in the USA. Its heavyweight T-shirts come in 8oz cotton with relaxed fits and durably thick necklines, making them a warm-weather sweatshirt alternative.
Unrecorded
Simplicity is the name of the game at Unrecorded. From its half-zip sweaters to its Oxford shirts, you can easily build a wearable, beautifully made wardrobe from its minimalist racks.
For its tees, the brand has gone for an easy, relaxed fit in a substantial 220 gsm heavyweight cotton, which will only get better with age and wear.
A Day's March
Scandi label A Day's March made its name with robust outerwear, utilitarian designs and tough fabrics, ensuring everything the label makes is truly designed for life.
The brand doesn't skimp on its tees either. Expect regular fits and minimal detailing, in a suitably heavyweight 250gsm cotton jersey.
Pro Club
Pro Club's tees don't mess about. Made from 7oz cotton with distinct wide neckbands, they're easy-to-wear, durable staples that will stand the test of time.
Available in a limited range of shades, from heather grey to maroon, they might be the only heavy T-shirts you need. Like Camber USA, it's also astonishing how affordable this much-loved producer is. You get a lot of tee for your money.
Power House
Japanese brand Power House isn't trying to change the game with its heavyweight T-shirts. Using US-made cotton, woven into a dense jersey, these are the perfect, relaxed fitting tees.
Wear one underneath a chore jacket or overcoat, then finish with selvedge denim and brown leather work boots.
Why do you need a heavyweight T-shirt?
The appeal of the heavyweight tee is not complicated. It offers all the classic qualities of the traditional T-shirt, which has been a menswear staple since before the 50s, but in a warmer, more durable package.
Where it excels is in the fabric's thickness, which allows it to be worn as an outer layer that's robust and insulating, perfect for those warm fall days or cool spring evenings. Think of it as a filler piece that plugs the gaps where a lighter tee might not be enough.
Because of the denser fabric, heavyweight tees also hang and fall slightly differently, behaving more like sweatshirts or hoodies. This also gives them a more deliberate look, not just for slouchy sports-inspired looks but when you dress them up, too.
Heavier tees look more at home with tailored trousers or chinos than lightweight versions do, so if you're looking to up your smart casual game, it would be a good move to invest in one or two.