Men's Summer Fashion Guide: The Key Pieces, Trends & Looks For 2023
Everything you need to know for summer 2023, including the key pieces, fashion trends and styling tips.
It's easy to look good in winter. Abundant layering combinations, a plethora of sumptuous textured fabrics to play with and footwear options aplenty make putting outfits together a joy. Summer, on the other hand, can be a bit trickier.
On paper, it seems simple – fewer clothes mean fewer decisions, right? Well, not quite, because this lack of options is exactly what makes dressing stylishly in the warmer months such a challenge. Most men find themselves stuck in a sort of T-shirt-and-shorts black hole, their style stagnating with every passing day. But it doesn't have to be this way…
The truth is, summer can be the most stylish time of year, it's just a case of having the right pieces in your wardrobe, knowing the trends, and having the knowledge to pull it all together. In this guide, we'll fill you in on all of the above to keep you looking your best when the mercury rises.
Key summer 2023 pieces
Cuban collar shirt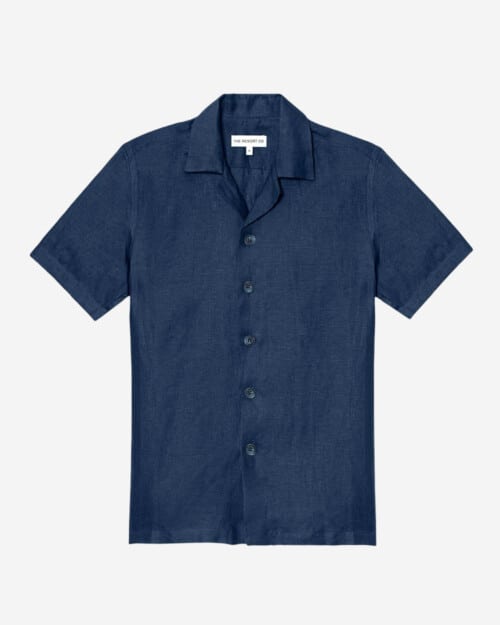 With its spread collar and often relaxed fit, the Cuban collar shirt is a modern must own for navigating the summer in style. Opting for a linen-blend fabric will mean you stay cool without your shirt creasing up too dramatically, and eye-catching prints and patterns are very much encouraged.
Leather sandals
A pair of leather Birkenstocks or similar is something no man should be without during the summer months. They're smarter than a pool slide but still casual, and they'll allow your feet to tan and breathe, unlike a pair of sneakers.
They're great with shorts and a short-sleeved shirt, but also work nicely with relaxed trousers and an overshirt in cooler weather.
Shorts
Shorts are probably one of the most important pieces on any man's summer shopping list. There are plenty of types out there, from chino to denim, but the most efficient way to cross it off is to go for something more versatile.
A high-end swim short, like Orlebar Brown's signature Bulldog model, will happily take you from beach to bar without the need for a costume change. It's smart and practical, and so it covers most bases for summer. Alternatively, for something a little less tailored, take a look at Patagonia's iconic Baggies, which are great for swimming and chilling, but versatile enough to slot into day-to-day summer outfits too.
Linen shirt
When the mercury rises, swap your heavy Oxford cloth button down for a seasonally-appropriate linen shirt. It's more breathable, quick drying and great at wicking moisture away from the skin.
It works particularly nicely in light pastel shades and is smart enough to team up with soft tailoring should the occasion call for it.
Drawstring trousers
It's tempting, but you can't wear shorts all the time. Eventually, a situation will present itself that requires you to put some full-length pants on, and when that time comes, a pair of lightweight drawstring trousers is your most comfortable and stylish option.
Canvas sneakers
Canvas sneakers are cool, comfortable, timeless and cheap enough that it doesn't matter too much if they get trashed at a festival or the beach. Models like the Converse Chuck Taylor All Star, the Novesta Star Master and the Superga 2750 are classic sneakers that don't cost the earth and are unlikely to fall from fashion any time in the next century.
For an alternative, check out Stepney Worker's Club, a relatively new brand known for its chunky canvas sneakers, or Cariuma, a sustainable sneaker brand that makes high-quality skate shoes that are built to last.
Pool slides
For lounging around by the pool, on the beach or just shuffling around the garden on a hot day, there's nothing like a pair of pool slides to get the job done.
They're extremely affordable too (provided you don't go for designer ones) so if you buy just one summer shoe this year, it might as well be these.
Summer suit
If you've ever been to an August wedding in a navy wool suit, you'll know why it's important for warm-weather tailoring to exist. Cut from airy fabrics in light colours, a laid-back summer suit is essential for dressing up without getting a sweat on.
For bonus points, wear it with a linen Cuban collar shirt to maximise style and cooling potential.
Loafers
The smart-casual summer footwear of choice, loafers are versatile, comfortable and are one of the few smart-ish shoes that actually look good with bare ankles.
They're the perfect accompaniment to a summery linen-blend suit but they look great with shorts too.
Summer fragrance
That rich, musky oud might smell great but it's not exactly light and summery, is it? A summer fragrance should be fresh and zesty, making its presence known without bellowing from the rooftops.
Key notes to look out for in a summer scent include citrus (orange, lemon, grapefruit, bergamot), floral (jasmine, patchouli, juniper) and aquatic (sea salt, white musk).
Use it to add an olfactory flourish to your warm-weather looks.
Key summer materials
Linen
People from the hottest corners of the earth have been wearing linen for thousands of years. Its cooling, quick-drying properties make it the go-to fabric for summer clothing, and it's great for everything from trousers and shorts to shirts and tailoring.
It's got a lovely textured look to the weave which is great for creating depth within summer fits, and looks equally good in both plain pastel colours and bold patterns.
Seersucker
This lightweight puckered fabric first became popular in Britain's warm-weather colonies where it was favoured over heavier cloths for its breathability and lightness.
Today, it's used to make summer pieces like shirts, suits, shorts and more. It often features a thin striped pattern but can be plain or checked too.
Cotton pique
Most commonly found on polo shirts, this stretchy, breathable fabric is comfortable and airy, making it ideal for hot weather.
It's less common, but pique can be used to make other garments too. British brand Sunspel, for example, makes a pique-cotton long-sleeved shirt that's great for looking stylish and staying cool.
Terry cloth
This super-absorbent towelling fabric is stretchy, breathable and comfortable against the skin.
It works particularly well for polo shirts and tees and makes a great alternative to pique cotton for anyone who fancies something a little out of the ordinary.
Men's summer style tips
Stock up on plain tees
Plain tees are the backbone of a good summer wardrobe. Find one that fits just the way you like and then buy several in a few different colours – white, navy and grey for starters.
These are garments you'll be reaching for on an almost daily basis so it makes sense to have enough that you don't have to be constantly thinking about laundry.
Keep it light
This holds true for both fabrics and colour. Lightweight materials will help you to stay cool and allow perspiration to escape, while light colours will reflect the sun, helping to cool you down further still.
Light pastel shades look particularly great under the sun, as do sandy neutrals and white.
Less is more
One simple way to make putting summer outfits together easy is to purposely shop for versatile pieces that can be styled in a variety of different ways.
Think light overshirts that can be worn as a shirt or jacket; tailored swim shorts that can be worn in the pool or out for dinner; and minimal white sneakers that can easily be dressed up or down.
This will help to streamline your wardrobe (reducing choice overload) while enabling you to do more with less.
Play with prints and patterns
There's no better time to experiment with patterns and prints than when the sun's shining. They can bring an outfit to life and add a focal point to your summer looks.
A Cuban collar shirt is the perfect vehicle for jazzy colours and patterns, just make sure to wear it with simple, pared-back pieces to avoid things looking too busy and different garments fighting for attention.
Key summer 2023 menswear trends
New Ivy League
Collegiate cool is back in a big way for summer 2023 and this time there's a streetwear influence. Brands like Aimé Leon Dore and Noah, which fuse streetwear sensibilities and preppy silhouettes, continue to go from strength to strength, and Ivy League staples like cardigans, varsity jackets and loafers are some of the coolest pieces to own right now.
To embrace the look for summer, opt for pieces like colourful swim shorts, penny loafers, polo shirts and OCBDs.
Sensible sandals
From strappy Suicokes to brown leather Birkenstocks, the trend for functionality extends to the footwear world this season.
These practical sandals are comfortable, airy and less prone to falling to bits than flip-flops, making them perfect for seeing the summer through in style.
Blokecore
Born on TikTok, the 'blokecore' phenomena largely involves American Zoomers dressing like the sort of people who put Oasis on the pub jukebox. It doesn't sound like a trend worth investing in, but there is an argument for it.
Rather than going full Green Street cosplay, you can incorporate some of the key pieces into your summer rotation. The return of the Adidas Samba sneaker is one of the best things about this trend and something well worth embracing during the warmer months.
A retro football shirt is a nice, statement alternative to a T-shirt too, particularly when we're talking holidays or festivals.
Short shorts
It's long been accepted that a pair of shorts should end an inch or two above the knee, but this summer things are moving further up the thighs. Not too high (a five-inch inseam is the sweet spot) but high enough to show off a little bit more leg and get a nice tan while you're at it.
Caveat: if you skip leg day, or you have long legs, it's best to swerve this look. Being aware of your body type and dressing accordingly is key to looking stylish.
Monochrome florals
You don't have to cover yourself in headache-inducing colours to experiment with patterns this summer. Monochrome florals are big and they're a great way to bring your outfits to life while keeping the colour palette muted.
To nail the look, try wearing a monochrome floral shirt or tee with white pants and a pair of leather sandals or sneakers.