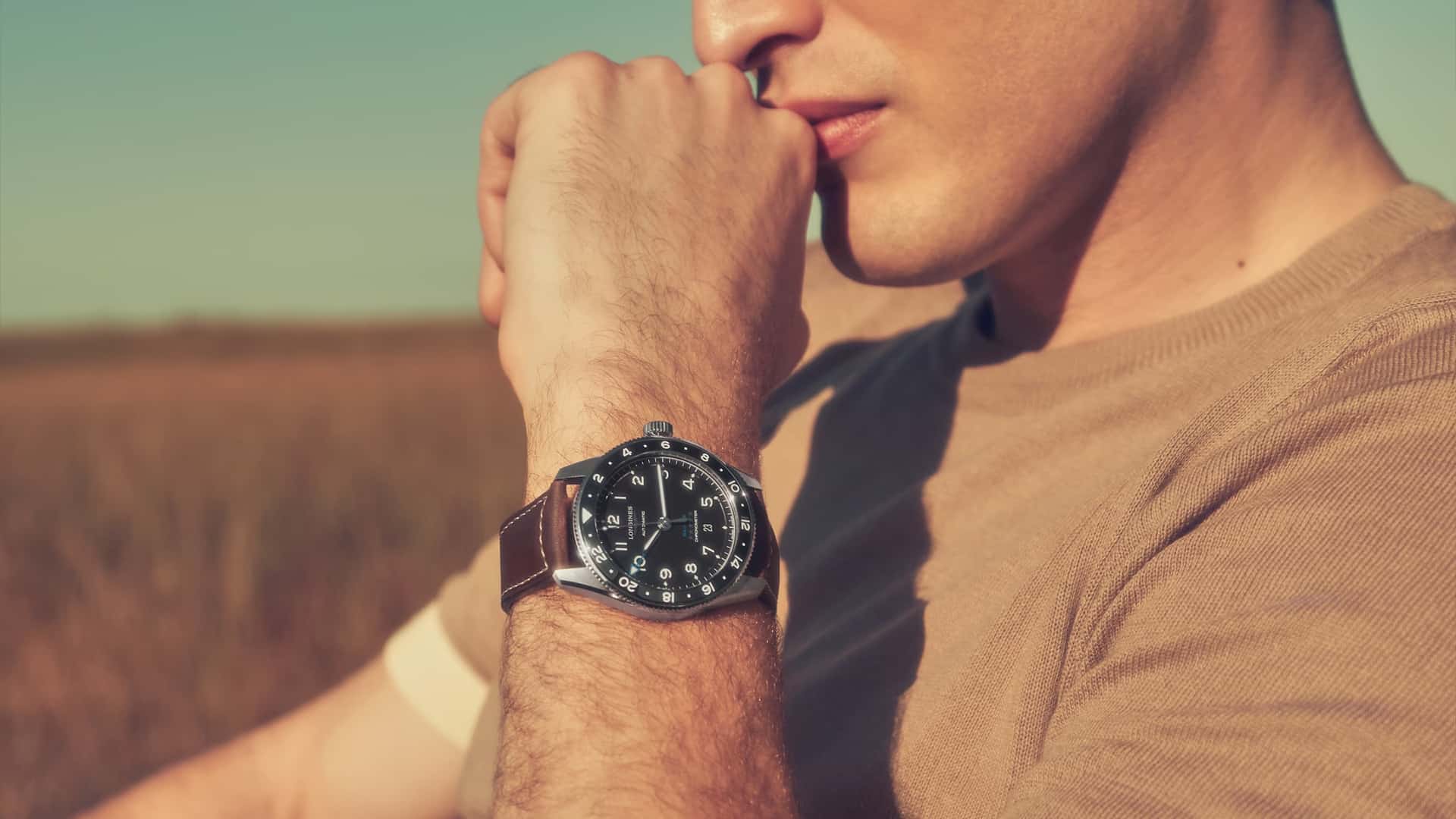 15 Leather Strap Watches That Are Worthy Of Your Wrist (For All Budgets)
A leather strap watch is a timeless accessory that all men should own. These are the best models to buy in 2023 from all the big name brands.
Watch straps don't get talked about much. Mechanical movements are pored over endlessly, the merits of relative case sizes debated, materials dissected. But thing that actually allows you to wear a clock? On your wrist? It gets forgotten about.
So, here's a celebration of the humble leather strap. From Grand Seiko's in-house obsessiveness to Timex's environmental proposition via Vacheron Constantin's Strap Bar, these are the brands elevating the humble wrist attachment to an art form.
Timex Standard Chronograph 41mm
If you're concerned about the climate impact and ethics of your leather strap, Timex has your back with this version made from leather produced by Ecco Leather. The brand works with environmental waste solutions company Bioscavenge to purify and recycle the water it uses in circular-loop style.
It has invented a DriTan method that uses moisture present in the hides to cut water use, is on track to be carbon neutral by 2028, and all hides are sourced responsibly.
But above all, it's just a really handsome vintage chronograph. The strap also comes in grey, should black be too severe.
Seiko SPRG17
Should a diving watch be on a leather strap? Probably not. Does this Seiko Prospex look good on one? Absolutely.
This member of the Prospex family is named the Tortoise and inspired by the former Prospex named Turtle by fans because of its shell-like profile. It's automatic, has a rotating compass bezel, crown at four o'clock and excellent luminosity.
Like all Prospex watches (the name being a portmanteau of 'Professional' and 'Specifications'), it is reliable, practical and durable. And, if you don't like a black leather strap, it also comes in brown.
Tissot PRX
Tissot anticipated the trend for slinky Seventies styles when it relaunched its PRX in 2021. Based on a timepiece from 1978, it had the appearance of a much more expensive model but thanks to Tissot's competitive pricing could be yours for less than price of a steak at Nusr-Et.
The other added bonus was that the strap could be easily switched out. Make it cocktail attire-appropriate with black, flout the rules and wear brown in town or take it all the way to midnight with blue.
The only thing dictating its personality is you.
Baume & Mercier Clifton
Baume & Mercier is an affordable luxury brand that tends to fly under most radars, which is a shame when you consider this gradient-dial beauty.
Granted, red might not be for everyone – there's a green version if you're interested – but it does provide an alternative to the numerous iterations of blue that dominate this category of watch, which could be summed up as 'everyday dress'.
The added beauty of this watch is its interchangeable strap system. Helpfully, Baume & Mercier provides styling suggestions on its website, from colourfully clashing green to a vintage patina brown. Outfit coordination has never been easier.
Bremont Broadsword
Bremonts on bracelets is one thing, but this brand's dials, with their retro pilot aesthetic, really come alive on leather.
Take this this bronze version of its Broadsword model – a contemporary interpretation of the Dirty Dozen; the 12 watches intended for British soldiers that were commissioned by the British MoD from the likes of Jaeger-LeCoultre, Omega and Longines during WWII.
Aside from the bronze case, it's a dead ringer for Dirty Dozen design. It has the bold, legible lume-filled numerals, the sword hands and small seconds at six o'clock. Complementing this is a more modern soft-grey leather strap.
Cartier Santos Dumont
When Cartier relaunched its Santos, with added curves and a tapered bezel, the real surprise was the new QuickSwitch system – the Maison's nifty new way to swap straps.
Suddenly the Santos went from staid gentleman to fashion icon. Granted, at the moment, the at-home switch is between bracelet or leather. However, Cartier will change your leather strap in-house where there is more selection and less chance of you scratching the metal.
Thanks to the care and tests Cartier puts its straps through they have a lifespan of six to 12 months.
Grand Seiko Elegance
Given the care and attention to detail that goes into everything Grand Seiko does, it can come as no surprise that the brand has an in-house craftsperson dedicated to its leathers.
The marque believes that a strap should match the unique design of the watch. To that end it does everything – the cutting, skiving (reducing the material's thickness), construction, stitching and stamping – by hand. Even the tanning is done in house after high-grade crocodile leather is selected and imported from a trader in Papua New Guinea.
The particular shade of this dial, for which the strap has been specifically chosen to complement, is a delicate champagne chosen to evoke Bantō. This is the sekki, or 'season', in Japan when the harshest days of winter are over, and the long-awaited warmth of the sun lights up the snow-covered landscape.
IWC Big Pilot
Arguably IWC's most iconic design and naturally it comes on a leather strap. As the name indicates, the Big Pilot was made for pilots. First launched in 1940 it was an upsize of a previous model, the Spezialuhr für Flieger ('Special Watch for Pilots').
The German Air Force asked for a larger case. IWC got the brief and upscaled a 36mm case to a 55mm one. It had the luminous military triangle at 12 o'clock, legible sans serif numerals and an enormous onion crown that could be used while wearing gloves.
In 2002 its successor was unveiled. All the vintage stylings were there, but the case had 9mm shaved off it, making it a marginally more manageable 46mm. It's still big, and still very much a pilot's watch, but now you have the option of a brown leather strap or a snazzy green dial.
Hermès Cape Cod 41
If any brand knows its way around a tannery, it's Hermès. The Maison started in 1837 as a harness marker in the Grands Boulevards quarter of Paris serving European noblemen. That knowledge extends to its watch straps.
It uses both its own tanneries and select operations in France, Italy, Germany and Spain, as well as some in the USA, Australia, and Africa that provide exotics. All comply with protective legislation.
It's Barenia calfskin, which is buttery-soft with a matte finish, provides the straps for the classic Hermès Cape Cod. Its casual elegance evokes the Massachusetts coastline after which it is named, and the rectangular case is strapped in classic shades from natural brown to black.
This version, with mechanical movement, is in Barenia calfskin, which has a fine grain and the ability to reflect light.
Jaeger-LeCoultre Reverso Monoface
Born on the polo field of 1930s India, there are few silhouettes as instantly recognisable as Jaeger-LeCoultre's Reverso. Its flip action was created to prevent errant polo balls from destroying the dial of a watch and very little about it has changed since. Except, perhaps, the ability to change the strap.
Today there are myriad options depending on which size case and model you have, but for the classic men's Reverso, the Maison itself recommends you go with a Fagliano leather strap.
Born in the La Boca neighbourhood of Buenos Aires, Casa Fagliano has been making the most exclusive polo and equestrian boots in the world for five generations. Paired with a Reverso, it's a match made on the polo field.
Longines Spirit Zulu Time
In 2022, Longines went into its back catalogue, dug out its first-ever dual time zone wristwatch and revamped it for the modern man.
The Zulu Time – so named after the letter 'Z', which designates universal time for those in the armed forces and aviators – didn't feel like another jump onto the retro reissue bandwagon, though.
It is now a GMT, so the 12-hour hand can be adjusted independently of the hour and minute hands, its movement has a silicon balance spring, and it comes in a variety of leather strap colourways, including tan, dark brown and blue.
Nomos Club Campus
Despite determinedly flying the flag for Glashütte, Nomos gets its leather from Detroit. This very specific type of leather is taken from the posterior of the horsehide and, in terms of behaviour, is long-lasting and becomes more supple and beautiful with age.
In Nomos' signature grey, it is the perfect foil to the bold salmon of this Club Campus. This is Nomos' fun collection, wherein the principles of Bauhaus aren't so rigidly adhered. The watchmaker intended this timepiece to be a graduation gift – a first mechanical watch, powered by Nomos's first in-house manual-wind movement, the Alpha, to take you out into the world.
But it's so much fun, it's a wrist-sized dopamine hit for anyone.
Omega Speedmaster 57
Omega might be more associated with the bracelet stylings of the Seamaster and the Moonwatch, but it doesn't disappoint when it comes to leather.
More commonly found in its dress collections, such as the DeVille Prestige or Constellation, this Speedmaster shows how a leather strap can instantly transform a sports watch into something more versatile than just a great weekender (that said Bond wears a steel diver with a dinner suit so technically anything goes).
This 57 Speedie is inspired by the original iteration of the design and, for a dash of authenticity, powered by a manual wind Co-Axial Master Chronometer Calibre 9906.
It also comes with 20 leather strap options including a rather racy perforated red.
Oris x Volante Big Crown Pointer Date
Oris is a brand committed to finding ways to make its business more ethically sound and carbon neutral. We're talking white papers, re-examining of practices and now this – using sustainable deer leather for a collection of straps.
Oris has teamed up with Cero Volante, a Swiss business that transforms hides left over from red deer hunting (to regulate its population) into luxury leather goods. And it has teamed it with the Big Crown Pointer Date, whose retro energy suits the rugged earthy tones of the three straps in various shades of brown perfectly.
As Oris says, "this is not a one-time deal" so expect more deer straps on other styles in the future.
Vacheron Constantin Patrimony
The Patrimony is a classic collection and classic watches deserve alligator straps. Luckily Vacheron Constantin uses only the best.
Sixty different stages are involved in the creation of their straps, which, in the case of this Patrimony, are meticulously colour matched to the dial, and the materials conform to the Convention on International Trade in Endangered Species of Wild Fauna and Flora (CITES), to which the Manufacture has committed.
If an off-the-peg design doesn't appeal, Vacheron Constantin also has a Strap Bar in its boutiques where you can personalise everything from the leather colour to the shades of the stitching, and even having text on the lining. Definitely a service for the few, not the many.