18 Affordable Sneaker Brands For Men On A Budget
Cool footwear doesn't have to mean limited-edition collabs and ultra rare colourways. These are the labels producing high quality kicks for those on a budget.
When you're buying clothes on a budget, you can usually expect some kind of compromise at the checkout – often in design or quality. Happily, that's not the case with budget sneakers. If you're savvy about where you shop, even a modest purse can bag some all-time classic footwear from the leading names in sneakers.
Why is that the case? Because sneaker prices aren't particularly determined by quality, but rarity. Drop culture means that limited editions and rare collabs are the sneakers that will kick a hole in your bank balance.
The best cheap sneakers are bona fide all-stars, and yes we're including Converse's canvas low-tops in the list. You can add other classic styles like Stan Smiths, Old Skools and various Air Max models, all of which you'll find around $60/£50 or less if you're smart about it.
What to expect from budget sneakers
Well, you won't be reselling your budget kicks on StockX, that's for sure. The most affordable sneakers (which are also stylish, versatile and comfortable) are usually the mass-produced kind that everybody has owned at one point or another.
Die-hard sneakerheads will automatically go for rare drops, collaborations and colourways, but there's no shame in having a tried-and-true model on your feet. In a lot of cases, the most expensive designs are iterations on more popular and affordable sneaker designs anyway.
There are some considerations to keep in mind when you're buying budget sneakers. Canvas is cheaper than leather, for a start. Also, the more involved a shoe's design and construction, the less likely you'll find it at a bargain price. Cheap sneakers usually means glued-on soles, little cushioning and a narrower range of colours and styles.
But also remember that all of those things can also be true of luxury sneakers – there just aren't as many of them in the world.
Where to get budget sneakers
Not usually from the brands themselves, unfortunately. Outside of sales periods, you'll find better sneaker deals on when you shop at wholesalers who still have previous seasons' stock or discontinued colourways that they're trying to shift.
Scour Amazon and eBay as well as big ecommerce sites such as Zappos, Walmart, ASOS and Zalando – or major fast fashion brands like H&M or Zara. If you're looking for specialist technical sneakers or like the trend for trail running shoes, try performance-oriented sites like Decathlon or Dick's Sporting Goods.
The best budget sneaker brands
Vans
The quintessential skate shoe brand has been doing its thing since 1966, and unlike a few other labels we could name, it's been a genuine budget sneaker brand ever since. Its classic models, like the Old Skool, the Slip-on and the Authentic, are all easily found under $75/£50 – and each one is a genuine sneaker hall-of-famer.
You can wear them with skate- and streetwear or dress them up with preppy clothes, proving that affordable sneakers can still be versatile options in your rotation. Keep an eye on sales, too – you'll often find harder-to-find seasonal colourways with impressive markdowns.
Converse
Even after 100 years, the classic Chuck Taylor All Star remains one of the most iconic sneakers of all time. It's also one of the best value. For generations of teenagers, Converse was the quintessential affordable sneaker brand because Chucks were cheap and only looked better the more beat up they got.
These days Converse has cottoned on to the sneaker's iconic status, and sells countless iterations on the classic design, as well as collabs with designers and celebrities. That means there are always bargains to be found. And don't discount the brand's overlooked models, like the One Star or Jack Purcell, which are also extremely affordable.
Puma
Sometimes dismissed as an also-ran in the overcrowded sneaker market, Puma has both the heritage and the design chops to prove otherwise. It doesn't have a big-hitter like the Air Force One in its closet but what it does have is a back-catalogue of impressive and incredibly cheap sneakers.
The Suede, and similar models like the Smash and Roma, all hark back to classic 70s and 80s athletic shoes, but you'll also find amazing deals on its chunky runners and funky basketball shoes.
Diadora
It wasn't very long ago that Diadora had been relegated to bargain sports shops, a brand largely forgotten by fashion. Then came the Fila-style revival sparked by a renewed interest in retro running shoes and other throwback kicks, which the Italian label (founded in 1948) is very, very good at. Its prices have since climbed but Diadora remains one of the best budget sneaker brands.
The obvious starting point is its line of retro athletic styles, such as the Camaro and Game Low, which pair nicely with light blue jeans and a washed-out tee in the summer.
Adidas
No, you won't get its elite running shoes or high-profile collabs if you're on a budget but Adidas does sell plenty of affordable sneakers in its considerable range. The Adidas Originals line is usually where you'll find the best style for your buck, with Samba-adjacent lifestyle shoes and retro runners going under $60/£50.
You'll also find performance and workout shoes for less than you'd think. Whether you're training for your next 10K or just like the look of a cloud-like outsole, you won't have to spend much to get those famous three stripes.
Nike
You don't become the biggest footwear brand in the world by only selling expensive models. Nike makes our list precisely because you can pick up some of its best designs much cheaper than you'd think. From legacy entry-level models like its canvas tennis shoes to recent classics like the Waffle runner, there are lots of options to pick up Nikes on the cheap.
That includes a number of Air Max models, as well as Jordan basketball models and the too-often-overlooked Court range.
H&M
Probably the best-known fast fashion label in the world, Swedish powerhouse H&M has its finger (and toes) on the pulse. That means a constantly revolving sneaker line-up that keeps pace with wider footwear trends, while also stocking its own versions of classic basketball shoes, tennis styles and other popular silhouettes.
Judged on looks alone, its minimalist style is hard to fault, while you'll also find chunky models and retro runners that let you step into those key sneaker trends at an affordable price.
Hoka
One of the disruptor brands in the running shoe space over the last 15 years, Hoka One One took its first well-cushioned steps in 2009. The chunky-soled runners had more sole than the majority of sneakers at the time and its popularity coincided with the return to maximalism that we've seen in recent years.
Buying their newest styles, you'll easily pay north of $150/£150 but there are bargains to be found, especially in previous-season stock. For the money you'll get some serious sneaker science: sneakers with exceptional comfort and athletic prowess.
Allbirds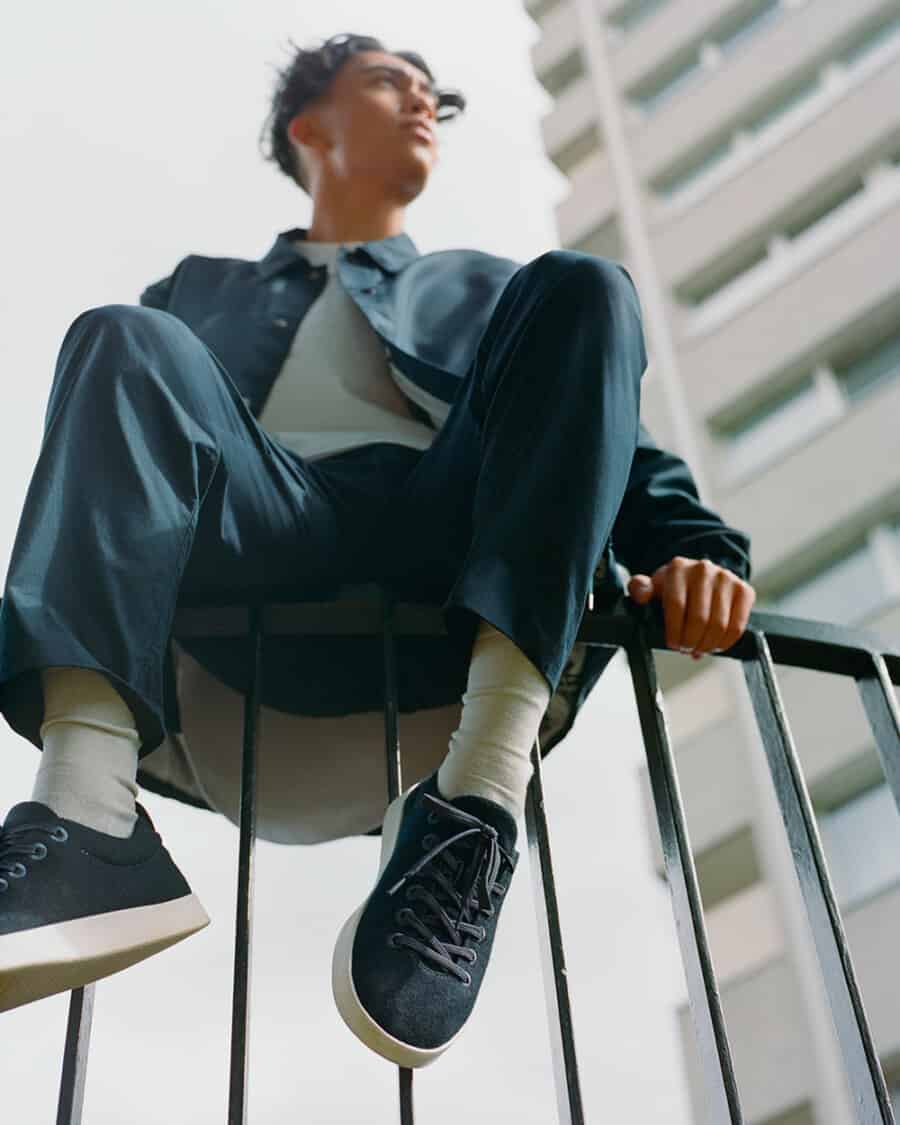 Genuinely sustainable design doesn't often come cheap but the innovative knitted sneakers that Allbirds makes won't cost the earth, whichever way you look at it. Made from a unique merino blend specifically designed for footwear, Allbirds are breathable, lightweight and minimalist in design.
Whether you use them for exercise or everyday wear, they're a comfortable, easy-wearing addition to your rotation.
Zara
Its sneakers aren't quite as affordable as fellow fast fashion behemoth H&M, but Zara's footwear range is arguably the better looking. There's a minimalist approach to its sneaker design, even when it's making chunky runners or heavily-soled high-tops.
The colours are tastefully muted, meaning they'll go with everything you've got.
Salomon
The idea that trail shoes could be fashionable for anything other than a muddy stomp around the woods seemed preposterous only a few years ago. Now, heavy-treading, hyper-technical brand Salomon is being worn with baggy trousers in urban coffee shops, as well as running tights in the great outdoors.
Again, on paper, it's only an affordable sneaker brand if you're eschewing its latest designs for older or more accessible styles. But the DNA is the same across the board: lots of support, designed for movement and kind of ugly – but ugly in a cool, ironic way, of course.
Reebok
A stalwart of 90s sportswear, British-founded Reebok is one of the brands to benefit from the trend for retro kicks. Its evergreen Classic style made a deserved comeback in recent years and if you're smart about which models and colours you opt for, you can find them for less than the cost of a night out.
Sharing the Classic's lo-fi throwback aesthetic are the Club, Court and Street Fighter sneakers. Add those and Reebok's maximalist basketball styles to your wish list for affordable sneakers.
New Balance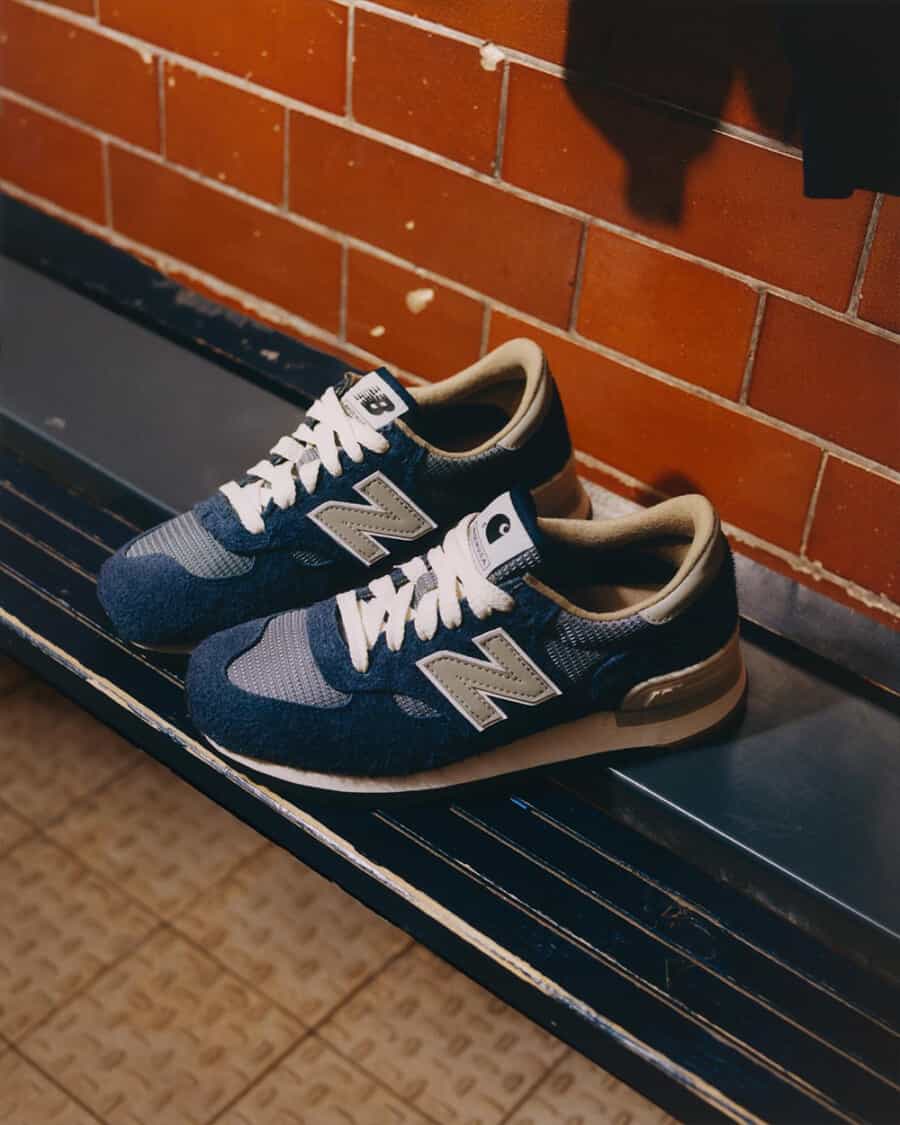 The daddy of the dad shoe trend, New Balance is currently enjoying a purple period to match the early 90s when its 990 sneaker single-footedly changed the game. It's a brand with broad appeal, worn by running nerds, hipsters and dads who couldn't care less about fashion. And that means a huge back-catalogue to choose from – many of which at bargain prices.
You'll find various models from the 99x series on outlet stores but you'll also find knitted runners, little-known tennis shoes and others.
Novesta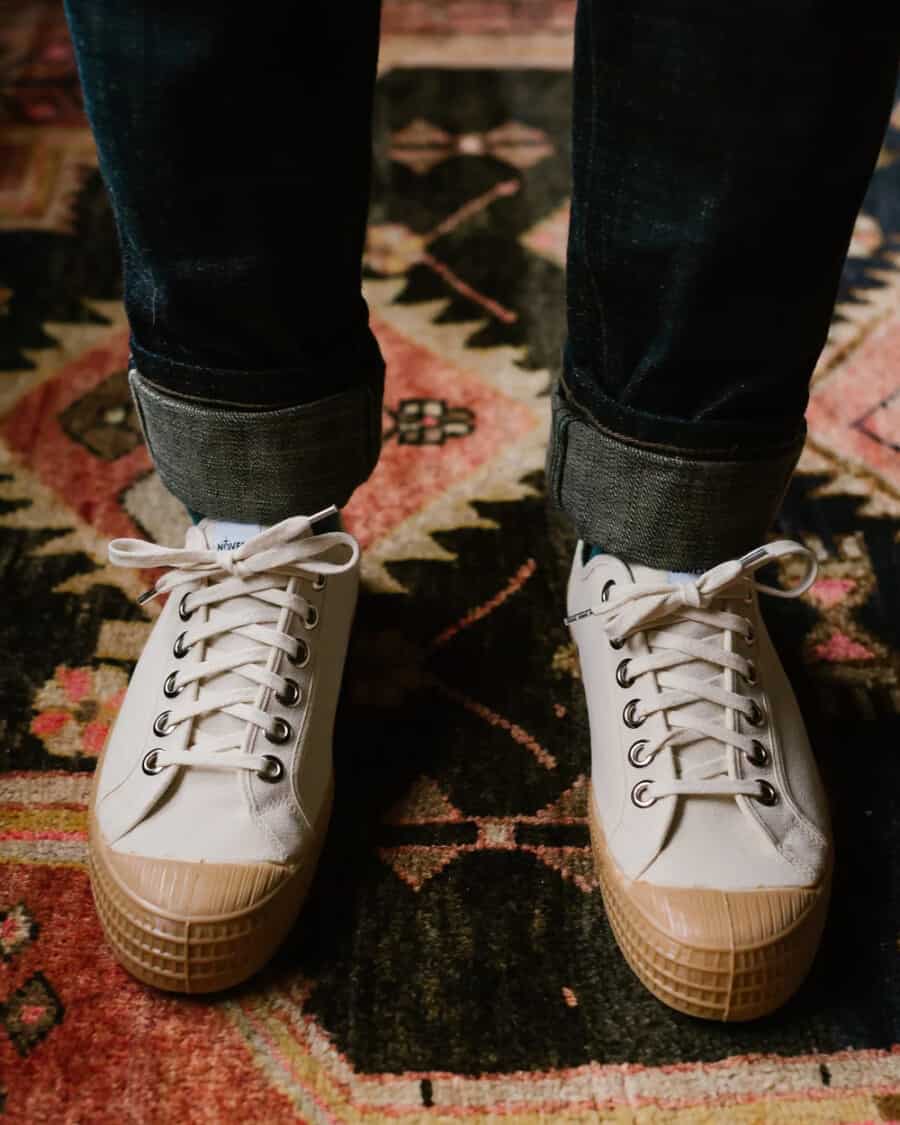 Trendy Slovakian brand Novesta has been making their affordable sneakers in the same factory since the 1930s. So despite its accessible prices, you're still buying into an interesting slice of sneaker heritage.
Of the bargains to be had from Novesta, its canvas models like the Star Master low top and Star Dribble high top are usually the cheapest, but you can also find its takes on vintage marathon and tennis shoes at good prices. The brand's stripped-back urban aesthetic means they pair nicely with easy-wearing workwear.
Asics
Like New Balance, Asics was a serious running shoe brand that recently became popular with urban fashion types. Its chunky, well-cushioned designs feature lots of mesh panels and the occasional gel sole, and there's technical design in abundance across its range. You can spend close to $250/£200 on a pair if you wish but you can get all of those ingredients in marked-down models, too.
As well as the Gel-series of traditional-looking runners, check out the brand's sturdier trail and lifestyle shoes, too. You'll struggle to find better cushioning from an affordable sneaker brand.
Superga
Simple canvas kicks for the price of a heavy round at the bar. That's the unofficial Superga promise, but there's plenty of heritage behind this seemingly cheap sneaker brand's designs. Founded in Turin way back in 1911, the label's iconic 2750 design became a staple of midcentury Italian style.
Today, its collection includes staple leather tennis shoes and high-tops alongside the famous plimsolls. But across the board, Superga's easy-wearing, casual minimalism remains cool, comfortable and, if you're happy to do some digging, affordable.
Fila
Disruptor by name and disruptor by nature, Fila's chunky white sneaker proved in recent years that the trendiest styles can come from cheap sneaker brands. Fila's Italian roots and sportswear heritage (it had a famous endorsement deal with Bjorn Borg in the 70s) still shines through in its designs, even after years spent in relative obscurity.
If chunky's not your style check out Fila's minimalist sneakers, from 70s-inspired tennis shoes to modern low-tops that work with jeans and tailored trousers alike.
Saucony
Another brand to benefit from the boom in running and trail shoes, Saucony is older than some of the world's most storied footwear brands. Founded in 1898, the company is best known for its 80s-looking running styles. And what's rare about this affordable sneaker brand is that its most desirable models are some of its cheapest.
Look at the Originals series, which includes models like the Jazz, Shadow and Hornet. And if your style leans more technical than throwback, then it's worth checking out the label's trail and high-performance runners, too.