16 Luxury Bag Brands That Are Worthy Of Your Everyday Essentials
More than just an item of utility, today's luxury bags signify status, style and personality. These are the brands that will take pride of place on your arm.
There was a time, during the golden age of travel, that one's luggage was not merely an afterthought or a question of utility, but also an extension of  your personal style. Only the wealthiest could afford to travel, so they of course had the means with which to explore in style, but nevertheless they took to the task with diligence and attention to detail. Yet day-to-day bags like satchels, duffles and weekenders were never really afforded the same level of artisanal distinction, at least for men.
More recently however, the 'man bag' has gone from boring utility for taxiing around kit to essential fashion accessory, with every luxury house worthy of the moniker producing seasonal collections.
They now confer status, wealth, style and personality, so purchasing one is a task that shouldn't be done on a whim. Hence why we've created this compilation of the brands producing the finest luxury bags on the market.
What makes a bag luxury?
Unlike 'luxury fashion' – which often has us scratching our heads over $500 cotton logo T-shirts – what makes a bag luxury is much more definable and discernable since it almost entirely revolves around the artisanal process and the materials used therein.
To help you figure out if that new arm candy is worth the investment, below you'll find the hallmarks of any high-end bag.
Materials
Leather is still the fabric of choice when it comes to luxury bags. The natural hide is hardwearing, ages beautifully, is soft and supple, and can be shaped in a number of different ways.
Many brands are starting to use vegan leather, but the jury's out on its longevity. Full-grain, vegetable-tanned calfskin leather is the pinnacle when it comes to quality but you'll find plenty of other excellent hides in use.
Cotton canvas is another excellent material widely used in luxury bag making, especially for more rugged weekenders.
Construction
Much of a luxury bag's production will be handcrafted, from the leather work to the stitching. Leather requires a skilled hand that understands the nature of the hide, hence the elevated prices.
Machine stitching can sometimes be too tight, which will have a detrimental effect over time, so always look for hand-stitched bags, paying particular attention to the work around the handles as these are invariably the areas that fail first.
Hardware
Luxury bags shouldn't scrimp on the hardware so wherever there is metal you should be expecting high quality solid brass or stainless steel, rather than the cheap zinc alloy that inferior designs tend to use.
The zips are also key – there's nothing more frustrating than having a beautiful bag with a broken zip. Riri, Lampo, Glossy and YKK zippers all tend to be excellent.
Ease of use
A luxury bag shouldn't be all beauty and no brains. After all, it is a practical accessory first and foremost, so convenience and ease of use should have been thoroughly considered.
As a minimum, you should expect multiple storage compartments and pockets of varying sizes to help organise your daily essentials – from tablets and laptops to keys, passports and paperwork.
Otherwise, adjustable/detachable shoulder straps, waterproof linings/pockets, security locks, padded tech sleeves and personalisable name tags are just some of the finer details you may come across that make daily life just that little bit easier.
The best luxury bag brands for men
Bennett Winch
Bennett Winch has become renowned for its level of detail and dedication to fine fabrics and craftsmanship. Its small but perfectly curated collection features all the usual suspects – holdalls, backpacks, briefcases, totes and folios – with each design handmade by artisans in its UK workshop using full-grain veg-tanned leather or 24oz British dyed and bonded waterproof cotton canvas.
Its weekenders are a highlight – rugged yet refined, they suit smart sartorial types in search of adventure.
Frank Clegg
Founded in 1970 and still a family-run business in Massachusetts, Frank Clegg has quietly been making some of the finest bags in the world, all constructed from responsibly sourced leather and designed and handcrafted in America.
Its backpacks, duffles and briefcases are all excellent, but we're especially fond of Clegg's leather tote styles, not least the dark brown nubuck leather version he made in collaboration with Permanent Style's Simon Crompton.
Berluti
The prestigious leather specialist started life out in the luxury shoe business and has since become one of the leading fashion brands in the world, so it should come as no surprise that its bag collection is of the highest order.
Renowned for its use of leather patinas in its footwear and outerwear lines, Berluti has incorporated the same effect into its bags, which only get better with age. With some stunning and unique leather treatments, the French label's styles are for a truly discerning audience.
Bleu de Chauffe
Based in the Aveyron region of France, Bleu De Chauffe uses local artisans to craft its bags, selecting only the very best and most sustainable fabrics and hardware.
Each artisan is 100% responsible for the bag he or she produces (they date and sign each piece they make), meaning no production lines – which in this day and age is unique and highly commendable.
While the brand is best known for its musettes and postman's satchels, its travel bags are equally as splendid.
Bottega Veneta
If there's one thing that Bottega Veneta is renowned for it is its unique 'Intrecciato' woven leather, which remains an integral and iconic part of its seasonal bag collections.
Instantly recognisable as a Bottega piece, the woven leather style is not only luxurious but also pertains to an artisanal quality. Bottega has played with the intrecciato motif in some fun ways, too, using quilted fabrics in recent seasons, for example.
The totes are simply peerless. If looked after properly, they will become heirlooms with time.
Dunhill
British heritage brand Dunhill's luggage collection is exemplary, and for the most part constructed from exquisite calfskin leather in Italy.
From sleek black leather attaché cases perfect for the city professional, to full-grain calfskin messengers and stunningly smart backpacks, Dunhill's eclectic collection has luxury written all over it.
Hermès
As far as women's bags go, they don't get any better or more coveted than Hermès, the maker of the iconic Birkin and Kelly bags which are auctioned for eye-watering sums.
The French fashion houses' bags for men have never generated as much attention, understandably, but you'd be a fool to overlook them because they are the very definition of 'luxury'.
Designed with the playfulness that Hermès has become so famous for, the brand's Pursangle totes are constructed from military-grade canvas with leather handles and trim, while the rounded calfskin sports bags are so exquisite (and expensive) that you definitely wouldn't be slinging them into a gym locker.
Louis Vuitton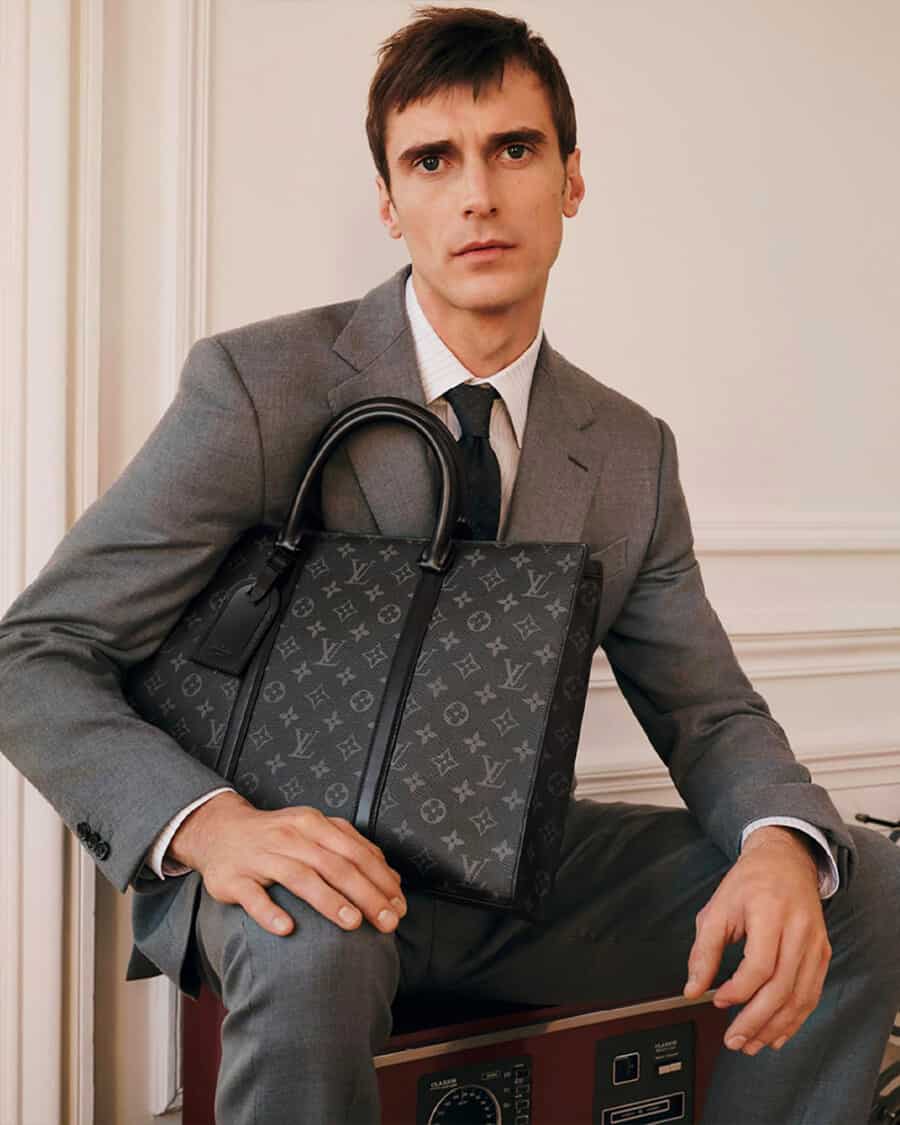 This list wouldn't be complete without giving some column inches to Louis Vuitton, which of course started life out as the original luxury luggage maker. And while that instantly recognisable LV monogram might have become ubiquitous (and faked), there's no denying that the LVMH poster child still produces some of the very best luxury bags.
If, like us, you feel the monogrammed aesthetic is a bit much (and overdone), check out the checkerboard of the Damier collection.
Métier
For a new luxury luggage maker to cut through the noise in an already very competitive industry, it needs to offer a pretty special product, and that is exactly what Melissa Morris has done with her brand, Métier.
Founded in 2017 in Mayfair, London, Métier specialises in stunning handmade modular bags, crafted in Italy using the finest fabrics. The thinking that goes into the design details is quite something, turning what are essentially works of art into functional accessories with a luxury aesthetic that borrows from the Jet Set era of travel.
Mismo
Launched in 2003 by founders Adam Alexander Bach and Rikke Overgaard, Danish bag maker Mismo has become one of the most recognisable and sought-after Scandinavian brands thanks to a beautifully crafted and eclectic range of leather holdalls, military-inspired rucksacks and modern urban totes bags, all made using premium materials.
From ballistic nylon backpacks with leather trims to canvas weekenders, you'll find a style to suit every type of journey and wardrobe.
Mulberry
Mulberry looks and feels like a heritage brand, but it was actually only founded in 1971, which shows you the footprint they've made on the luxury bag space. It's the women's bags that get most of the column inches, but the men's collection should definitely be on your radar.
The range of Clipper weekenders is pure class, constructed from eco Scotchgrain, a durable fabric made from recombined bio-plastic materials, while we also love its Chiltern backpacks, ideal for those who like to add a vintage twist to modern preppy attire.
Serapian
The Milanese leather bag specialist has been handmaking its stunning pieces since 1928, and although no longer family run, it still adheres to the same painstaking processes in order to produce some of the most exceptional examples of leather work.
Serapian's designs are perfect for the elegant guy with a wardrobe that traverses sartorial finesse and contemporary fashion. If that sounds like you, then you'll want to check out Italian brand's embarrassment of travel bag riches, featuring a plethora of leather styles, as well as cotton canvas and nylon options.
Troubadour
Founded by former financiers Samuel Bail & Abel Samet, Troubadour's very existence was catalysed by the need for a weekend bag. Unable to find one that suited their lifestyle, Bail and Samet set about designing their own, and we're very glad they did.
With a minimalist aesthetic that's perfect for smart looks and business travel, Troubadour uses high quality fabrics such as Italian leather, as well as recycled polyester in a bid to become carbon neutral and eliminate fluorocarbons in its production processes. So you can splurge on these bags without the guilt.
Tusting
For a brand that's fast-approaching the end of its second century in business, remarkably few people know about Tusting, the Northamptonshire leather bag maker. However, it's not too surprising given that for a good deal of the company's recent history it has been producing designs for other brands.
Thankfully, it has started to market under its own name and it won't be long before its burnished leather and canvas holdalls appear in the hands of the most discerning sartorialists.
Valextra
Valextra was founded in 1937 by Italian Giovanni Fontana and the Milan-based brand has retained an exceptional reputation for leather working ever since.
Its craftsmen tend to work with a soft-grained calfskin called Martellato, and Parigi leather, both of outstanding softness. What we love, besides the bags being unisex, is that many of the designs today are from the company's vast archive, giving them an authentic vintage charm.
Want Les Essentiels
Montreal-based design label Want Les Essentiels was founded in 2007 and very quickly made a name for itself producing minimalist leather bags and small leather goods. Thankfully, the brand has stuck steadfastly to this original aesthetic, albeit expanding the collection significantly.
Its signature fabrics include ECONYL, a recycled nylon; Italian nylon; organic cotton canvas; and of course premium leather. The O'Hare tote is as pared-back classy as it gets, but we've also got a lot of time for the brand's sleek leather backpacks.