The 19 Most Influential Male Models In The World In 2023
Meet the faces behind some of the biggest menswear campaigns and the guys making all the moves on the runways this year.
When we talk of models, it's usually Kendall, Gigi or Bella getting all the headlines, but the boys deserve some of the limelight. The male model has evolved over the last few decades, from good-looking clothes horse to needle-moving cultural icon, and the class of 2023 are living up to the efforts of those that went before them.
Below we've highlighted the guys worth watching. Some are relatively new faces, while others are old hands at this modelling gig, but each and every one has his own distinct style.
Leon Dame
After that runway sashay for Martin Margiela in 2019, Berlin-born model Leon Dame has verified his 'super' status with a string of big campaigns for Louis Vuitton, AMI, Tommy Hilfiger, Isabel Marant, Loro Piana and so many more.
Tousled blonde hair and a trademark mole make Dame instantly recognisable, even when he isn't power strutting. Expect to see plenty more show-stopping performances from him over the coming seasons.
Kit Butler
Born in Oxford, England, and now residing in London, 23-year-old model Kit Butler can rightly claim to be a male 'supermodel' given the plethora of high profile campaigns he has fronted for the likes of Ralph Lauren, Versace, Burberry and, well, the list goes on and on.
To document his runways shows would require more bandwidth than we can afford, but suffice to say he is one of the most sought-after faces in the industry right now. He was recently on the cover of L'Officiel Hommes Italia – another credit to add to his ever-expanding résumé, all accumulated in a miraculously short space of time.
Jon Kortajarena
The actor and model from Bilbao, Spain has his impossibly chiseled facial features and that bold flourish of hair to thank for a stellar model career, which has spanned campaigns for Tom Ford, Giorgio Armani and Versace among others.
At only the tender age of 18 he became the face of Just Cavalli, and the rest is history. Now, at 36 years old, he's one of the old guard, but Kortajarena still commands some of the highest fees, such is his pulling power.
Alton Mason
One of the biggest names in modelling right now, 25-year-old Alton Mason is commanding top dollar for his runway appearances and campaigns.
The American of Jamaican and Ghanaian descent trained in dance at the American Musical and Dramatic Academy in Los Angeles before making the lucrative switch to fashion and has never looked back, becoming the first black male model to walk for Chanel.
Fernando Lindez
Based in Madrid, Spanish model Fernando Lindez boasts a set of razor-sharp cheek bones and full lips, as well as a body hewn form Madrid stone, all of which has earned him a sure footing on the runways of the biggest luxury brands in recent seasons, not to mention campaigns with AMI, Versace and Tommy Hilfiger.
Parker Van Noord
You can't argue with good genetics. Parker Van Noord's father Arthur was one of the biggest male models in the 90s and has passed on his ridiculous good looks to his son.
Campaigns with COS, Armani and Versace have catapulted Van Noord to the top of the modelling tree and he doesn't look set to climb down for quite some time yet.
Alpha Dia
Alpha by name, alpha by nature – Senegalese model Dia had his breakthrough in 2017 when he walked a crazy 43 runways.
Discovered in a bar in Hamburg, Germany, he has since gone on to become an editorial star in magazines such as V Man, Italian Vogue and Another MAN.
Hamid Onifadé
Hamid Onifadé was born in Paris but raised in Benin until the age of 14 when he moved to the US with his mother. With a degree in Computer Engineering at Northwestern, Onifadé went to an open call in New York and was signed on the spot, catalysing an amazing modelling career that has seen him become a mainstay in Ralph Lauren campaigns and shows since 2017.
Lucas El Bali
Frenchman Lucas El Bali has been one of the most sought-after names in recent seasons and it's not hard to see why. The statuesque model featured on the spring/summer runways of Dior, Hermès, Balmain, Lanvin, Etro and Ferragamo among others and has lookbooked and campaigned for the likes of Zara and Massimo Dutti recently.
With a boyish demeanour and eyes that could kill, he's set to be a future superstar.
James Turlington
What's in a name? When you're the nephew of 90s supermodel Christy Turlington, then quite a lot. Turlington gave up on a career in baseball (the 28-year-old was drafted by the Los Angeles Dodgers in 2016) to pursue modelling and, well, the decision looks to have paid off.
There is more than a passing resemblance to his aunt, but James is a star in his own right, as evidenced by some amazing editorials for L'Officiel Hommes Brasil and Hugo Boss.
Malick Bodian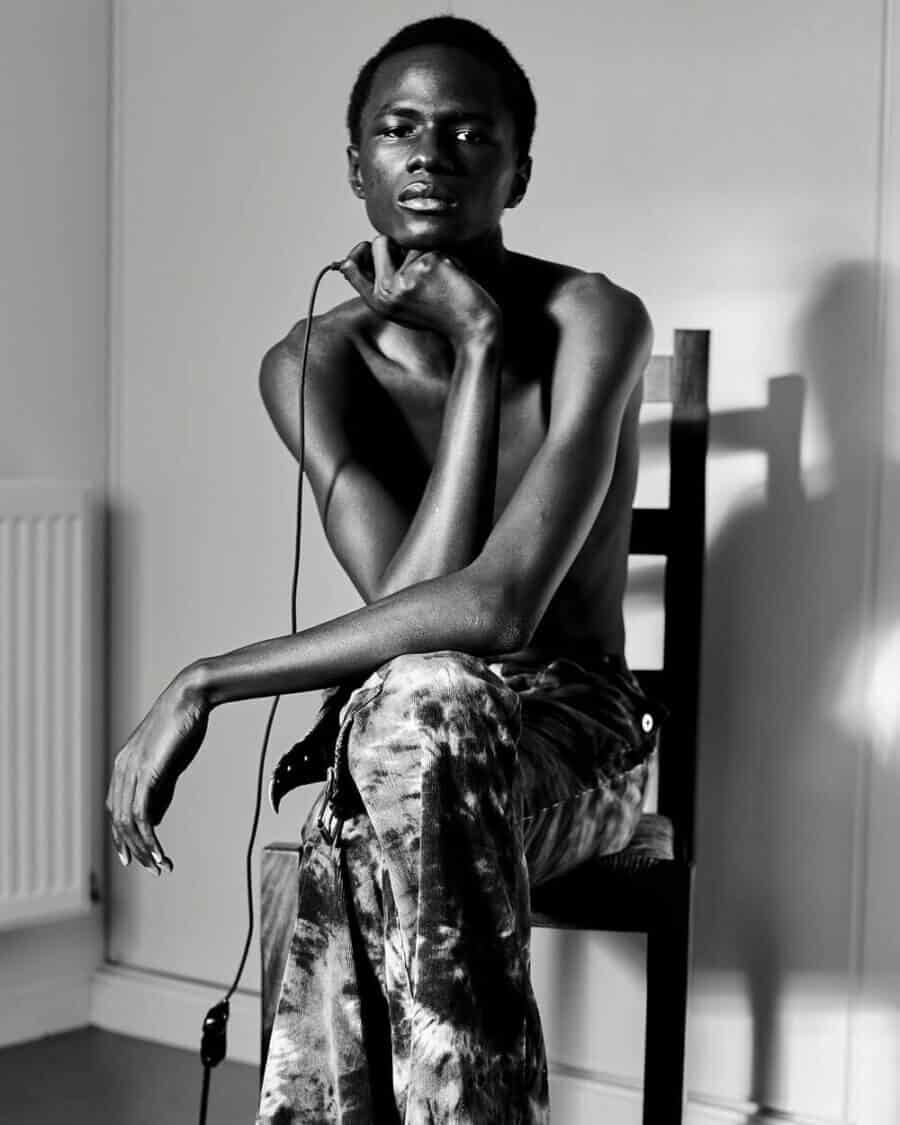 Born and raised in Senegal by way of Italy, Malick Bodian was first scouted on Instagram in 2017 and three months later was walking shows in Milan and Paris (lesson: don't neglect your IG profile).
Since then he has been an ever-present on the biggest runways. But not content with having one of the most sought-after faces in the world, Bodian has stepped behind the camera, and we look forward to seeing him tune his creative aesthetic.
Valentin Humbroich
Twenty-three-year-old Hamburg native Valentin Hunmbroich seems to have cultivated a never-ending resumé of stellar editorials since becoming a model in 2018.
The German star has an amorphous look that he uses to mould into a different character in every shoot, starring in recent campaigns for Farfetch and Emporio Armani.
Babacar N'Doye
Scouted a few weeks before his 16th birthday outside a fried chicken shop, Londoner Babacar N'Doye's first modelling assignment was walking the runway at Burberry in what was to be Christopher Bailey's final presentation.
Since then, N'Doye hasn't looked back, booking more shows than any other male model in the spring/summer 2022 season. So far this year, he has walked for Off-White, Amiri, Koché and Givenchy as well as starring in an Hermès ad campaign shot by Oliver Hadlee Pearch.
Xu Meen
South Korean model Xu Meen is one of the most recognisable Asian male models in the industry right now thanks to some high-profile editorial features in The Greatest magazine, Carcy Magazine and V Man, alongside walking in the fall/winter shows of Off-White, Isabel Marant and Balmain.
With an androgynous aesthetic and shaven head, Meen's bold charismatic look is set to make waves for a long time to come.
Cherif Douamba
Born and raised in the Ivory Coast, Cherif Douamba was scouted on social media before he started making waves on the runways, walking for the likes of Ermenegildo Zegna, Fendi, Dior, Balmain, Valentino and Berluti.
A law student when he's not modelling, Douamba's svelte physique and piercing eyes saw him land a Canali campaign most recently, as well as a stunning editorial in Numero Netherlands.
Adam Senn
A relatively senior figure on the circuit, Texan Adam Senn began modelling in 2008, branching out into acting at various stages, too. He is a favourite of Domenico and Stefano at Dolce & Gabbana, featuring in the duo's campaign with Sharon Stone this year.
With a smooth Texan drawl and a masculine all-American look, Senn is proof that some models just get better with age.
Jeremiah Berko Fourdjour
Raised in Italy of Ghanaian descent and now residing in London, Jeremiah Berko Fourdjour first made a splash in 2019 when he burst onto the runway scene with a debut for Craig Green in London before heading to Milan for a booked-out week walking for MSGM, Prada and Fendi, followed by a hop over to Paris for Valentino, Loewe, Dior and Paul Smith. Not bad work if you can get it.
Since then, Fourdjour has become a favourite at Louis Vuitton with starring roles in multiple ad campaigns.
Ottawa Kwami
Ghanaian model Ottawa Kwami has had a busy start to this year, which is evidence of his rising status in the male model industry. He has already walked in shows for Coperni, Balmain, Off-White, GCDS, Diesel, Kenzo, Hermès, Louis Vuitton and many others, alongside featuring in a brilliant spring/summer editorial in Financial Times supplement How To Spend It. One to watch.
Edoardo Sebastianelli
With his trademark flop of hair typically slicked back to reveal a preternaturally chiselled face, the Rome-born Italian model Edoardo Sebastianelli is no stranger to stand-out editorials as well as massive seasonal campaigns for the biggest luxury brands.
He had busy 2021, walking in the shows of Armani, Etro and Cavalli as well as featuring in a number of classy editorials in ICON Italy and GQ Italia.