The 17 Most Influential Black Male Models In The Fashion Industry
From Senegal and Somalia to Ghana and Guyana, meet the top black models making all the menswear waves in 2023.
It wasn't all that long ago that the world's menswear shows were populated almost exclusively by white models. We've come a considerable way since then, to the point where some of the most sought-after and best paid models are black. They've helped to shape fashion into a (slightly) more inclusive industry, and while there is still plenty of work to do, menswear is a lot better for their presence on runways and advertising campaigns.
The following is a curation of the needle-moving black male models working today.
Abdulaye Niang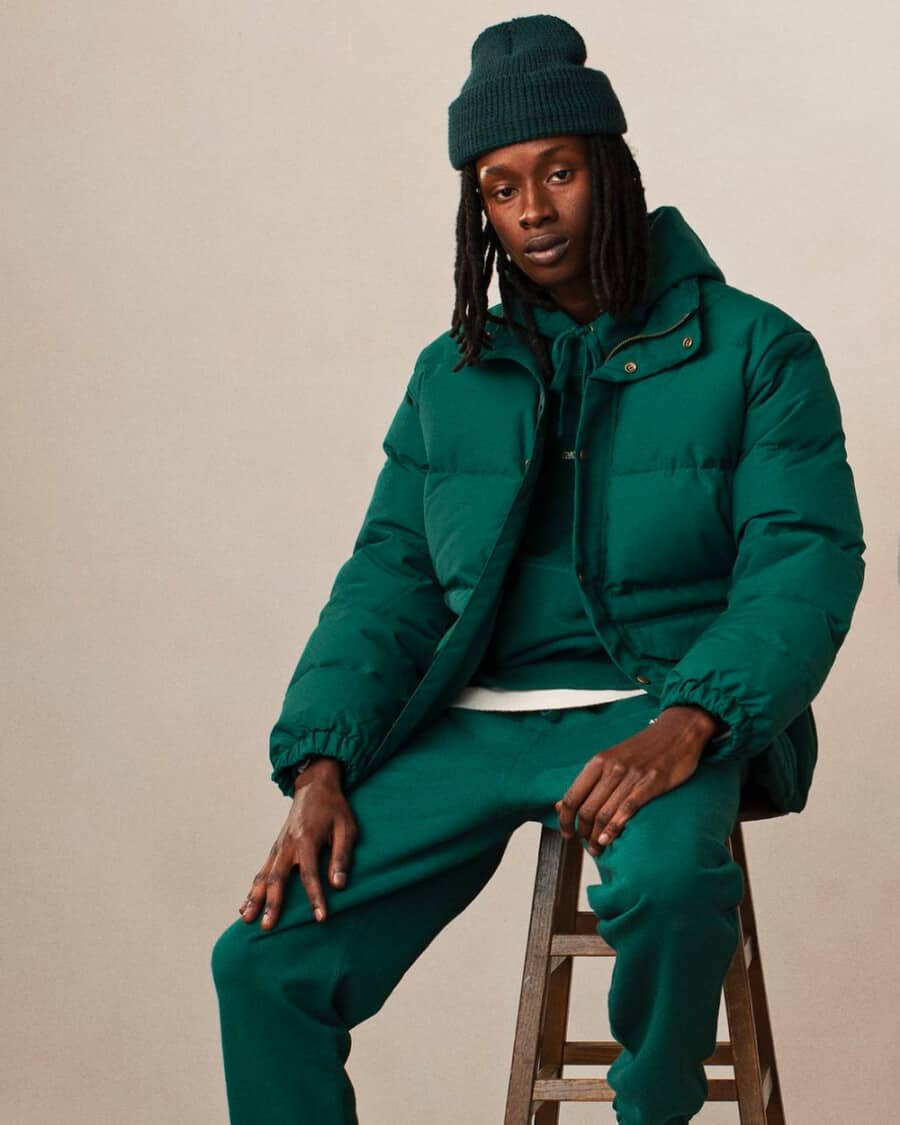 Model and creative Abdulaye Niang has a client list as long as any male model working today. The 6′ 2″ New Yorker is a runway regular at all of the biggest fashion houses and has featured in campaigns for the likes of Loewe, Aimé Leon Dore, Amiri and GANT.
The Staten Island native also runs his own unisex sportswear brand, Kill Complacency, channelling his creative energy into an eclectic range of tees and jerseys that riff on edgy NY tropes.
Alpha Dia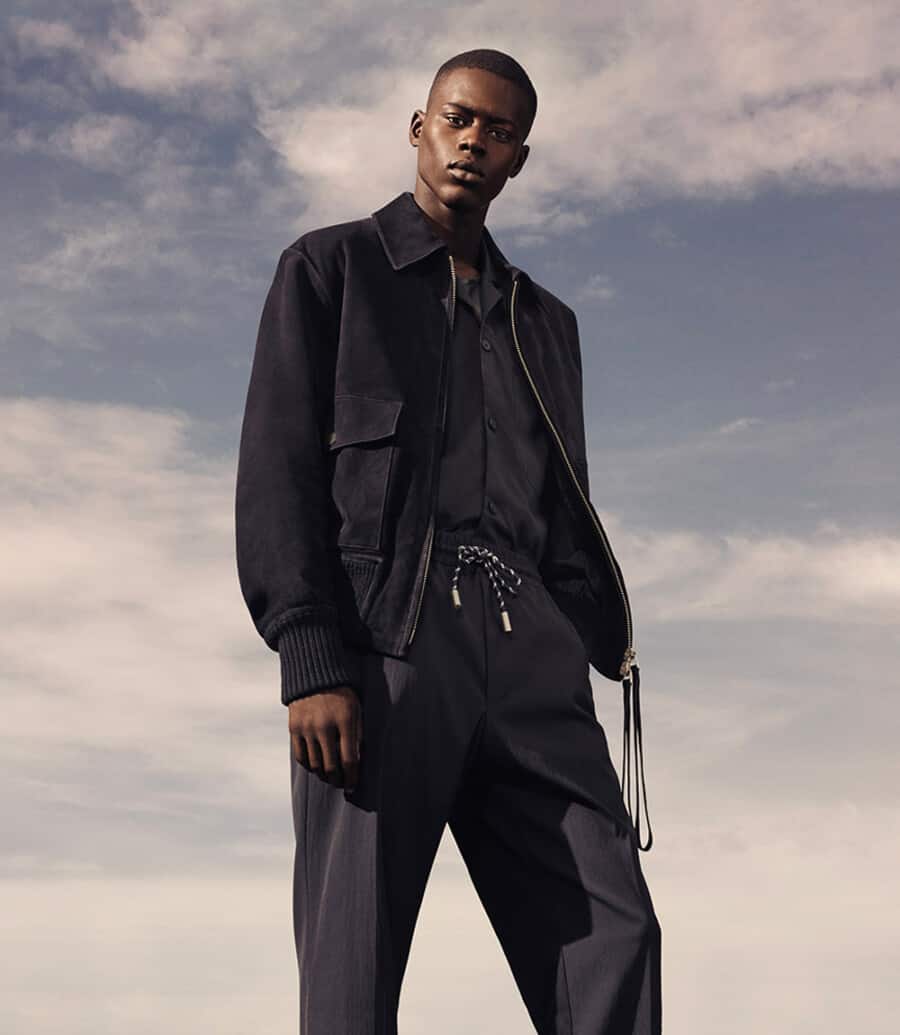 From humble beginnings in Dakar, Senegal, Alpha Dia has risen to the top of the male modelling industry. His ad campaign portfolio is peerless, having starred for the likes of Amiri, Dries Van Noten, Ferragamo, BOSS and Givenchy, as well as walking for just about everyone in the game.
Despite his success, Dia is committed to giving back, having set up the Alpha Dia Foundation in 2020 to help young children growing up in Senegal.
Alton Mason
Is it too much to say that Alton Mason was probably the world's no.1 male model in 2022? Well he got the industry and readers' votes at Model.com, and that's good enough for us.
The Nebraskan's father was a professional basketball player and his mother was herself a model so the genetics were always going to be favourable, but Mason combines his looks with an artistic and creative energy that few possess.
He's the first black model to have walked for Chanel (which tells you a lot about Chanel), and has also released a single as part of the soundtrack to Rise in Light. Indeed, acting looks to be the next big step in his career after he received acclaim for his portrayal of Little Richard in Baz Luhrmann's biopic, Elvis (2022).
Babacar N'doye
London-born Babacar N'doye was spotted at 16 outside a fried chicken shop and was signed to Elite Models London. A month later he would find himself walking in Christopher Bailey's final presentation for iconic British brand Burberry. That was 2018.
In 2019, the 6′ 2″ model walked more runways than any other male model. He's an old hand at this fashion lark now, but his meteoric rise hasn't abated – already this year he has walked for Casablanca, Amiri, Isabel Marant and Christian Dior.
Cherif Douamba
Cherif Douamba was born in the Ivory Coast and got his modelling break when he was found not in the real world, but on Instagram. His first ever show was for Zegna's AW19 collection, and since then he has gone from strength to strength, proving to be one of the most sought-after male models in the world.
Before he took his first steps in modelling, Douamba was actually in his 5th year of studying Law, Business and Management. It's a career he eventually expects to go back to once the modelling is over, although that doesn't look to be any time soon.
Ismael Savane
Like Cherif Douamba, Ismael Savane is a proud Ivorian making waves on the male model circuit thanks to his strong bone structure and statuesque physique. He had a busy spring/summer season, walking for the likes of Philipp Plein, Versace, Louis Vuitton, Emporio Armani and Moschino, and most recently was a feature of Kid Super's debut presentation for Louis Vuitton.
We're expecting another hectic year for this rising star.
Jecardi Sykes
With his fine elegant features and subtle freckled complexion, Jecardi Sykes went from a high-school senior studying fashion marketing to one of the most requested male models in the world, all in the blink of an eye.
His ascendancy is not surprising however. His debut came for Versace at a Pre Fall 19 show and Sykes has not looked back since, booking campaigns for Calvin Klein, Thom Browne and Nordstrom, as well as walking for a who's who of the top luxury fashion houses.
Jeranimo van Russel
What immediately strikes you about Dutch male model Jeranimo van Russel is his boyish good looks and infectious smile. His debut show was handed to him by Prada for FW19 and since then, van Russel has walked for just about everyone who's anyone.
Most recently, he cut a svelte shape in a stunning black suit for Dolce & Gabbana's AW23 show in Milan, as well as starring in campaigns for the likes of Lanvin and Paul Smith.
His aesthetic is a breath of fresh air that we hope to see much more of in 2023.
Jeremiah Berko Fourdjour
Jeremiah Berko Fourdjour is probably best known for his stunning Dior Men SS21 campaign, shot by Rafael Pavarotti, where he is holding a variety of colourful flowers in front of a bright contrast background.
From London but born and raised in Italy and of Ghanaian origin, Fourdjour has also starred in campaigns for Louis Vuitton, Prada, DSquared and Valentino, and is a regular feature in editorials.
Khadim Sock
The face of Balenciaga's AW22 advertising campaign, it's fair to say that Senegalese model Khadim Sock has hit the big time. When he's not playing video games or listening to Akon, Sock is walking the runways of all the major fashion houses.
Hugely sought-after for his striking features and tall, rangy gait, clothes just look that much better on this boy. Before the Balenciaga gig, he was the star of the Bally campaign and looks set to score many more big advertising roles to match his prolific runway career.
Malick Bodian
Raised in Senegal, Malick Bodian moved to Europe when he was just 13. When he was 19, he was scouted in Corsica, before walking in his first show for Valentino AW18. He has since walked for pretty much all the major fashion houses, as well as starring in ad campaigns for Dior, Hugo Boss, Givenchy, Louis Vuitton and Ferragamo, to name but a few. He was also the first black male model to walk in a Givenchy Couture show in 2020.
Bodian is just as talented behind the lens as he is in front of it, having gone on to shoot for Vogue and GQ, as well as taking to the streets of the Ghanaian capital, Accra, to shoot Wales Bonner's SS22 collection.
Malik Anderson
The 21-year-old Brooklynite, by way of Guyana, was spotted on a train in 2018 before making his runway debut opening the show for J.W. Anderson SS20. He has since gone on to great things, starring in ad campaigns for Theory, Tom Ford, Zegna, Gucci, Calvin Klein and Ambush.
This year has started well for Anderson, with prominent showings on the runways at Hermes, Amiri, Tod's and Emporio Armani.
With his classical good looks, Anderson is sure to have a long and fruitful career ahead of him.
Momo Ndiaye
When Momo Ndiaye walked his first show for Martine Rose, the Senegalese model wasn't even signed to an agency. Scouted in Italy when he was 16, his rise from obscurity to modelling stardom has been rapid.
With a slew of editorial covers already under his belt, Ndiaye was a fixture on the recent spring/summer runways, most notably at Balenciaga, Givenchy, Amiri, Versace and Moschino.
Tall and statuesque, Ndiaye's classical chiselled looks should afford him a long career in front of the cameras.
Moustapha Sy
Yet another male model hailing from Senegal, Moustapha Sy joins an increasingly long list of menswear stars from the west African nation.
With an amazing back catalogue of editorials already under his belt, the model has already seen a hectic start to the year, opening the show for K-Way, as well as featuring in presentations for MSGM, Tod's, Études, Louis Vuitton and Officine Générale.
Najib Abdi
Najib Abdi may have got a comparatively late start to his career but the Somali model is making up for lost time. As well as having a packed spring/summer season, walking in shows for Rick Owens, JPG by Olivier Rousteing, Wales Bonner and Saint Laurent, Abdi also pursues his own fashion interests, namely photography and making clothes.
Before becoming a model, Abdi was working in a tailoring atelier between Kenya and Italy, and more recently has been assisting for legendary fashion photographer Ellen Von Unwerth.
Ottawa Kwami
Born and raised in Ghana, Ottawa Kwami has started the year with a bang, having walked at a plethora of shows including Lemaire, Elie Saab Haute Couture, Kenzo, Amiri and Louis Vuitton, amongst others.
He's been photographed by Tim Walker for LOVE Magazine, including the August 20 cover, as well as appearing in Louis Vuitton's FW20 campaign.
Bursting with a contagious energy, Ghana's top model deservedly makes the ranks of the world's most sought-after faces.
Serigne Lam
There must be something in the water in Senegal – the country keeps on producing incredible male specimens, like Serigne Lam.
Lam was discovered on the subway on his way to school and immediately landed a Prada worldwide exclusive show for FW19, which suddenly propelled him into the limelight.
He was subsequently voted one of the top male models for FW19 by over a dozen of the top casting directors for the Italian publication MF Fashion, and hasn't looked back since.