Sustainable Staples: The Best Organic Cotton T-Shirt Brands
The T-shirt is a cornerstone of modern menswear, but the cotton industry is problematic. Here's how switching to organic could reduce your environmental impact
It's impossible to imagine a garment more integral to modern menswear than the humble T-shirt. This simple short-sleeved top is something that almost everyone owns, regardless of age, culture, perceived social class or tax bracket. If you're a human being born within the last century, chances are you've bought at least one over the course of your life. Probably a lot more than that.
The T-shirt may be the bedrock of contemporary casualwear, but its ubiquity comes at a price. It's no secret that the fashion industry is one of the planet's biggest polluters. What might surprise you more is that a significant portion of that pollution and environmental damage comes specifically from the production of cotton… you know, the stuff that all of your tees are made from.
So, what's the solution? Switch to merino or rayon? Stop wearing T-shirts altogether? Thankfully there's an alternative in the form of organic cotton. It looks like standard cotton, feels like standard cotton, performs like standard cotton, but its production is a lot kinder to the planet and it's made without the use of nasty chemicals. Here's what you need to know.
What is organic cotton?
Organic cotton is the same as regular cotton in every way other than its production. All of the components used to make it come from the earth, which means no harmful chemicals, genetic modification or synthetic substances.
Instead of chemical pesticides, organic cotton farming relies on techniques such as using organic fertilisers, utilising insects, rotating crops and relying on human labour to keep weeds under control.
Any dyes used are natural and sustainable, and bleaching is done without the use of chlorine.
Organic cotton vs. standard cotton
So, organic cotton or regular cotton – which one is better? Well, in purely environmental terms, organic cotton is the clear winner. To understand why, the best thing is to take a closer look at regular cotton and how it's made.
When we think of genetic modification, it's usually food that first comes to mind. Things like fruits and vegetables that have been artificially altered to grow a certain way. But genetic modification isn't unique to food. In fact, cotton is one of the top four genetically modified crops on the face of the planet.
On top of that, cotton is also known as the world's dirtiest crop. Its production requires huge amounts of toxic chemicals like pesticides and fertilisers, which poison people and animals, as well as polluting the environment. Many of these pesticides are some of the most dangerous in the world. In fact, the cotton industry eats up almost a quarter of all environmentally harmful insecticides sold worldwide.
Organic cotton, on the other hand, is produced using only natural substances. Because of the reduced amount of harmful chemicals involved, organic cotton is better for the planet, safer for textile workers and better for cotton farmers.
What makes a great organic cotton T-shirt?
So, we've established that organic cotton is the way forward if you want to make your T-shirt consumption habits more sustainable, but what should you be looking out for when buying one?
Many brands producing organic cotton T-shirts have things like supply chain and pricing transparency, which makes buying organic even more appealing. Keep scrolling to learn more about what to look out for.
Transparent pricing
Pricing transparency is something a lot of sustainable brands now have on their websites for every product.
It's a breakdown of what goes into making and transporting a piece of clothing, showing how much the process costs the label, and often offering detailed information about factories and countries of manufacture.
This tells you whether or not your money is being well spent, and gives a clear indication of workers' conditions to help you make an informed and conscious purchase.
Ethical manufacture
A good brand that cares about its workers will have its clothes made in reputable factories that have proven track records of treating their staff well.
Make sure to take a good look at the website to make sure your money is going where you want it to.
Fully recyclable
T-shirts made from 100% organic cotton are completely biodegradable and infinitely recyclable. This is one of the many great things about them.
Check that the garment hasn't been made with any synthetic fibres. If it has, it may not be quite so straightforward to recycle.
The best organic cotton T-shirt brands
ASKET
Swedish brand ASKET offers a tightly curated selection of menswear essentials that can be mixed and matched as part of a do-it-all minimalist wardrobe. The objective is to reduce consumption overall and enable people to do more with fewer clothes.
There's also a strong focus on quality so that garments last longer, and the company has recently transitioned to using organic cotton in its T-shirts.
ASKET's classic T-shirt has a slim fit, soft handfeel and is ethically made in Portugal using 100% organic cotton.
Wax London
Wax London is an up-and-coming independent label that produces contemporary yet environmentally responsible menswear.
The brand partners with sustainable and ethical mills across the globe to source its fabrics, only using Organic Content Standard (OCS) & Global Organic Textile Standard (GOTS) cotton for its line of tees.
Wax's best-selling style is the Dean T-shirt, which features a modern boxy cut with dropped shoulders for a comfortable, slightly oversized fit. Available in a range of versatile colourways and stripes, each is made using 100% responsibly sourced organic cotton.
Patagonia
Patagonia is a company famous for its commitment to sustainability. The Californian outdoor brand makes 87% of its products from recycled materials and crafts its T-shirts exclusively from recycled or organic cotton.
Founder Yvon Chouinard even made headlines when he donated the brand to charity in 2022. There's a huge range of organic cotton logo T-shirts to pick from, ranging from large, bold designs to smaller, subtler ones.
You'll find plenty of long-sleeved options for layering up in colder weather too.
Wawwa
Based in Manchester, England, Wawwa is a conscious fashion label that specialises in loose cuts, logo tees, sweats, accessories and outerwear. Everything is organic, ethical, vegan and friendly to the planet, including the T-shirts.
There are some great logo and graphic options available for bringing a colourful, playful element to your outfits. Or if you prefer something a bit more reserved then check out the plain heavyweight tees, which come in a relaxed, boxy cut that's ideal for layering.
Armor Lux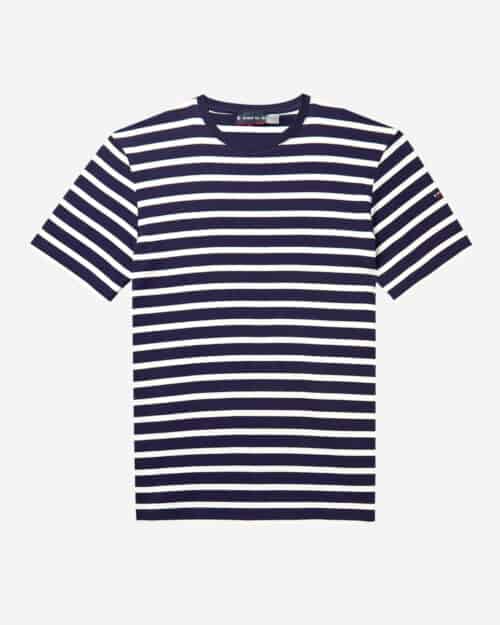 Founded in the 1930s, French label Armor Lux is probably best known for its traditional Breton tops. What you might not know is that they're all made from 100% organic cotton, and that includes regular T-shirts too.
The brand's Callac T-shirt is a classic, slightly boxy fit with a small logo patch to the hem. It's available with a pocket to the chest too.
There are also lots of graphic and striped versions if you're looking for something a bit more eye-catching.
Everlane
Everlane bills itself as an ethical and sustainable brand. But according to sustainability ranking app Good on You, the American brand could be doing a lot more to reduce its environmental impact. That being said, one thing it does do is use organic cotton to make its T-shirts.
An organic tee from Everlane will set you back just shy of $30/£30. For that, you'll get a nicely cut garment in a flattering slim fit, with six core colours and a further three seasonal colours to choose from.
Colourful Standard
If you're a fan of bold block colours and understated basics, you'll love Colourful Standard. The brand focuses on no-frills wardrobe essentials in a huge selection of colours, with a commitment to using responsible materials, like organic cotton.
Colourful Standard's classic tee is available in a quite frankly dizzying array of shades, with soft midweight fabric and is priced affordably.
Finisterre
UK-based surf clothing label Finisterre is driven by a commitment to keeping the air, oceans and general environment clean.
It works towards this by using environmentally-friendly materials, working with responsible suppliers and factories, and ensuring the quality of its clothes is up to snuff, meaning they'll last longer.
All of the brand's T-shirts are made from organic cotton in Turkey and come complete in biodegradable packaging, so you can buy without the guilt.
Rapanui
Hailing from the Isle of Wight in the UK, Rapanui is a sustainable clothing brand. It uses recycled/recyclable materials, organic fibres, renewable energy and plastic-free packaging in order to make the process of producing and selling its clothes as environmentally friendly as possible.
T-shirts are of course fully organic and are available either individually or as part of a discounted multipack.
Pangaia
Pangaia calls itself a "materials science company" rather than merely a clothing brand. It says that it works with scientists, designers and technologists to make sure every one of its products is an answer to one of the fashion industry's environmental problems.
It does this largely by investing in innovative materials that rely on new sustainable technologies, natural fibres and organic production, including organically produced cotton for its T-shirts.
Outerknown
When you've made a highly successful career from being in the ocean, it stands to reason that you'd want to protect it. That's what pro surfer Kelly Slater is attempting to do with his brand, Outerknown. It looks to improve every aspect of the production process, with the aim of encouraging its contemporaries to do the same.
The label is Fair Trade certified, works with organic and recycled materials, and runs a program called Outerworn, whereby old clothing can be bought and sold through the brand's website, with heavy discounts available for participating customers.
At $60/£60 a piece, Outerknown's Sojourn tees aren't exactly cheap, but they're made from organic Peruvian pima cotton, which gives them a super-soft handfeel and makes them extremely comfortable against the skin.
They're available with or without a pocket and come with bite-stitch detailing to the hem.