Comb Over Fade Haircut: What It Is & The Best Styles For 2023
A comb over fade takes the classic side parting and transforms it into something modern and edgy. These are the best versions we've seen for every hair type.
Forget everything you thought you knew about comb overs. These days, they're not just for men trying to disguise a bald patch or receding hairline. No, when combined with a sharp fade, side sweep now looks cool and contemporary, without feeling like a cover up.
So, if you want to bring an edge to a classic military side parting, or are looking for a way to keep longer hair under control, read on as comb over fade might be exactly what you're looking for.
What is a comb over fade?
A comb over fade combines two well-known hairstyles: the side parting and the fade.
The former hairstyle features a sharp and defined partition on top with long or short hair that's swept the side or slightly back. However, a comb over fade then modernises this classic cut by smoothly tapering the hair around the back and sides of the head, which results in a 'fading' effect.
Multiple types of fades can be used, which can (and should) be adjusted for the client's face shape and desired result. High fades begin at the upper third of the head and can even go as high as the crown before blending into the hair on top. Low fades meanwhile start around or just above the ear, leaving a considerable amount of coverage across the back and sides.
In between those two extremes are everything from mid fades to temple fades, so if in doubt it's best to ask your barber what would suit you best before they break out the clippers.
What you should know before getting a comb over fade
Before you decide to get a comb over fade, you should consider the length of hair you want to leave on top and how you'll style the comb over itself. Additionally, think about the frequency of grooming and maintenance involved – high fades and bald fades (where sections of skin is exposed) can quickly look unkempt as they grow out, which means you'll need to book fortnightly visits to your barber to keep your 'do looking sharp.
You'll also want to ensure that the fade you choose suits the shape of your facial hair, whether it's a fully-grown beard or some barely visible stubble. You can ask your barber for a seamless transition from your fade to your beard or leave it disconnected using a skin fade.
If you plan on sporting a long or flowy hairstyle with your comb over, remember that it will require extra styling time each morning and likely more product to whip it into shape. However, when combined with tightly faded sides, the contrast looks particularly contemporary and a real show stopper. Alternatively, if you need something neat and tidy for work, try a short to mid-length cut with a low, well-blended fade.
Who does a comb over fade suit?
One of the main reasons for the comb over fade's widespread popularity is its ability to match almost any face shape, hair texture and length. Even if you styled this versatile cut with a retro high-shine finish, it'll still look every bit as fresh and modern.
The key to a flattering comb over fade is choosing the appropriate height for your face shape. High fades have an elongating effect, which is why they're ideal for round faces. On the flip side, a low fade with more bulk at the sides will counteract long or rectangular faces.
Guys with triangular or heart-shaped faces should avoid high fades, too. Short sides at the top of the head can widen the forehead and diminish the width of the cheekbones and jawline.
As for men with diamond-shaped faces, a low fade with some volume above the ears and around the temples will offset the width at the centre of your face.
14 cool comb over fade haircuts for men
Check out the following haircuts to see how a smooth and precise comb over fade can upgrade even the most classic styles.
Modern slick back comb over fade
A short slicked back hairstyle is the perfect option for guys who want a polished but still casual look. This style is more subtle than a traditional slick back and works exceptionally well with a clean skin fade like this one. Opt for a product that gives a matte finish for a more natural look.
To help make styling thick and wavy hair easier, ask your barber to thin and texturise your strands. This takes some of the weight out, giving you better control of your hair so you can easily comb it back.
If you have thin hair, on the other hand, try not to weigh your strands down with a water-based product. Instead, go for a salt spray or texturising product to help create separation and give the effect of thicker locks.
Side-swept hair with highlights and a comb over fade
A dark mid-fade cut like this one allows the highlighted hair on top to be the focal point of the hairstyle. Natural-looking highlights provide visual depth and texture to the hair, which flows sideways to even out a longer face shape.
If you want to update your hair's appearance without looking too artificial, select low-key highlights with colours that accentuate your roots. To style, use a wax or cream to create a sleek, healthy finish while keeping any flyaways under control.
Straight hair with a hard part and comb over fade
Precise and seamless skin fades look flattering on most face shapes and can elevate a simple hairstyle into something more up-to-date and exciting. Notice how this fade provides a sharp contrast between the upper and lower sides of the face, making it appear more proportional.
The smooth transition from the top of the beard downwards is another element that makes this look so clean. You can't go wrong with a hard part, either – it looks sharper than a natural partition and allows for quick and effortless styling each morning as the hair is forced into place.
Wavy hair with a side part and comb over fade
Soft waves and a side part can add a bit of width and gentle shaping for guys with long or narrow face shapes. Choose a high fade, like this one, to help counteract any receding hairline and style it outwards to create a more balanced look.
Meanwhile, if your face is more round than oval, you can tweak this look to suit your shape by shortening the the bulk around the top of the back and sides. Style the waves upwards for more height, using a sea salt spray to add texture and volume.
Short hair with a hard part and comb over fade
This short, side-swept haircut with a striking hard part looks classy and refined, especially on dark and shiny hair. Pair this style with a short beard and groomed eyebrows to create a polished, office-ready look. It requires a low amount of product and styling to maintain as well.
Guys with square facial profiles are ideal candidates for this type of haircut. The clean fade highlights the cheekbones and enhances the sharp features of the face. You can recreate a curly version of this cut by keeping the length short, the sides clean and styling with a curl enhancer.
Long loose curls with a comb over fade
There's no better way to complement long curly hair than with a smooth fade around the sides. In addition, a defined hard part will also provide a clean and structured break between the lengthy top and the textured natural hair clipped close to the sides.
By using a drop fade, this haircut also includes an artful and visually pleasing transition to a neatly trimmed beard, which frames the face and flatters the jawline. As with every short fade style, you'll need to touch up the back, sides and hard part of this hairdo regularly to keep the cut fresh and sharp.
Short and slick comb over with a high fade
This mid-length hair, high fade combo is one of the bolder variations of the comb over. It involves clipping the hair on the sides and back of your head remarkably high and close to the scalp. You'll also notice subtle tapering below the length on top, which makes this style look less disjointed.
Exercise a bit of caution when getting a fade as high as this. It tends to elongate the face and emphasise the forehead and chin. When styling for the office, slick your hair backwards or to the side for some width, as seen here.
Side-swept comb over with a mid-fade
For guys with light or coloured hair, a mid-fade comb over like this one leaves enough length for your shade to shine through. Adding a hard part and some tapering down the sides makes the haircut sharper and more masculine.
Take note, you don't always have to choose bold colours or electric highlights to level up your cut. Sometimes, a toned-down hue like this one is enough to give your hair a rich, vibrant appearance. You can also leave your beard in its natural colour for an interesting contrast.
Short hair comb over with a skin fade
If you're going for a full and prominent beard like this one, your best bet would be to keep things sleek and minimal on top. The side part and short style don't attract too much attention and keep the face proportional. Plus, the skin fade provides a nice contrast and accentuates the cheekbones.
This cut requires a regular visit to your barber to freshen up the fade and maintain clean lines around the beard. Alternatively, it can be an ideal backdrop for a long, attention-grabbing hairstyle and minimal facial hair.
Messy and wavy hair with a comb over fade
A sharp mid fade adds a touch of structure to an otherwise loose and laid-back hairstyle like this one. You may want to ask your barber for a low fade or a drop fade to add natural balance if you've got a long facial profile.
Pulling off this particular style requires medium to long hair and your choice of hair putty, paste or clay for a messy matte finish. These products help keep the waves in place while boosting volume. If you're struggling to get the desired height, try applying a salt spray or root boosting powder to damp hair before blow drying.
Slick quiff with a comb over fade
Styling your hair upwards into a quiff rather than combing it to the side is the key to adding length to a round face. Go for a high fade like this one to heighten your profile further.
To style damp hair into a quiff, simply blow dry the sections upwards and use a round brush to direct the tips. Repeat this motion until you reach your desired shaping. Add extra shine and support to your hairstyle using a high-hold, high-shine gel or pomade.
Smooth side-swept hair with a comb over fade
A side-swept hairstyle is versatile enough for messy curls, beach waves or straight and smooth hair like this one. It also works for guys who want to conceal thinning hair or those who prefer a lower maintenance style.
The key to a successful side sweep is the right balance between volume and height. You'll want to use a light styling product to keep the strands upright if you're working with thick, heavy hair. To keep things smart and modern, it's best to pair a high or medium fade with this classic style.
High modern pompadour with a comb over fade
A crisp hard part and a clean fade complement this stylish and modern pompadour hairstyle. The short hair at the sides neatly tapers and transitions into a well-groomed beard, which completes the overall look.
To keep your hair from turning into a slick back, use a blow dryer and a styling product, such as men's hair mousse. By doing this, you can boost volume while keeping hair strands in place.
Short and spiky hair with a comb over fade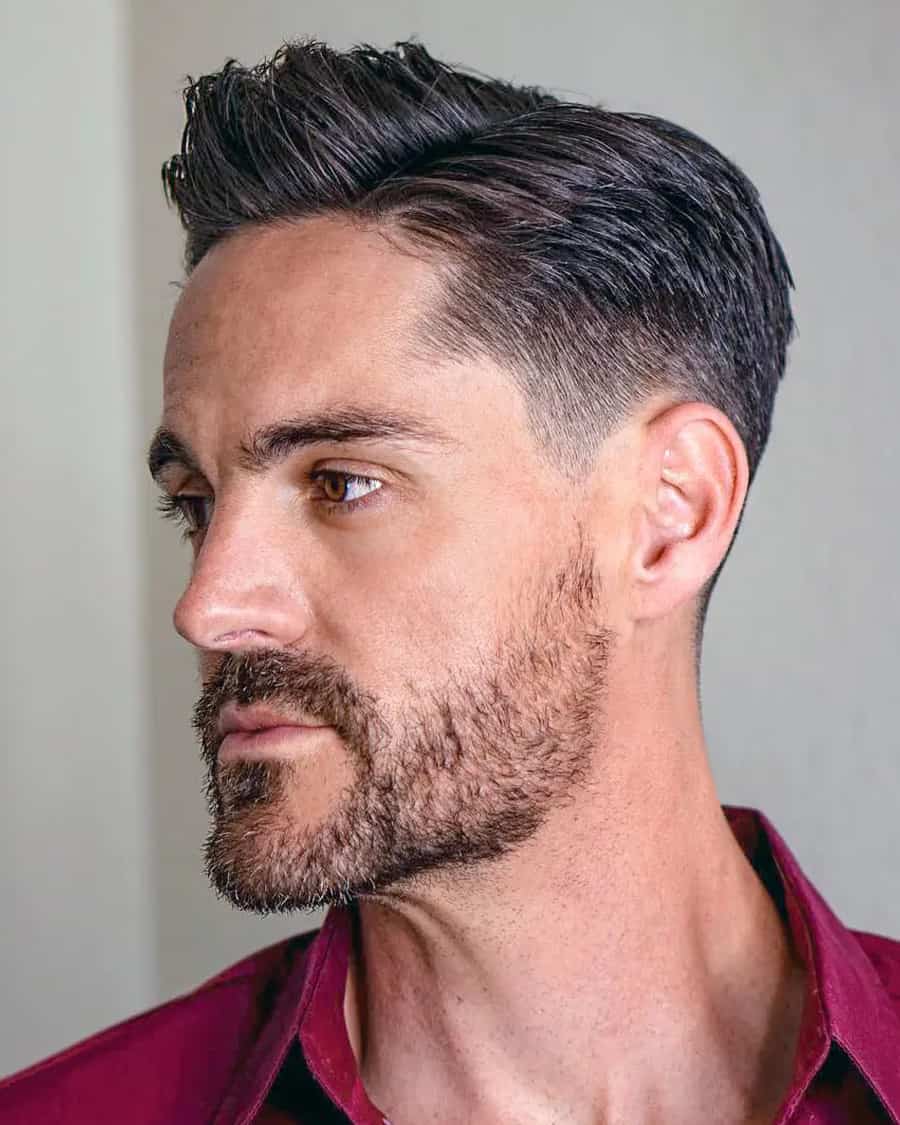 The best way to style a traditional, mature cut like this is to pair it with a neat comb over fade. This makes the haircut appear more modern and draws attention to the hair length on top.
The low taper fade is subtle yet frames the hair above it, which is worked into shape using a texturising, matte product to maintain a natural age-appropriate finish.