19 Underground Clothing Brands Every Stylish Man Should Know
Bored of dressing in the same big-name brands every day? These up-and-coming and lesser-known labels are for those in the know.
Life is busy. Most people want to wear cool things that allow them to express their individual sense of style, but knowing where to find the stuff that speaks to you can require a pretty in-depth knowledge of the fashion landscape.
The reality is that the majority of people simply don't have time to keep up with exciting emerging brands. Many would-be stylish men resign themselves to shopping at big main-street retailers and multibillion dollar sportswear conglomerates, and as a result end up wearing the same clothes as everyone else.
If you want to break out of this cycle, you need to know about some of the lesser-worn, underground brands. These are the independent labels that do things a little differently. They often serve as sources of inspiration for mainstream fashion too, so why not skip the derivatives and go directly to the source?
If you're already fairly clued up on your niche menswear knowledge then you may not consider many of the below labels to be 'underground'. That's fine. This page is for people who don't already know their Snow Peaks from their South2 West8s.
So, if you're looking to broaden your sartorial horizons and start dressing in some more interesting clothes, the carefully curated list of labels below should hopefully enable you to do so.
Noah
New York City's Noah is the brainchild of former Supreme creative director Brendon Babenzien. It has undeniable streetwear and skate-culture roots, but the brand's diverse aesthetic incorporates elements from all over the menswear universe, ranging from Ivy League style to sportswear.
This means you'll often find garments like graphic tees sat alongside tailored jackets and pleated pants. It's a look that's sometimes referred to as 'grown-up streetwear', and it's ideal for those who want to dress with an edge without straying completely into baggy hoodies and sneakers territory.
Palace
Palace is London's most high-profile skate label. Along with New York's Supreme, it was instrumental in skate culture's high-fashion takeover.
It's known for offering a sideways look at so-called streetwear that often ties in elements of its home city's youth culture, as well as classic menswear influences.
The brand has collaborated with the likes of Gucci, Polo Ralph Lauren, Arc'teryx and Calvin Klein, which tells you a lot about its cultural significance. It even helped to design kit for the Tour de France in collaboration with upscale cycling brand Rapha.
Kapital
Kapital is a Japanese clothing brand famous for its avant-garde and artistic approach to fashion. Founded by Toshikiyo Hirata in 1984, the label defies convention by blending traditional Japanese craftsmanship with innovative design.
Kapital's distinctive aesthetic often includes patchwork, indigo dyes, traditionally made denim and intricate detailing, resulting in uniquely textured and visually rich garments.
Drawing inspiration from global cultures, Kapital's creations transcend boundaries, telling stories through clothing. Check out the intricately patterned Damask fleeces and multicoloured patchwork jeans to see what it's all about.
Brain Dead
Brain Dead is more than just a regular old clothing brand. It's actually a collective of artists and designers from around the world that just happens to make garments too.
The clothes are heavily streetwear influenced, drawing inspiration from post-punk, underground comics and more. The designs are very much graphic-led, featuring bold and disruptive artwork across simple streetwear pieces like oversized tees, hoodies and accessories.
Engineered Garments
Founded in New York City by Japanese designer Daiki Suzuki, Engineered Garments takes its stylistic cues from workwear, retro outdoor gear, military garb and other utility focused clothing.
Practical details are often blended with elements of tailoring and classic menswear. Think blazers with elaborate multi-pocket layouts and baggy cargo pants cut from upscale fabrics.
It's a great brand to pick up offbeat casualwear from. Things like Oxford shirts, tees and casual pants that might otherwise be a little bit boring are reimagined with quirky details that give them character.
The aesthetic has been described as 'Japanese New Americana', but you can make your own mind up on what to call it.
Adsum
Adsum is a New York-born label known for its contemporary and functional approach to menswear and outdoor-inspired fashion. The brand focuses on creating simple, high-quality clothing that blends style and utility, with its designs often incorporating clean lines, muted colour palettes and premium materials.
It's a great option for elevated basics like flannel shirts, shorts and the odd graphic tee, but we're very fond of the outerwear above all else. Adsum's founders' obvious love of the outdoors comes through in the coats and jackets, which blend performance and style perfectly.
Designs vary from one season to the next, but the down jackets are always worth checking out, as are the waterproof shells.
Undercover
There was a point in the late 2010s when high fashion became obsessed with streetwear. Most people talk about the rise of Virgil Abloh or the collaboration between Supreme and Louis Vuitton as the pivotal moment, but Japan's Undercover had been blending elements of streetwear and haute couture long before any of that happened.
Jun Takahashi's label is a rare beast in that it has always had strong footholds in both streetwear and on the runway. Its designs often feature graphics, sometimes incorporating subversive and thought-provoking themes, and it has been involved in some pretty high-profile collabs over the years – Nike and Supreme to name just two.
South2 West8
Menswear often draws inspiration from unlikely places, but fly fishing is admittedly quite a weird one, even by fashion's standards. Nevertheless, that's a big part of what makes Japanese label South2 West8's designers tick, with heavily pocketed cargo pants and fishing vests making up the core of the brand's offering.
It's not just fishing though, the brand's signature aesthetic is imbued with all sorts of outdoorsy elements, including hunting too. It's a unique look, and certainly not for everyone, but if you enjoy dressing a little differently and appreciate the great outdoors then it might be right up your street.
Beams
Founded in Harajuku in 1976, this legendary Japanese label is more than just a single fashion brand. Over the years, it has branched out into a number of smaller satellite labels, all specialising in something slightly different.
In terms of menswear, the key ones you need to know about are the classic 'Beams' line and 'Beams+'. The former focuses simple casualwear, often taking inspiration for the military, Ivy League style, streetwear and sports. The latter does much the same thing, the key difference being that it leans towards edgier designs.
Both are fantastic brands with tons of history, not to mention a seemingly endless list of high-profile collabs.
Acronym
Founded in 1994, Acronym has always been ahead of the curve with its futuristic, dark, moody technical apparel. It's one of the key players in the so-called 'techwear' genre of men's fashion, which incorporates performance materials and functional design elements into clothing for urban environments.
Its founders are also responsible for the design of Stone Island's Shadow Project line, bringing their knack for innovation and dystopian aesthetic to the Italian brand's sportswear pieces.
Expect expensive outerwear with lots of zips and pockets, aggressively tapered legwear and asymmetry across the board.
Pop Trading Company
Pop Trading Company is a Dutch skateboarding brand that makes playful streetwear staples like logo tees, hoodies and accessories, as well as more design-led pieces like cardigans, outerwear, overshirts and more.
The clothes are colourful and quirky, but not at the expense of tastefulness. It's the sort of skate brand you could build an entire outfit from without feeling like you were cosplaying as a teenager, and we're all about it.
There are some great collabs too, with past linkups including Paul Smith, Burberry, Dickies and Adidas.
Snow Peak
Camping has long had connotations of being uncool. This is not the case in Japan, where thanks to labels like Snow Peak, there's a whole style subculture built around pitching tents and drinking tea out of titanium camping flasks in the great outdoors.
Founded in the 1950s, the brand specialises in high-end camping gear, but it also makes some very cool and stylish clothes with an outdoorsy edge. Think fleeces, shells, down jackets and overshirts, but with a distinctly Japanese flavour.
It's a winning formula that has earned Snow Peak shelf space in many of the world's coolest trendsetting boutiques and fashion retailers, as well as upscale outdoor stores.
Goldwin
From one outdoorsy Japanese brand to another. Goldwin specialises in performance outerwear for alpine activities like skiing.
Its pieces are highly technical and practical, but they look great too, often with slightly futuristic styling, sleek understated branding and minimalist silhouettes.
Goldwin is also responsible for the production of The North Face and The North Face Purple Label in Japan, and has even made kit for the Japanese Winter Olympic team.
Norse Projects
Danish label Norse Projects is one of the most consistently reliable names in menswear. It hasn't faltered in its delivery of low-key yet stylish essentials in almost 20 years and remains one of the go-to brands when it comes to minimalist style, albeit with a subtle streetwear twist.
There are tons of great collabs on a yearly basis, some staple pieces that have earned iconic status over the years (most notably the 'N' logo twill sports cap) and the label still manages to grow and evolve over time.
It's one of the few brands we'd be happy to deck out our entire wardrobe with.
Our Legacy
Our Legacy is a Swedish fashion brand known for its minimalist and contemporary pieces. Founded in 2005 by Jockum Hallin and Cristopher Nying, it focuses on quality craftsmanship, unique materials and cutting-edge designs.
The label offers a range of clothing, from clean-cut basics to innovative pieces, often blurring the line between formal and casual.
Our Legacy's dedication to sustainability and its innovative approach to design have garnered it a strong following in the fashion industry. Check out the digitally printed jeans and hugely popular Camion boots to get a feel for what the label is all about.
And Wander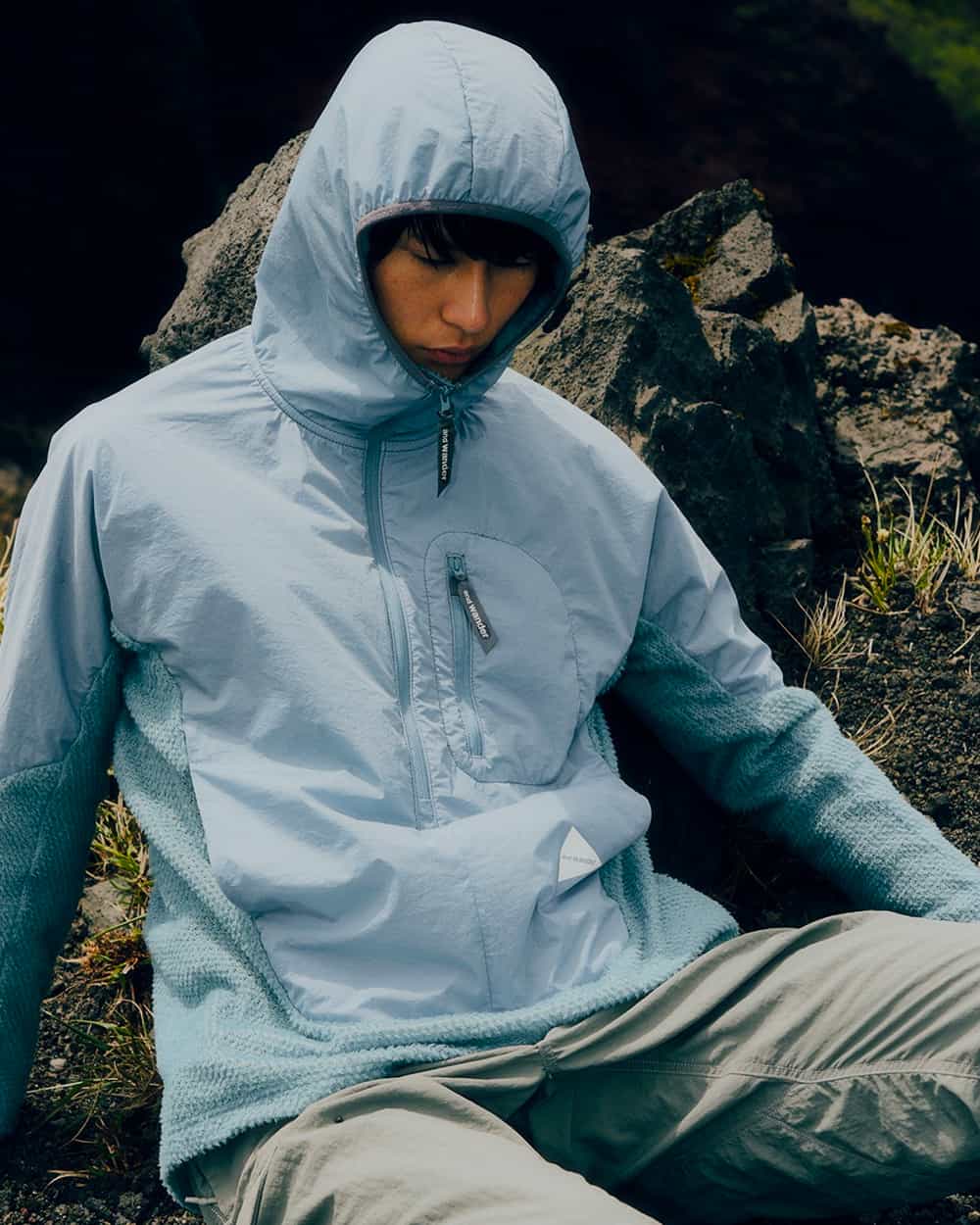 And Wander is a Japanese fashion label that takes inspiration from mountaineering, climbing and the great outdoors in general. It uses technical materials to create stylish pieces that would be equally at home on a mountainside as they would at a Fashion Week party.
The brand is a major force in the 'gorpcore' scene, with its technical shell jackets often seen plastered all over trendy Instagram moodboards.
The downside is that it's not exactly the cheapest gear on the market, so don't be surprised to find yourself paying north of $500/£500 for a jacket.
Story MFG
One of the more interesting labels to spring up in the last 10 years has been Story MFG. Founded in London by a husband and wife duo, the artsy brand focuses on sustainability through its use of environmentally-friendly materials and natural dyes, while the clothing takes inspiration from hippy culture, psychedelia and nature.
There's lots of tie dye, mushrooms, peace signs and embroidery, and the fits are often oversized, slouchy and baggy.
Battenwear
Founded in New York City and now based in California, Battenwear is the brainchild of Japanese designer and outdoor enthusiast Shinya Hasegawa.
The brand incorporates elements of mountaineering, surf culture, skateboarding, climbing and classic menswear to create a range of outdoorsy everyday casualwear that's laid back and easy to style.
Nanamica
With the rise of gorpcore in the world of men's fashion, lots of big-name brands and designers have been using Gore-Tex to create stylish technical outerwear. But Japan's Nanamica has been at it since long before it became a trend.
The company's founder was originally a designer at Goldwin before branching off to start his own label, where he reimagines classic menswear pieces in technical fabrics and clean, minimalist cuts.