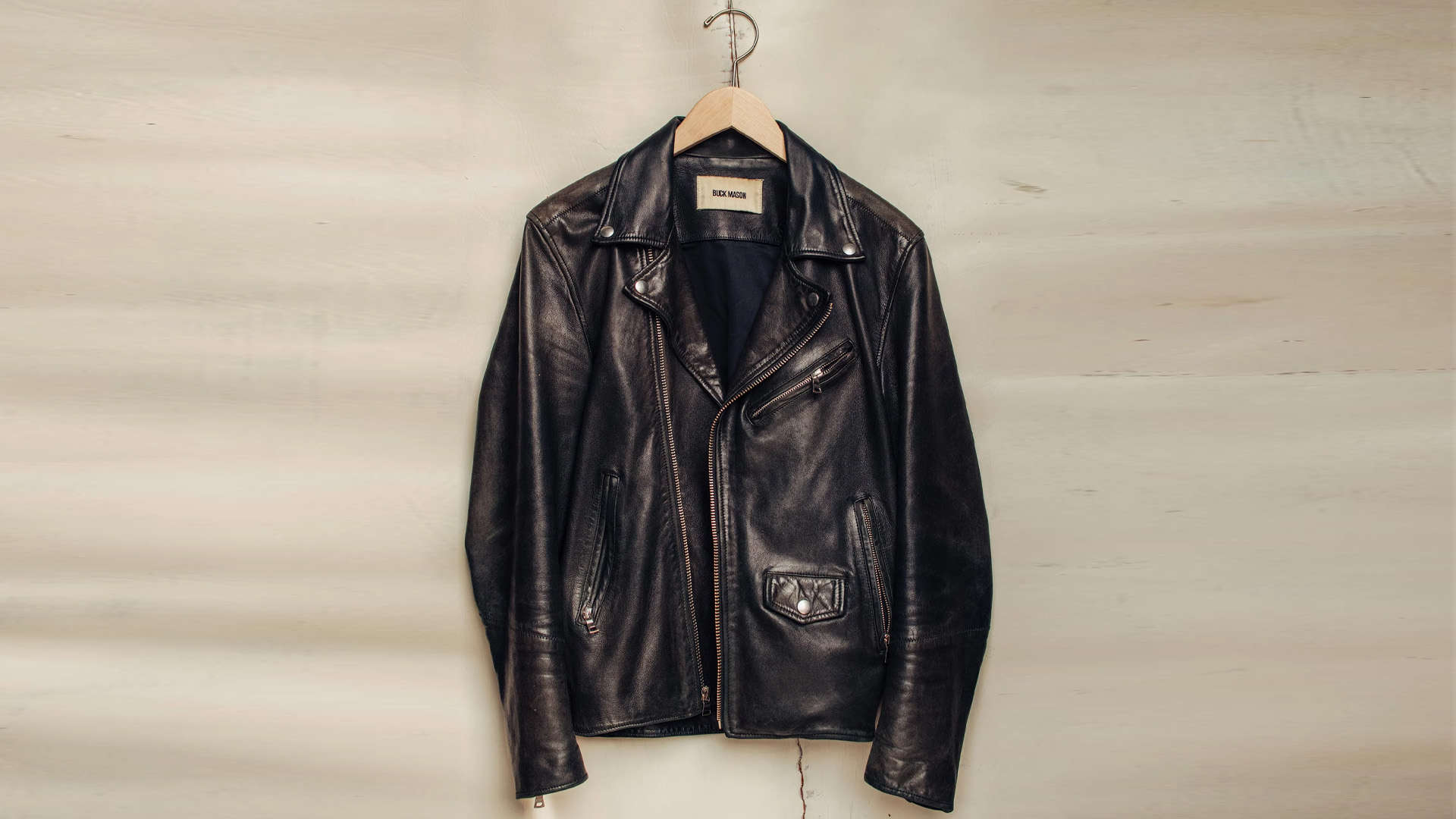 10 Affordable Leather Jacket Brands For Men Shopping On A Budget
Leather jackets are typically investment pieces, but don't reach for the credit card just yet. We'll show you where to find the best affordable alternatives on the market right now.
The leather jacket, whether it's a moto style, Perfecto, minimalist bomber or classic flight silhouette, tends to be the statement piece of outerwear in whatever wardrobe it's hanging in.
It's luxurious, poured over by skilled artisans, impossibly soft, masculine to the gills, ages better than Brad Pitt, and just defies trends, decade after decade.
It should come as no surprise then that something of such covetable nature should be priced accordingly. Leather jackets, especially those by the luxury fashion brands or the specialist boutique leather houses, can retail at eyebleed prices, with mid to high four figures being the norm.
Crafting a luxury leather jacket requires a great degree of skill, from the selection of the hide and how it's dyed, to the hand-stitched detailing. But not all leather jackets are made equally, and provided you are willing to make a few sacrifices, you can still snare an excellent jacket for a fraction of the cost.
What to look for in a budget leather jacket
The biggest savings are to be had in the fabric and the brand cachet. Opting for more rugged hides will be scores cheaper than the baby-soft calfskin favoured by high-end brands.
Even cheaper is faux leather, which might pretend to be more environmentally conscious because an animal wasn't slaughtered in its creation, but that doesn't account for poor product longevity and the complete lack of biodegradability in many cases, since they are usually made from polyurethane.
It's true that great strides are being made in 'vegan leather' and substitute leather materials, but for now you can expect to pay for the privilege of being eco friendly until economies of scale kick in. Still, if budget is your biggest consideration, faux leather is a solid saving.
Brand cachet is another area where you can reduce the damage to your bank balance. Leather jacket styles lack for diversity, with tried-and-tested silhouettes manufactured year after year, just with differences in details or tones.
Hence, rather than paying a premium for a jacket by the major fashion houses, look for styles by mid-tier labels who still pride themselves on quality fabrics and have an artisanal approach to production. They do exist, as you'll discover below.
Try vintage or secondhand
Another great way to upgrade your wardrobe with a leather jacket is by shopping for vintage pieces. Leather jackets, if taken care of, last decades, so there are always great vintage options knocking around.
What's more, they already have that rugged lived-in look that makes a leather jacket so appealing. If you're into your military silhouettes then you can definitely pick up classic flight models, bombers and bikers if you know where to look.
You might have to do a fair bit of trawling, but Rokit, Beyond Retro (both UK), Thrifted (US) and good ol' eBay are goldmines for original 70s and 80s silhouettes, while the likes of Vestiaire Collective and Grailed will be your go-to for luxury pre-owned.
The best budget leather jacket brands for men
Zara
Fast fashion trend translator Zara is always on the money when it comes to reinterpreting the latest runway looks for a fraction of the cost of designer brands, so you can expect some great leather and faux leather styles to keep your wardrobe current.
Zara uses a sheep leather hide for its real leather styles, which include a Perfecto option as well as a minimalist high-neck jacket, as well as a buffalo leather for a denim-effect version. All coming in under $200/£200 represents excellent value for real hides.
Of course, the faux leather styles are even cheaper, featuring contemporary silhouettes such as a leather overshirt, Perfecto jacket and a bomber jacket, each for around $70/£50.
They probably won't age well, but if you're looking for a statement piece to elevate a modern look for the season, you can't really go wrong.
Mango
Spanish behemoth Mango has, in our humble opinion, one of the best value leather jacket collections on the market. The label's timeless aesthetic combined with modern Mediterranean minimalism ensures it releases really versatile collections each season, and its leather and suede jackets are testament to that.
The leather used is quite diverse, with nappa styles and buttery-soft suede being the best of the options. Otherwise it's regular sheep leather, followed by some faux fabrics.
The bomber jackets are the pick of the collection, but the moto styles and the leather overshirts are well worth a look, too.
ALLSAINTS
The rock 'n' roll-inspired aesthetic of ALLSAINTS makes it one of our go-to brands for affordable biker jackets with a grungy edge.
More elevated than the other main-street options on this list, ALLSAINTS prides itself on its real leather jackets, virtually all of which will give you change from $500/£400. The collection is comparatively huge as well, with asymmetric zip black leather styles offset by tan suede bomber jackets and blousons.
The vast majority of the jackets are constructed from 100% sheep leather or lamb leather, both of which will age really well. Moreover, AllSaints produces its jackets in conjunction with the Leather Working Group, a non-profit enterprise that ensures best practices and positive social and environmental change for responsible leather production.
The Kooples
The rock 'n' roll vibes continue at French label The Kooples so it's no surprise to see an excellent assortment of Perfecto-inspired jackets here.
Founded by three brothers, The Kooples has really nailed down a modern and elevated Parisian vibe, producing a handful of black leather jacket options to complement an edgy contemporary wardrobe.
The extensive use of lambskin throughout means that the prices are somewhat higher than the big fast-fashion brands, but the design and construction is top notch, especially in its biker style with functional quilted shoulders.
Sandro
Sandro has grown to become one of France's most-loved and most-exported mid-tier fashion brands thanks to its unfailing ability to put its own timeless spin on contemporary fashion trends.
Championing a modern Parisian aesthetic, key leather pieces are always in the mix. Taking a more sophisticated approach to design, instead of rugged biker jackets, you can expect minimalist blouson styles, all crafted in soft lambskin and made to exacting standards in conjunction with The Leather Working Group.
Buck Mason
Founded in 2013, Los Angeles-based brand Buck Mason has quickly risen the ranks of luxury yet well-priced casualwear that leans heavily into the classic Americana workwear aesthetic.
Hence when it comes to leather jackets, you can expect rugged moto and bomber jackets. The former features a traditional asymmetric front zip and is hand-cut from premium lambskin, while the latter, also in lambskin, features a vintage fit in semi-vegetable tanned hide to create a more natural patina.
At under $600/£500 each, they represent an excellent investment that will definitely stand the test of time.
Reiss
It's amazing to think that Reiss has been around since 1971, maintaining an elegant and sophisticated menswear aesthetic for over half a century – proof that timeless silhouettes rendered in quality fabrics always serve you well.
Given Reiss' elevated vibe, you can expect plenty of clean-cut leather and suede jacket styles, mostly all of which are cut in a slim silhouette. If you have a lean body type, you'll find plenty to love here.
Schott NYC
The original maker of the Perfecto jacket, it's hard to compete with Schott NYC when it comes to the asymmetric biker silhouette. Schott first created it in 1928, designed by Irving Schott himself and named after his favourite cigar.
It was originally crafted from heavyweight horsehide leather, designed to provide riders with durability and protection, and to this day it still uses US-sourced, drum-dyed, hand-cut, heavyweight 3-3.5-oz steerhide.
The Perfecto became particularly associated with the rebellious spirit of the 50s and 60s, partly due to its adoption by iconic figures such as Marlon Brando and James Dean in their film roles. Brando famously wore a Perfecto jacket in The Wild One (1953), cementing its status as a symbol of counterculture and rebellion.
The 618 style retails at a little over $900/£700, but this jacket has been kicking ass and taking names for the best part of a century and will continue to do so ad infinitum.
Soul Revolver
If you love a vintage aesthetic or wish you could find replicas of cinema jackets then little-known leather specialist Soul Revolver will put a smile on your face.
This brand has made its name from producing high-quality replica jackets from both history and cinema, using premium Italian lambskin throughout their extensive collection.
From films such as Resident Evil (2002), Fight Club (1999), Blade Runner 2049 (2017) and The Dark Knight Rises (2012), the jackets are beautifully made and very faithful replicas.
Wilsons Leather
Founded by three brothers at the end of the 19th century in Minneapolis, Wilsons Leather is a handcrafted leather jacket specialist of truly excellent quality.
In just over 120 years, the brand has really got to the top of its game, producing high-quality leathers and faux leathers in a vast array of styles, from hooded jackets and varsity shapes to blazers and truckers.
The vast majority of them are priced under $400/£350, which makes for a great investment.