16 Spanish Fashion Brands All Stylish Men Should Know
These Spanish labels are breaking the Italian, French, Scandinavian stranglehold on menswear, and will bring some of that much-needed Mediterranean flair to your wardrobe.
When you think of European menswear hotspots there are probably lots of places that spring to mind before Spain. Maybe you think of Italy's fine leather goods and tailoring, perhaps Scandinavia and its arty minimalist designs, or possibly Belgium and the groundbreaking work of the Antwerp six in high fashion.
The point is, in a part of the world so influential in men's fashion, it can be hard to stand out, and Spain to us is one of the region's most underappreciated nations when it comes to style. In terms of homegrown brands and designers (with a couple of obvious exceptions), a lot of Españas' exports don't get the attention they deserve.
To help shine a spotlight on some of these, we've rounded up our favourite Spanish menswear brands for you to check out. These are the labels putting the country on the map for style, and the ones we firmly believe should be on your radar.
Loewe
Spain's Loewe is a luxury fashion brand that has been around since 1846. It was primarily known for high-end leather goods (bags, wallets, purses and the like) and perfume, but has since evolved into a full clothing range for both men and women.
In recent years, interest in the brand has increased, and it's often touted as one of the 'It' brands of the 2020s. These days, it's known for its avant-garde designs, artistic collaborations and distinctive aesthetic, which is thanks in no small part to the work of creative director J.W. Anderson, who has been reinventing the historic label's image since 2013.
It's Spain's oldest high-fashion brand, and one of the most exciting, innovative and interesting in the world too.
Balenciaga
Loewe may be Spain's oldest high-fashion house, but Balenciaga is its most high-profile and prolific. Established in Spain in 1919 by Cristóbal Balenciaga, the label has become synonymous with avant-garde aesthetics and innovative silhouettes.
Known for its distinctively oversized proportions, bold shapes and unexpected fabric combinations, the brand often embraces streetwear influences, particularly since the appointment of creative designer Demna Gvasalia. It was he who introduced the now-iconic Triple S sneaker – a shoe that changed the direction of footwear fashion, renewing interest in oversized, maximalist styles.
This bold and disruptive approach to design has made it a global fashion powerhouse.
Zara
Zara is a pioneer of fast fashion. From an environmental standpoint, that's certainly nothing to be proud of, but its influence on the industry and its presence in the world of menswear is hard to ignore.
The label's lightning-fast operation allows it to have all the latest men's fashion trends on shelves mere days after they've been paraded down the runway. This has made it one of the most popular budget shopping destinations in the world, and a go-to option when it comes to picking up of-the-moment pieces at affordable prices.
Mango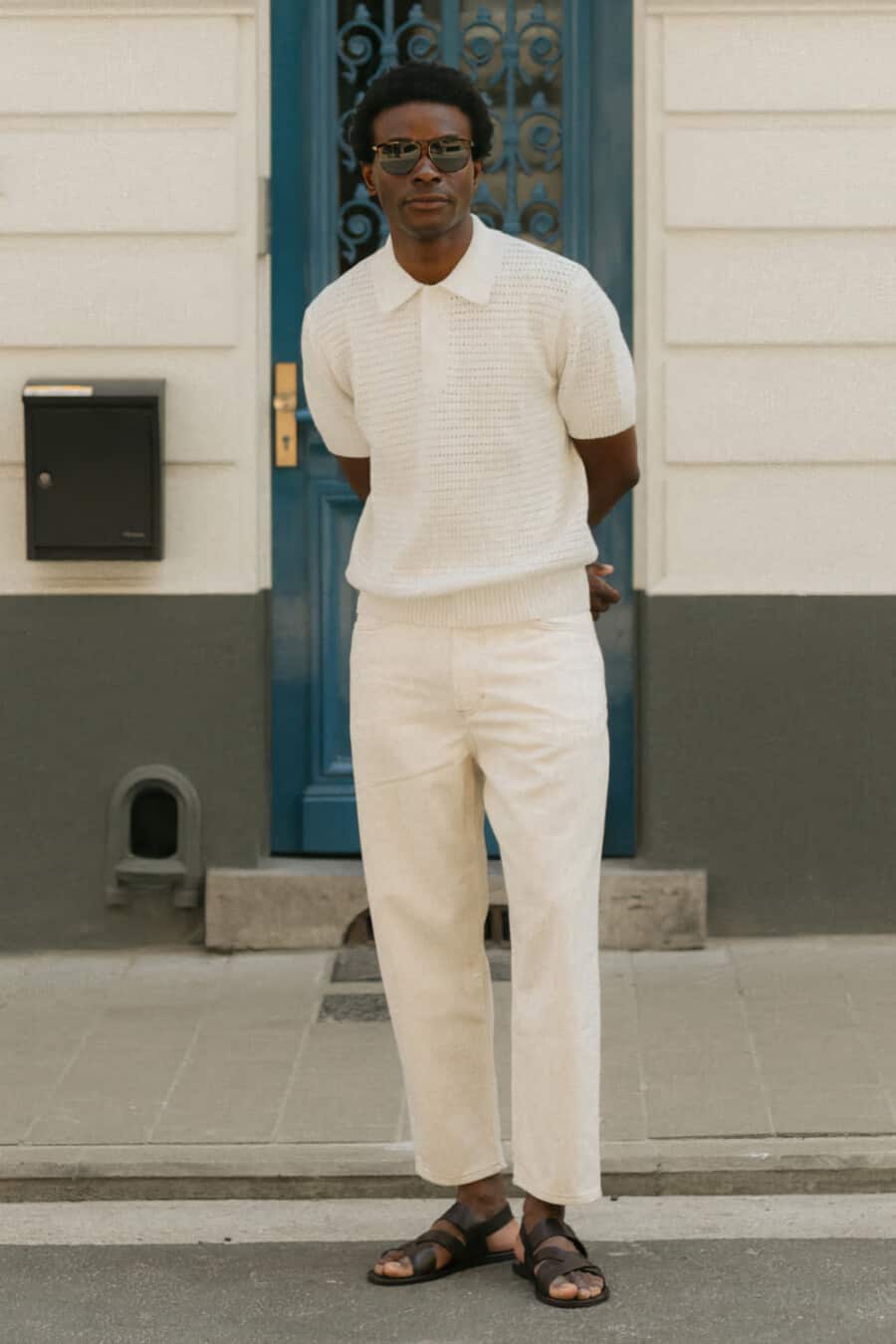 Mango is a high-street mainstay all over the world, but it has its roots in Spain. The brand is known for its affordable prices and simple yet stylish garments that take inspiration from understated casual classics as opposed to anything overly trend driven.
It's a great place for building a full wardrobe on a budget, or just picking up the odd essential on the cheap.
Saye
Saye is the sustainable footwear brand you need to know. Its sneakers are simple, stylish and beautifully made, and everything is done using eco-friendly materials such as recycled and organic materials. The brand also actively supports reforestation projects and the entire range is vegan, so it's cruelty free too.
The key model is the Modelo '89, which reminds us more than a little bit of a Reebok Club C. It's available in a multitude of muted colour options and even a high-top version too.
Tropicfeel
Tropicfeel is a sustainably focussed footwear and outdoor gear brand that has gained fans in Spain and beyond for its versatile and eco-friendly products. Founded in 2017, the label is dedicated to creating functional, lightweight and stylish items that are perfect for travelling, getting outdoors and just handling the general day to day.
Tropicfeel is known for its multi-functional designs, offering modular and convertible features in its products, such as shoes that can transform into sandals or backpacks that expand for extra storage.
It's also one of the few brands making water-friendly sneakers that can help you to wade through the occasional river and dry quickly once back on dry land.
Meller
Stylish sunglasses can be rather expensive, but Meller offers up a huge range of fashionable styles at genuinely affordable prices. All of the Spanish brand's shades come in well under the $100/£100 mark, and in most cases much less.
They range from simple wire-framed options to chunky, fashion-forward acetate versions in eye-catching colourways.
The company also places an emphasis on eco-friendly materials in many of its designs, using natural products in place of non-recycled plastics wherever possible.
Man 1924
Hailing from Madrid, Man 1924 is a menswear brand dedicated to classic style, quality and craftsmanship. Its designs span everything from tailoring to casualwear, with a heavy dose of laid-back Mediterranean style running through every garment.
The label specialises in tailored jackets, but it makes some excellent everyday jackets too. For example, the Carpinter Jacket is an elevated worker silhouette featuring a traditional three-pocket arrangement, classic collar and a cotton-linen construction that works all year around. It looks great with everything from tailored trousers to jeans and is available in three versatile colour options.
There's also a great selection of knitwear, casual shirts and accessories to boot.
Carmina
When you think of fine handmade footwear, you probably think of Northampton in England or Biella in Italy. These are generally regarded as Europe's shoemaking capitals, and they've been on the map for centuries. Somewhere you probably don't consider is Mallorca, but Carmina is doing its best to single-handedly change that.
Founded in 1866, the company specialises in handmade shoes, crafted using traditional techniques and high-quality materials. You can expect to find all of the classics like Derbies, Oxfords and brogues. There are also loafers and boots, but if you're after sporty styles like sneakers then you're best off looking elsewhere.
Neutrale
The style coordinates of Neutrale lie somewhere between beachy Mediterranean cool, streetwear and luxury loungewear. The Spanish label creates colourful warm-weather essentials, from printed tees and hoodies to resort shirts and espadrilles.
Recent collections take a postmodern but nostalgic look at the Spain of holiday resorts, with T-shirts styled as though they were on sale at a beach-front souvenir shop. That's a good thing, by the way.
The brand takes the playfulness of streetwear and applies it to the holidays you remember from childhood – while also crafting its collections with good materials and ethical practices.
TWOTHIRDS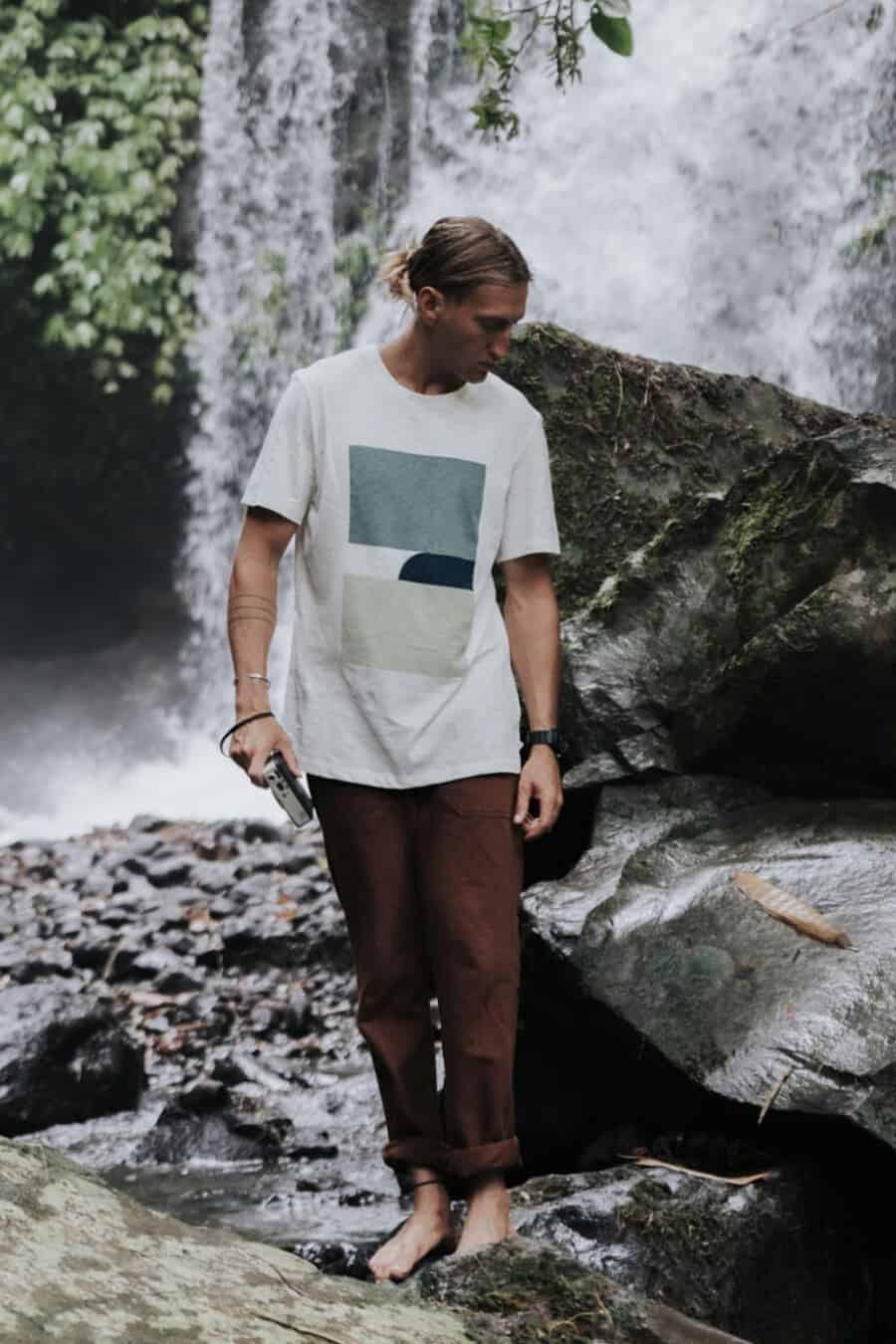 The trendiest thing in fashion right now is to say your brand is environmentally friendly. TWOTHIRDS is one of the few labels that can back it up. A certified B Corp, it takes a radical approach to the production of clothing because every collection it creates is based on customer pre-orders. Slow fashion in a very literal way, it means the brand doesn't overproduce its stock like the vast majority of others.
Aesthetically, it's laid-back casual menswear in soft fabrics and warm but muted colours. Think dusty coloured cotton shirts, soft knitwear and easy wearing chinos.
Massimo Dutti
Found in the same stable of fast-fashion brands as Zara, Massimo Dutti is usually found at the higher-end of the high street with considered and well-made clothes at good prices. The Inditex-owned brand keeps its Spanish roots with tactile menswear that often sits right in the middle of the smart-casual spectrum.
Think lightweight cashmere and merino sweaters or flowing linen shirts and overshirts. Soft tailoring and knitted polos round out an elegantly European vibe.
Brava Fabrics
It's nice to be reminded that clothes can and should be fun. With collaborations that include Playmobil and Where's Wally, Barcelona label Brava Fabrics is the polar opposite of a po-faced fashion label that takes itself too seriously.
Its collections are bright and colourful: patterned resort shirts, bold swimwear and T-shirts riffing on pop culture set the tone.
One thing Brava does take seriously is transparency. With all its clothing designed and produced in Spain and Portugal, the label is refreshingly open and meticulous about its design process and supply chains.
Adolfo Dominguez
Something akin to a Spanish COS (but not owned by one of the world's fast fashion giants), Adolfo Dominguez does design-forward minimalist clothing in interesting silhouettes. There's very little print or pattern: stark block colours are the vibe here with oversized fits and interesting fabrications.
Its roots are in the Franco era of Spain, but the label has always pulled against authority. Most recently it restarted doing fashion shows but defied industry norms by casting non-professional male models on catwalks that appear in unexpected locations.
Manolo Blahnik
There aren't many names as synonymous with luxury footwear as Manolo Blahnik. The label has always been headquartered in London but its founder's Spanish roots and design ethos show through in collections that have more than a touch of the dandy about them. Think beautiful suede Chelsea boots or luxurious, slipper-like loafers – some that even come with a jewel-encrusted buckle.
There are less showy offerings, too, of course. Like all brands today, Manolo produces minimalist sneakers and elegant leather sandals, but across the board the attention to detail and fine craftsmanship is hard to beat.
Castaner
Espadrilles are must-have footwear for the Spanish climate – they must be, because the style originated in Spain and there's evidence that jute-style shoes have been worn there for thousands of years. Today, few brands do them as well as Castaner.
The label keeps alive handcrafted traditions and techniques that have been used for generations to create elegant summer shoes in a wider range of styles than you might expect. You can opt for square or rounded toes, styles with or without elastic side bands and sandals on a traditional jute sole.