The Coolest Men's Sunglasses For Summer 2023
Forget those throwaway pairs you've been buying each year. Our edit of the coolest sunglasses for men features high-quality, timeless frames from the most trusted names in the game.
Some of the most iconic looks in the history of men's style have featured some of the coolest sunglasses front and center – think the likes of Steve McQueen's cherished Persol 714s or Robert Redford's aviators. But you don't have to be a timeless icon to look great when summer heats up.
All you need is a great pair of shades. And below you'll find our edit of the best men's sunglasses to help you get started on the long, winding road to style glory and greatness.
Forget about throwaway pairs you've relied on perhaps one too many times after leaving your own trusted pair at home. We're talking about premium quality frames from luxury eyewear brands – the type of sunglasses that make an outfit rather than simply serve as a placeholder. After all, the right shades add a definitive edge to any look, be it rugged casual gear or your finest cotton summer suit. Here's how to make sunglasses work for you.
Sunglasses built for the long haul
The great thing about tracking down a pair of timeless sunglasses has to be the fact that ultimately, you don't have to think too hard about it. What we mean to say is, each of the brands featured below has the kind of heritage and pedigree that made menswear legends trust them implicitly.
So, no need to worry about busted frames or inferior lenses. Rest easy knowing craftsmanship and style come as standard. And because we've prioritised refined yet versatile designs, these sunglasses very likely won't ever date – so each is worthy of the price tag.
As spring looms, time is of the essence. Don't end up a step behind when stocking your closet with warm-weather essentials. You're getting back out there in style in a major way this summer, so accept no substitutes: aim high and you might end up going on a few McQueen-esque adventures of your own in the meantime.
Persol 714 Original Sunglasses
Perhaps you've seen this silhouette before on the aforementioned Mr. McQueen in the 1960s classic The Thomas Crown Affair. It's on the big screen where the first folding sunglasses made a proper splash, showcasing intricate manufacturing and attention to detail.
The tortoiseshell acetate and handsome blue contrasting lenses work well in modern times no matter what you wear, but we're of the opinion that they team best with breezy summer tailoring, like a khaki cotton suit and a linen shirt, or more rugged, easy-going picks, like a chambray button-up and olive chinos.
Cutler and Gross 1393 Square Sunglasses
To find the coolest sunglasses in modern times, it pays to look to the past. And when we say certain items never go out of style, we mean it: these Cutler and Gross sunglasses draws inspiration from a surplus store pair of archival C&G frames, with a bold and 1970s-esque design to match.
More than five decades on, the distinctive square frame is well-suited to those who favour throwback, runway-inspired looks – think instantly recognisable staples like a sweater polo or retro cardigan. This fashion-forward style is toned down ever so slightly by a black acetate frame which lets the lenses do all the talking.
Garrett Leight Hampton Sunglasses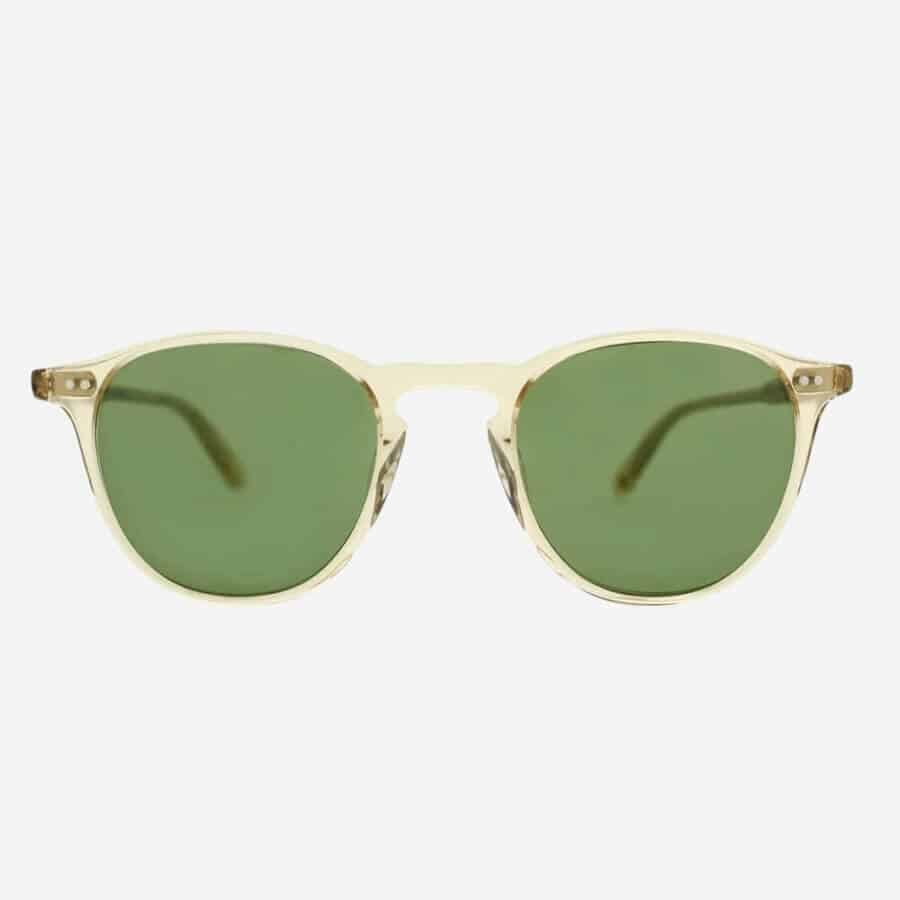 Ideally, the coolest sunglasses look like something that you might have snagged right out of an old Polaroid photo of a family beach vacation. They just don't make 'em like that anymore, except in the case of Garrett Leight.
A circular frame is a standout choice that says you know exactly how you want to look: unbothered, rakish and supremely cool. The champagne colour plays well with laidback beach and boardwalk staples: a terry cloth polo, tailored swim trunks and an ice-cold beverage in hand. Elsewhere, take them for a spin on dry land with linen trousers and suede loafers.
MOSCOT Zev Sunglasses
You're not going to find a pair of sunglasses like this anywhere but a MOSCOT store, although imitators might try to copy the brand's family-owned focus on craftsmanship and heritage. Of course, those two pillars come with a good dose of style: after 100-plus years in business, you tend to figure out what the people want.
Here, this elegant frame draws inspiration from a family cousin and lawyer, who favoured the original 1960s version himself. Wear it like 'Zev' might have – with a crisp white shirt, knit tie and navy suit.
Oliver Peoples Gregory Peck Sunglasses
It's been 60 years since Gregory Peck graced the silver screen in award-winning classic To Kill a Mockingbird, wearing a pair of signature round frames. Fast-forward to today, and a collaborative pair of sunglasses made in tandem with Peck's estate are available to add to your collection.
These aren't a pair to merely be placed on a shelf, though. They've got an air of retro appeal, especially when rendered in crisp black. Let the rest of your ensemble do the talking – tailored outdoor engagements this summer call for a pair of subtle statement shades.
Yves Saint Laurent SL309
The aviator is rooted in historical action as a style trusted by pilots, but in the capable hands of the luxury fashion house Saint Laurent, it becomes something else entirely.
If you're feeling especially adventurous, reach for these rimless metal aviators with a pink gold double bridge. The design details are impeccable, the quality is worth the price and the styling potential is second to none. Save these for whiling away an afternoon at a sidewalk cafe, paired with a striped YSL shirt.
Ray-Ban Clubmaster
It's never a bad bet to trust those with an eye for next-level art and forward thinking, is it? Take Andy Warhol, who made the Ray-Ban Clubmaster entirely his own. The style has stood the test of time in the decades since Warhol's passing, giving the wearer an air of bookish, in-the-know cool.
Worn by mods back in the day and available in much the same design as years past, the Clubmaster makes a statement when worn casually with essentials like a white tee, high-top sneakers and light wash denim.
Kirk Originals Anthony Bitter Sunglasses
The coolest sunglasses, like your most trusted shirt or a tried-and-true watch, should be able to tell a story all their own – it pays to select a pair you can grow into, so to speak.
The sharp tear-drop shape and top-heavy design of this tortoiseshell pair from Kirk Originals mean business, with a bolstered top brow that goes well with looks both rugged and flashy. Think Gosling and wear an olive henley, unbuttoned, with a silver bracelet or slim necklace.
Warby Parker Cooper Sunglasses
Warby Parker, with its showroom approach to shopping for sunglasses, changed the way guys shop for the coolest shades on the market. They've also expanded their 'eye' for design over the years, to the point where the Cooper Sunglasses – without a nose bridge and boasting a thin, subtle gold brow wire – look like they cost four or five times as much.
These shades are ideal for the stylish man on a budget, and should offset the basics (like a white linen shirt and tan chinos) with a dash of unexpected, eye-catching style.
Mykita Decades Alessia Sunglasses
Splurge in matters of style and price with Mykita: that's what the coolest sunglasses are ultimately bringing to the table, right? Average gets thrown out the window with these six-sided lenses, which is actually part of a double-layer lens design.
Think of these like a red carpet-worthy pair of frames: team them with a breezy cotton suit in a visually striking colour, like emerald green or a heightened shade of blue. Or go ultra-minimal and wear a grey cashmere-blend tee and black jeans, because the shades say plenty on their own.
Cartier Santos De Cartier Sunglasses
Cartier doesn't do things halfway: that much is clear when you consider the long-running history of the brand's core picks, like the often-imitated, never-duplicated Tank Watch. You're getting much of that same heritage in another everyday carry essential by way of these sunglasses.
Like a more stylish pair of pilot's goggles, these feature thick, reinforced lenses and a doubled-up bridge and nosepiece, all fused into a fashionable aviator design. Like our other favourites in your search for the coolest sunglasses, these are worth the investment, and you should wear them on every jet-setting trip you take.