18 Men's Fashion Brands That Produce Superior Quality Clothing
Buying less, but buying better is a good mantra, so we've compiled a list of our favourite brands who champion quality above all else.
If we were to compile a list of all of our favourite high quality brands then we'd be here a long time, so we've purposely omitted most of Savile Row and many French and Italian bespoke operations because their quality and attention to detail is a given.
Therefore the brands below are included due to their focus on superior fabrics, exquisite construction methods and, in some cases, longevity, which is testament to their enduring class.
Some are global luxury behemoths, while others are modest family-run companies that think big but produce small. Yet what they all have in common is a dedication to producing the highest quality menswear possible.
What defines quality clothing?
Fabrication
When it comes to discerning quality in a brand, the first thing you need to look at are the materials. Provenance is critical when it comes to natural fibres, and the heritage and reputation of the fabric mills that brands work with is also extremely important.
Most of the time, the use of reputable mills offers assurance that the fabrics have been sourced in the most ethical and sustainable way. Fabrics such as merino wool, lambswool, leather, cashmere, linen, silk and organic cotton are all the hallmarks of premium-quality brands, provided the provenance is up to scratch.
That's not to say synthetic fibres such as technical nylon have no place in a high-quality brand, but for the most part it's the natural fibres that will set a label apart.
Construction methods
Just as important as the quality of fabrics is the level of craftsmanship, and most high-end brands will employ some degree of handcrafting, using specialised artisans wherever they can.
Their garments will pass through many expert hands before finding their way into your wardrobe, ensuring an extremely high level of quality control.
There's also just something special about a garment which has been made by hand using techniques that have been passed down from generation to generation.
Longevity
The heritage of a brand is very often an excellent proxy for its quality, since shoddy companies don't tend to hang around for long. There's a reason why Northamptonshire shoemakers have been plying their trade for the best part of two centuries – because they continue to hand make the finest shoes in the world.
Some of the names on this list have a prestigious and storied history, while others are well on their way to building their own.
The highest quality clothing brands for men
Sunspel
This British heritage brand (and go-to supplier of one James Bond) has a rich history dating back to 1860. Renowned for its luxurious cotton essentials, Sunspel has a reputation for producing some of the world's finest underwear, T-shirts and loungewear.
The company's commitment to quality is evident in its use of long-staple Egyptian cotton, which ensures softness, durability and breathability. Each garment is also expertly constructed in England to guarantee an unmatched level of quality.
With its focus on timeless design, comfort and natural fabrics, Sunspel offers an understated luxury with an impeccable fit.
Luca Faloni
The Italian menswear brand founded by Luca Faloni in 2013 has always focused on creating high-quality essentials made strictly in Italy by carefully selected artisans.
Renowned for its dedication to craftsmanship, Faloni sources only the finest natural fabrics from local mills, including cashmere, linen and merino wool.
The brand's collections feature timeless designs, such as softly tailored separates and premium knitwear, all with an impeccable attention to detail. Faloni's mission is to offer men elevated staples that exude sophistication and versatility.
With a commitment to ethical production and direct-to-consumer pricing, the label ensures exceptional quality at accessible prices, and given the brand's timeless 'quiet luxury' aesthetic, these are garments that are going to hold court in your wardrobe for a long time to come.
Aurélien
Founded by Aurélien Roulin in 2019, his eponymous brand offers a range of meticulously crafted garments designed for comfort and relaxation.
Leaning into a refined Mediterranean aesthetic, Aurélien sources the finest natural fabrics, such as Egyptian cotton and cashmere, to create garments that are soft, breathable and indulgent.
Each piece is carefully tailored with attention to detail and a focus on slim, sophisticated silhouettes. The label combines timeless elegance with contemporary design, perfectly exemplified by its stunning fine merino knitwear and super-modern resort jackets, which have been crafted from recycled fishing nets.
L'Estrange
Despite the French-sounding name, L'Estrange is a British menswear label founded in 2013 by Tom Horne and William Green. The brand creates clothing that blurs the line between casual and formal, offering versatile garments for a modern wardrobe.
L'Estrange is renowned for its signature 24 Trouser, a tailored jogger-style pant that combines comfort with a refined aesthetic. Its collections also include T-shirts, hoodies and outerwear, all designed with a minimalist approach and meticulous attention to detail.
It prioritises sustainability by using eco-friendly materials and ensuring ethical production practices, and will almost certainly appeal to those of you seeking elevated casualwear options for everyday wear.
Loro Piana
The poster boy for the mega rich, Loro Piana is an Italian luxury brand founded in 1924 which has earned a reputation for its unwavering commitment to exceptional craftsmanship and the use of the finest materials, not least cashmere, wool and other rare cloths.
The brand's roots trace back to the early 19th century when the Loro Piana family began trading wool and textiles. The garments and accessories are characterised by a sophisticated timelessness, painstaking attention to detail and a laser focus on comfort and functionality.
Rather than rest on its laurels, the company is constantly innovating when it comes to fabric development, not least waterproofing luxurious natural fibres, as made evident by its groundbreaking Storm System.
Brunello Cucinelli
Ever since Brunello Cucinelli founded his eponymous luxury menswear brand in 1978, the Italian designer has developed a reputation for impeccable craftsmanship and timeless designs, all of which has been conceived in the Italian hamlet of Solomeo.
Cucinelli's philosophy revolves around the concept of 'humanistic capitalism', emphasising the importance of ethical business practices and the well-being of his employees.
This ethos plays out in the calibre of his softly tailored collections, all of which are meticulously crafted in Italy using the finest materials and traditional techniques.
Brunello Cucinelli is celebrated for its understated elegance and is noted for its colour palette, which is inspired by the natural hues of the Umbrian countryside.
Cucinelli was one of the first to bring tailored silhouettes into the realm of casualwear and continues to evolve the concept of luxury menswear.
Charvet
Charvet can lay claim to opening the world's first ever shirt boutique in Paris so to say the brand has heritage would be something of an understatement.
Founded in 1838 and located on the prestigious Place Vendôme, Charvet has a long-standing reputation for creating exquisite bespoke and luxury ready-to-wear shirts, all of which use traditional techniques and feature unique design elements, such as the signature pleated front.
The label's commitment to quality is evident in its use of the finest materials, including Egyptian cotton and silk.
Its heritage, expertise and dedication to creating exceptional shirts have earned it a loyal fan base, including notable figures such as Winston Churchill and John F. Kennedy. So if you have a Charvet shirt hanging in your wardrobe, you're in good company.
De Bonne Facture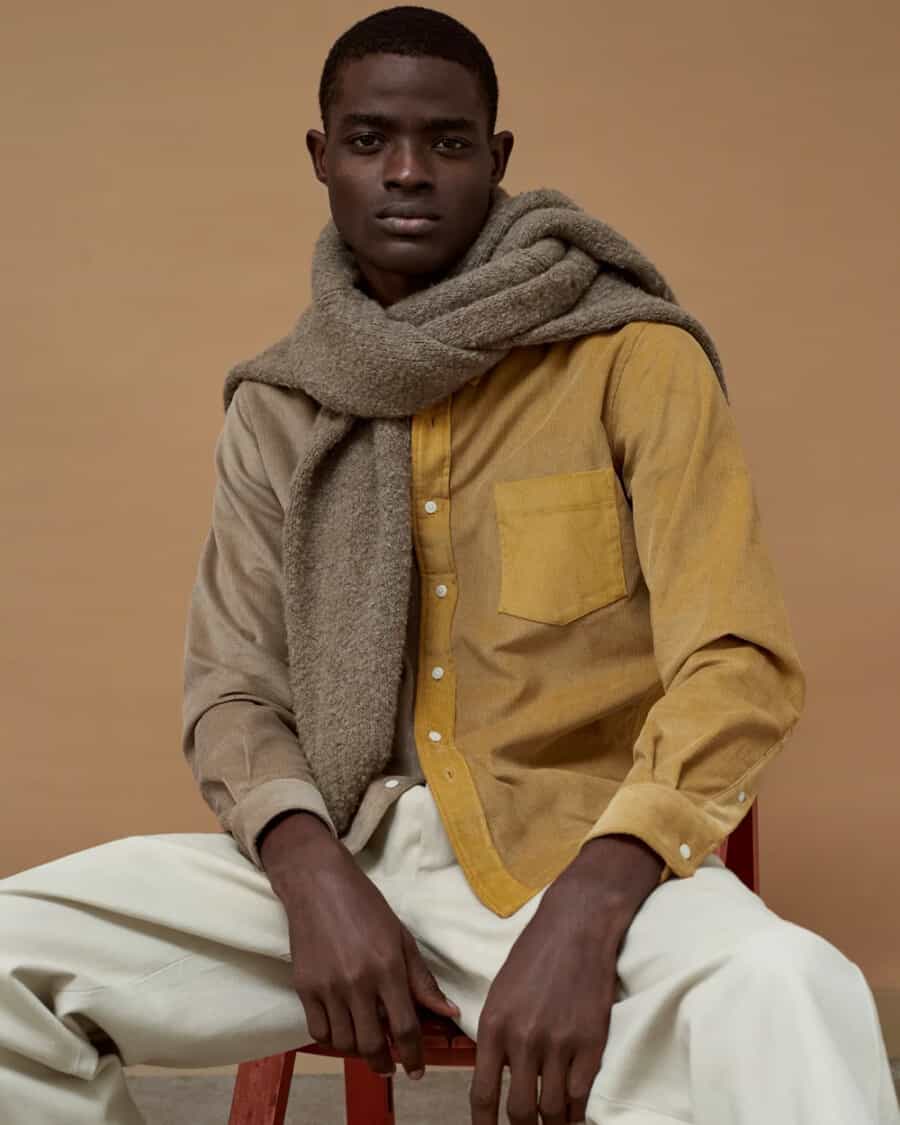 De Bonne Facture is the brainchild of Déborah Neuberg, who found this unique French label in 2012. What sets De Bonne Facture apart is that it collaborates with small, family-owned workshops and artisans all over France, preserving traditional techniques and supporting local craftsmanship.
The brand's collections feature a range of menswear staples, including shirts, knitwear, trousers and outerwear, all conforming to timeless menswear principles, attention to detail, and the use of superior natural fabrics.
Each garment is produced in limited quantities, ensuring exclusivity and a focus on quality over quantity.
Drake's
Drake's is a British menswear brand founded by Michael Drake in 1977. Originally a haberdashery known for its exquisite ties, Drake's has since expanded to offer a full range of menswear, including shirts, trousers, knitwear and accessories, all meticulously crafted.
Drake's sources its fabrics from mills in Italy, Scotland and England, using them to create collections with just a hint of British eccentricity.
More recently, it has collaborated with cult New York brand Aimé Leon Dore, a partnership which has garnered a new way of looking at this modern preppy outfitter.
Hermès
The French brand founded in 1837 by Thierry Hermès needs little introduction, but we'll do it the honour. Originally specialising in equestrian accessories, the leathermaker has since expanded to offer a wide range of luxury goods, including menswear.
It's perhaps best known for its ladies' handbags, not least the 'Birkin' and 'Kelly', but its exceptional craftsmanship, use of exquisite materials and timeless aesthetics have long defined its menswear collections too, with a strong focus on incorporating traditional techniques by way of the world's best artisans.
Hermès' commitment to quality and craftsmanship has made it a symbol of enduring luxury and elegance, and so it remains one of the most esteemed names in the world of high-quality menswear.
Even if its leather outerwear is miles out of your league (that makes 99.9% of us), a geometric print handmade Hermès silk tie is a lifetime investment that never loses its cachet.
Private White V.C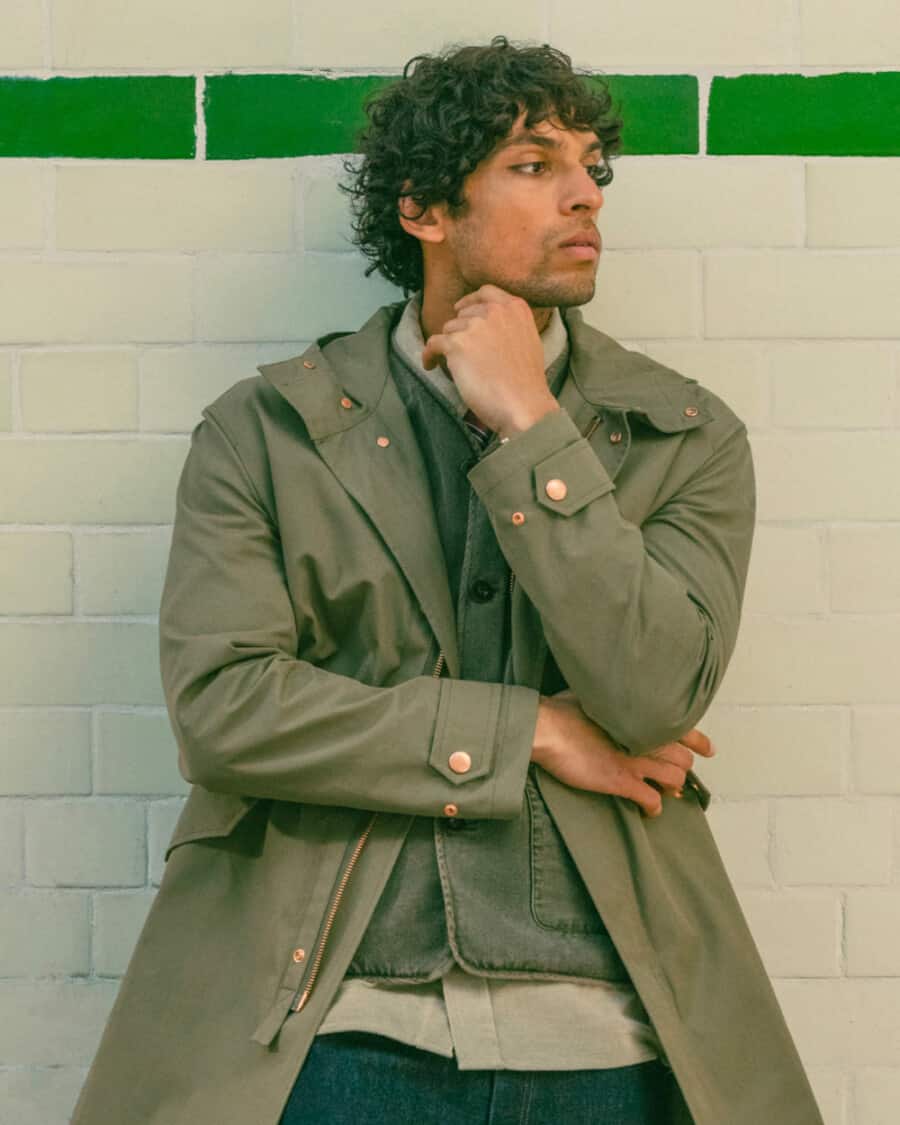 Named after Private Jack White, a World War I hero, this Manchester-based label was founded in 2010 by White's great-grandson, James Eden. It specialises in outerwear and utilitarian-inspired menswear, all manufactured in Manchester.
The UK brand's garments are made using high-quality materials, including British-woven cotton, wool and Ventile, a durable and weather-resistant fabric.
The company's commitment to ethical production and sustainability is evident in its focus on local manufacturing and the use of eco-friendly materials. If you're in the market for a distinct heritage aesthetic, and want to invest in a brand that does things responsibly, Private White V.C will be right up your street.
Husbands
Relatively new on the menswear scene, but already a favourite among industry insiders, Husbands is a French menswear brand founded in 2013 by Nicolas Gabard.
The label's philosophy centres around creating elegant and timeless clothing with more than a hint of nostalgia in its tailored silhouettes and shirt styles (the latter notable for some 70s-esque collars).
It harks back to an era of casual separates, great textural fabrics and a unique European take on preppy style.
Johnstons of Elgin
Johnstons of Elgin dates back to 1797 and is to this day internationally recognised for its expertise in cashmere and fine wool garments. With a heritage spanning over two centuries, Johnstons of Elgin continues to epitomise timeless luxury, craftsmanship and sustainability (it's B Corp certified), using only the finest Scottish cashmere and merino wool.
The brand combines traditional manufacturing processes with modern technology, resulting in exceptional quality knits. A cashmere jumper for example, might pass through over 30 pairs of hands before it finds its way into your wardrobe.
The collections are compact but perfectly formed with all of the everyday staples you could possibly want.
Kiton
Founded in 1956 by Ciro Paone, Kiton is renowned for its impeccable tailoring and use of the finest fabrics. Oh, and eye-watering price tags.
But you must consider that each Kiton garment is meticulously handmade by skilled artisans in Italy, ensuring the highest level of craftsmanship and attention to detail. The brand's collections encompass tailored suits, shirts, outerwear and accessories, all characterised by timeless designs and sartorial excellence.
If you're looking for understated tailoring or quiet luxury, then you're in the wrong place because Kiton's colour palette and penchant for bold checks is anything but discreet.
Officine Générale
The epitome of modern Parisian chic, Officine Générale is a French menswear label founded by Pierre Mahéo in 2012. The brand draws inspiration from classic menswear and workwear, offering a modern interpretation of timeless styles.
Collections feature high-end suits, shirts, knitwear and outerwear, all crafted with a focus on quality and fit, with some really interesting fabrics along the way, mostly sourced from renowned mills in Italy, England and Japan.
If your style schtick is 'refined and understated wardrobe essentials with a touch of Parisian elegance', then you've just found your new favourite brand.
Artknit Studios
Founded in 2017, Artknit Studios combines traditional craftsmanship with innovative techniques to create contemporary knitwear pieces for men.
Using only the highest quality natural and eco-friendly materials – including merino wool, cashmere and organic cotton – the brand's garments are ethically produced in Italy, showcasing a commitment to fair working conditions and environmental consciousness.
Artknit Studios' designs are characterised by modern silhouettes and minimalist aesthetics, with a muted colour palette of nudes and neutrals used throughout, as well as black, white and navy.
You won't find any garish colours, superfluous branding or crazy patterns, just good old luxurious knitwear with a conscience.
Colhay's
This one flies under the radar for most people, but Colhay's should definitely be on yours. The British luxury menswear brand, established in 2018 by designer Harry Rowley, is inspired by the traditions of Savile Row tailoring, offering knitted menswear garments of the highest order.
Based in the Hawick, Scotland, a region renowned for its knitwear heritage, Colhay's beautiful garments lean on a nostalgic 50s aesthetic, with an impeccable fit. You'll also only find the very best cashmere, merino, cashmere blends (silk, linen, cotton) and fine lambswool.
Apparently it does incredible business in Japan, and white labels for some of the world's top luxury brands, so let's keep this one quiet before the prices ramp up.
The Workers Club
The Workers Club is a British menswear label founded by husband and wife team Adam and Charlotte Cameron in 2015. It focuses on creating versatile and durable garments inspired by traditional workwear and outdoor clothing.
The brand sources premium materials, including British-woven cotton, Scottish cashmere and Japanese fabrics, to carefully produce garments designed to withstand the test of time.
With cool functional design elements and a commitment to sustainability The Workers Club offers elevated essentials for the modern wardrobe.
The raw selvedge denim is definitely up there with some of the best Japanese brands, while its Jefferson shell jackets are non-negotiable all-weather wear for discerning workwear heads.