Beach To Bar: The Most Stylish Tailored Swim Short Brands For Summer 2023
Tailored swim shorts work as well by the pool as they do at a beach bar, making them a vacation wardrobe essential.
The perfect hybrid, tailored swim shorts are your breezy route into smarter poolside style. We're all seeking convenience, versatility and adaptability from our wardrobes – and these elevated swim shorts more than fit the bill.
Designed for all-day wear, pull on a pair of tailored swim shorts in the morning and be set for a day of adventure. Whether that means passing languid hours dipping in and out of the ocean or visiting historic landmarks, this swimwear will adapt effortlessly.
So, if you're looking to upgrade your resortwear collection this summer, read on to find out everything you need to know before taking the plunge.
What is a 'tailored' swim short?
Luxury resortwear brand Orlebar Brown was the original pioneer of the tailored swim short, launching its now-iconic 'Bulldog' model back in 2007. These elevated swimmers substituted the ubiquitous elasticated waistband for a fixed version, complete with a popper fastening, offering a cleaner, more sophisticated look. The addition of side adjusters only added to their trouser-like appearance, while also allowing them to be let in or out slightly to achieve a perfect fit.
Tailored swim shorts are cut slimmer through the leg than their traditional, baggier counterparts. The result is a pair of shorts that perform like swimwear but look like chino shorts, allowing them to be worn as such and teamed with other smart-casual pieces in your vacation wardrobe.
Why you need a pair
Taking you from beach to bar sans effort, you'll be supporting your minimalist vacation wardrobe by packing this two-in-one garment. But you won't just be saving precious suitcase space. You'll also bypass the – let's face it, inconvenient – need to check back to your hotel room for a pre-sundowner fit change.
Ideal for those who prioritise versatility, tailored swim shorts offer a much sharper look than your average-Joe swimmers. They're just as at home on a sun lounger as perched on a beach bar stool, and you can style them to the time of day with just a quick reworking.
For example, switch your bare (or flip-flopped) feet for fresh white sneakers or loafers, throw on a laid-back tee or linen shirt, and voilà… your look is transformed, and you've barely lifted a finger.
What to consider when buying tailored swim shorts
Fabric choice
Of course, you'll be wearing your shorts largely outside, in the sun. So you need to ensure they're crafted from a UV-resistant fabric. This can come either from a treatment, or from inherent qualities that deem it resistant. For example, shiny polyester naturally reflects radiation, so it'll keep its colour far longer even if you're spending 90% of your day soaking up rays.
Obviously, you'll want your shorts to be quick-drying, too. Polyester reigns supreme when it comes to fast-drying properties, with cotton coming a close second and nylon being another high-performing choice.
Stick to these materials where possible, and try to seek out those blended with a touch of Lycra or elastane for added stretch and comfort.
Block colours or patterns
With a wealth of prints, block colours and patterns out there, it can be tough to know which to go for.
Patterns are fun, and work to showcase your unique style and personality. As a standalone garment, this is great. However, if versatility is the priority, block colours come out on top every time. They're far easier to style with your post-pool shirt or tee, and tend to give off a more sophisticated air than their patterned equivalents.
Similarly, you'll get a lot more wear, and longevity, out of core neutrals like black, grey, navy and olive. Bright white also looks superb in the sun with a tan, but it can wash out pale skin tones and has the tendency to lose its lustre or stain quickly, particularly when you account for exposure to sun cream, chlorinated water and wet sand.
Hardware and details
The devil is truly in the details, and this is particularly true for tailored swim shorts. Make sure your chosen pair features durable, ergonomic zips for fuss-free fastening, and make sure any metal adornments (such as side adjusters and poppers) are free of any allergens that could irritate your skin. Nickel is a common culprit, but it can easily be avoided with a bit of research.
Otherwise, any buttons should be well-sewn, and hems should be double-stitched to enhance durability.
How they should fit
The fit is what truly makes this style stand out. Tailored swim shorts should be slim-fitting and subtly tapered through the thigh, but not so tight that you're restricted in movement. After all, they're designed to see you through a variety of pursuits and you don't want to feel limited, in or out of the water.
In terms of length, mid-thigh is the most flattering choice. Seven inches long is generally considered the sweet spot, complementing both taller and shorter frames. Remember that shorts are measured on the inseam – from crotch to hem – so bear this in mind when browsing.
The best men's tailored swim short brands
Orlebar Brown
The brand behind the original tailored swim short, the 'Bulldog', Orlebar Brown has been iterating on its acclaimed model for over 15 years. The result is a pair of shorts that is a close to perfect as you'll find: quick-drying fabric, slim yet comfortable fit, premium-quality hardware, built to last, and available in a wide variety of colourways, patterns and prints (including its signature photographic styles).
If you have the budget for them, there's arguably no better option on the market in this category.
Somewhere Sunny
Planet-friendly design can be selfie-friendly too, you know. Somewhere Sunny produces its tailored swimwear from recycled polyester – the equivalent of 12 plastic bottles going into each pair.
The brand does technical design with a fashionable eye. On the outside, you'll see gentle geometric patterns and classic block-colour design. But there's also an abundance of thoughtful touches in each pair, from quick-drying, easy-stretch fabric to a hidden drawstring and boxer brief liner for added comfort.
The Resort Co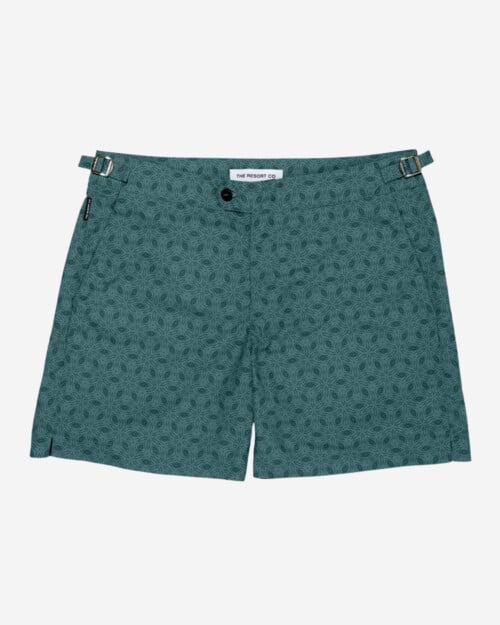 Virtuosos of the holiday wardrobe, The Resort Co's vibe echoes the Mediterranean landscapes it calls home. With eco-consciousness and a commitment to sustainability at its core, this elevated beach brand will appeal to the high-end, responsible consumer.
Expect recycled fabrics, high levels of craftsmanship and thoughtful detailing throughout its tailored swim short collection, which comes in a range of versatile block colours as well as sophisticated seersucker stripes and tonal prints – both of which are key swimwear trends for 2023.
L'Estrange
If your holidays tend to involve city-meets-beach destinations (think Miami, Barcelona and Dubai), you can count on L'Estrange for tailored swim shorts that can roll with the punches of a highly-varied day.
The London brand's Anywhere Swim Short 2.0 is available with or without netting – the former being more ocean-friendly, but with both styles equally holding their own in and out of the water.
If you do opt for netting, know that it's crafted from recycled marine waste products, so you can pull these swimmers on without the guilt.
Onia
Onia's extensive range of hybrid shorts is impressive. You can go as tailored or as casual as you wish, with the spectrum ranging from crisp and smart at one end, to crinkly and laid-back at the other.
Quiet luxury is the name of the game, here, with subtle details and premium-quality materials fusing to create solid, stylish and practical swim shorts that don't have to shout for attention.
Aurelien
Serving up a small but thoughtful swim shorts collection, Aurelien keeps things simple and chic. The palette is full of refined pastel shades, which will instantly transport you into holiday mode as soon as you pull them on.
Mindful design aspects – like the buttoned pocket (great for your keys) and fine polyamide shell fabric (extremely quick drying) – will quickly make these shorts your go-to for the pool, beach and beyond.
Vilebrequin
If making waves by the pool is your MO, Vilebrequin is worth checking out. Jazzy prints and quirky patterns run amok, ensuring you stand out in a crowd of Riviera stripes. But don't worry, there are plenty of solid colour choices for the more restrained beachgoer, too.
There is plenty of stretch in these tailored swim shorts, giving them the ability to adapt to all your vacation adventures. The majority of designs are finished with the signature Vilebrequin rectangle personalised snap button for a luxe touch, too.
Reiss
For a brand that was built on a bedrock of tailoring expertise, it should come as no surprise that Reiss has cemented its place on this list. The Sun Side Adjuster Swim Shorts strike the perfect balance between sharp and easy-going, making them the ideal companion for a plan-free day at the beach.
Remaining true to its ethos of transcending fickle fashion trends, Reiss shuns statement prints and patterns in favour of versatile neutral shades that will work seamlessly with the rest of your vacation wardrobe. Pick up a pair now and you'll be set for many summers to come.
Frescobol Carioca
An absolute must for the environmentally conscious, Frescobol Carioca designs all its swim shorts using its very own ECO LUNA fabric, constructed with 100% recycled plastic bottles collected from across Europe.
Make your selection from the palette of pared-back shades, with deep navies and smoky greys making for easy styling with the rest of your wardrobe. The button-fastened back pocket keeps your essentials safe, while an adjustable waistband ensures a comfortable fit.
Sleek and understated, these are a can't-go-wrong choice.