The 35 Greatest Men's Sneaker Brands In 2023 (For Every Budget)
From affordable to designer, minimalist to statement-making, these are the hottest men's sneaker brands on earth right now.
Sneakers are the modern world's go-to casual shoes of choice. They may have started life on playing fields and athletics tracks, but they've since sauntered into every conceivable corner of the menswear. Sure, you can wear them to the gym, but you can also pull a pair on to run your day-to-day errands or style them with a suit if you go about it in the right way.
Unsurprisingly, sneakers are big business. We're talking about a $75bn market here, which means new brands are constantly springing up left, right and centre trying to grab a slice of the action. But which ones are actually worth knowing about?
From the big-name sportswear stalwarts to exciting up-and-comers forging their own path in this highly competitive market =-here we count down 35 of the best sneaker brands in the world right now.
Nike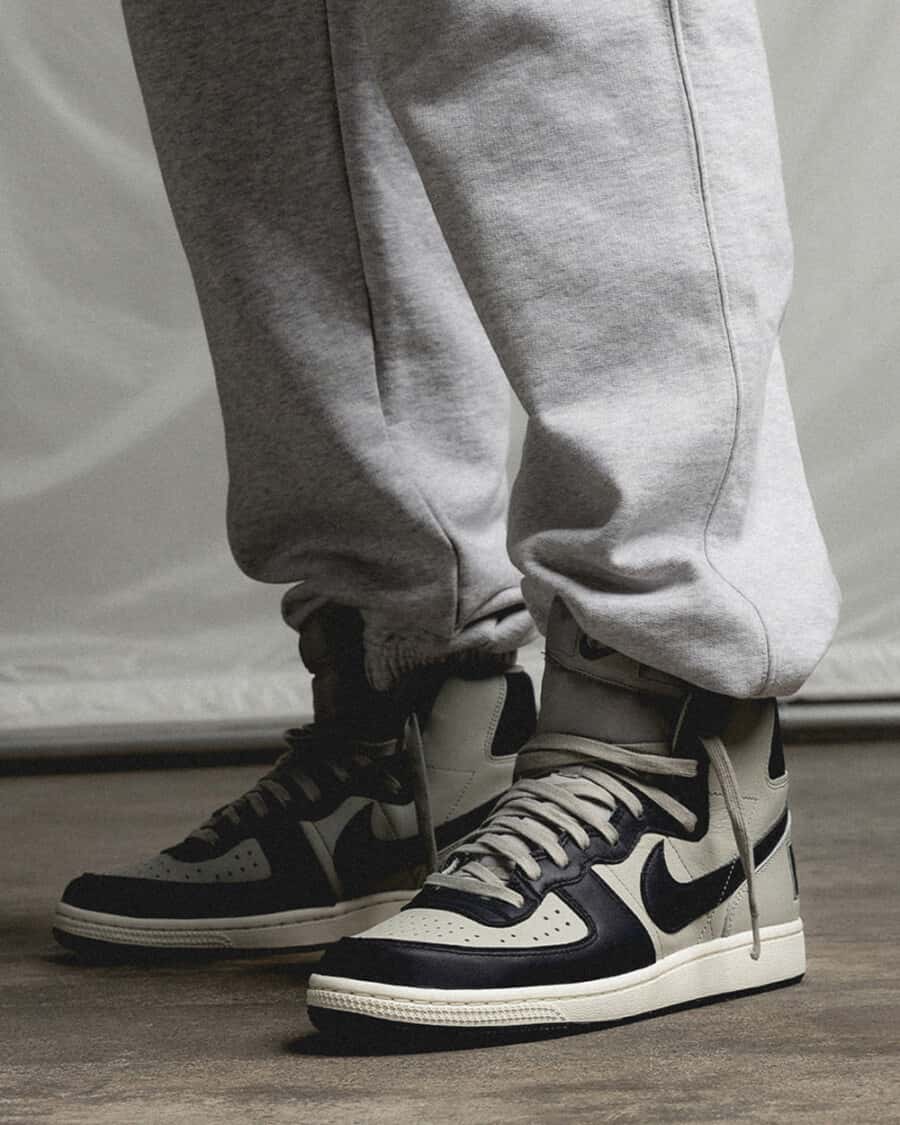 With an unrivalled sporting legacy dating back to the 60s, Nike has gained a reputation for testing the boundaries of athletic footwear design and technology.
The Swoosh's innovation has resulted in a number of groundbreaking advancements – from the introduction of the iconic Air cushioning system to the development of Flyknit technology, which revolutionised comfort, performance and style.
From a marketing standpoint, Nike's collaborations with athletes, musicians and fashion designers have further solidified its cultural significance.
Air Jordan
Speaking of which, Nike's Air Jordan line is perhaps the ultimate example. Launched in 1985 as a collaboration between Nike and basketball legend Michael Jordan, the Air Jordan brand transformed the sneaker industry.
The introduction of the Air Jordan line not only showcased innovative technologies, such as visible Air cushioning, but also popularised the concept of athlete endorsement and sneaker culture itself.
Beyond the court, Air Jordans have become fashion staples, regularly seen on the feet of athletes, musicians and trendsetters. Without them, there would be no sneaker culture as we know it today.
Axel Arigato
Axel Arigato has grown into a full-scale clothing brand, but its roots are in upscale sneakers. It was originally known for its minimalist leather kicks, made in keeping with its Scandi-Japanese deign ethos.
In recent years, however, it has started experimenting with more maximalist styles too, including chunky skate shoes and vintage runners on heavily cushioned soles.
JAK
JAK is a contemporary footwear brand known for its craftsmanship, minimalist approach to design, and commitment to sustainable practices.
Its sneakers blend style and functionality, making them a go-to choice for fashion-forward guys looking for a well-made daily driver.
Each pair of JAK shoes is handcrafted in Portugal using premium materials to ensure quality and durability. The brand also places a focus on sustainability, which is evident in the use of eco-friendly materials and responsible production methods.
Adidas
Established in 1949, German sportswear giant Adidas has been behind groundbreaking leaps in sneaker tech, such as the Boost cushioning system, which was pivotal in improving comfort and energy return in sneakers.
Its sneakers have become iconic symbols of style, with timeless classics like the Stan Smith, Superstar and current 'it' shoe the Samba transcending generations, subcultures and social classes.
The brand's ability to fuse sport and fashion has heavily influenced sneaker culture. A prime example of this is the long-running collaborative relationship with Kanye West, which, love it or hate it, produced some of the most hyped sneakers of the last decade.
Cariuma
Environmentally-conscious footwear brand Cariuma is the first skate-shoe label to be B-Corp certified. It uses a mix of regenerative, recycled and organic materials in its designs in order to reduce emissions and keep its production as green as possible.
The shoes are simple yet stylish, with no over-the-top branding or decoration, which adds to their versatility.
Check out the Ibi slip-on. It's allegedly one of the lowest carbon-footprint sneakers ever created, which Cariuma says creates three times fewer emissions than most other pairs of shoes.
Clae
LA-based footwear label Clae operates on the principle that less is more. The designs are simple and understated, as well as super versatile, allowing you to wear a single pair across more of your wardrobe.
A third of the range is made without using any animal products, and there's an emphasis on sustainability too – the company was the first to make a shoe using cactus, which it did to help reduce the reliance on leather and use greener alternatives instead.
Oliver Cabell
Luxury leather sneakers are great. They last for years, they're easily repairable and they go with just about everything. The big catch is that they're often obscenely expensive.
And while Oliver Cabell's shoes are hardly cheap, they are much more accessible than some of the most popular alternatives. This makes them a solid option if you're after something beautifully crafted and highly versatile, but your budget won't stretch to Common Projects prices.
New Balance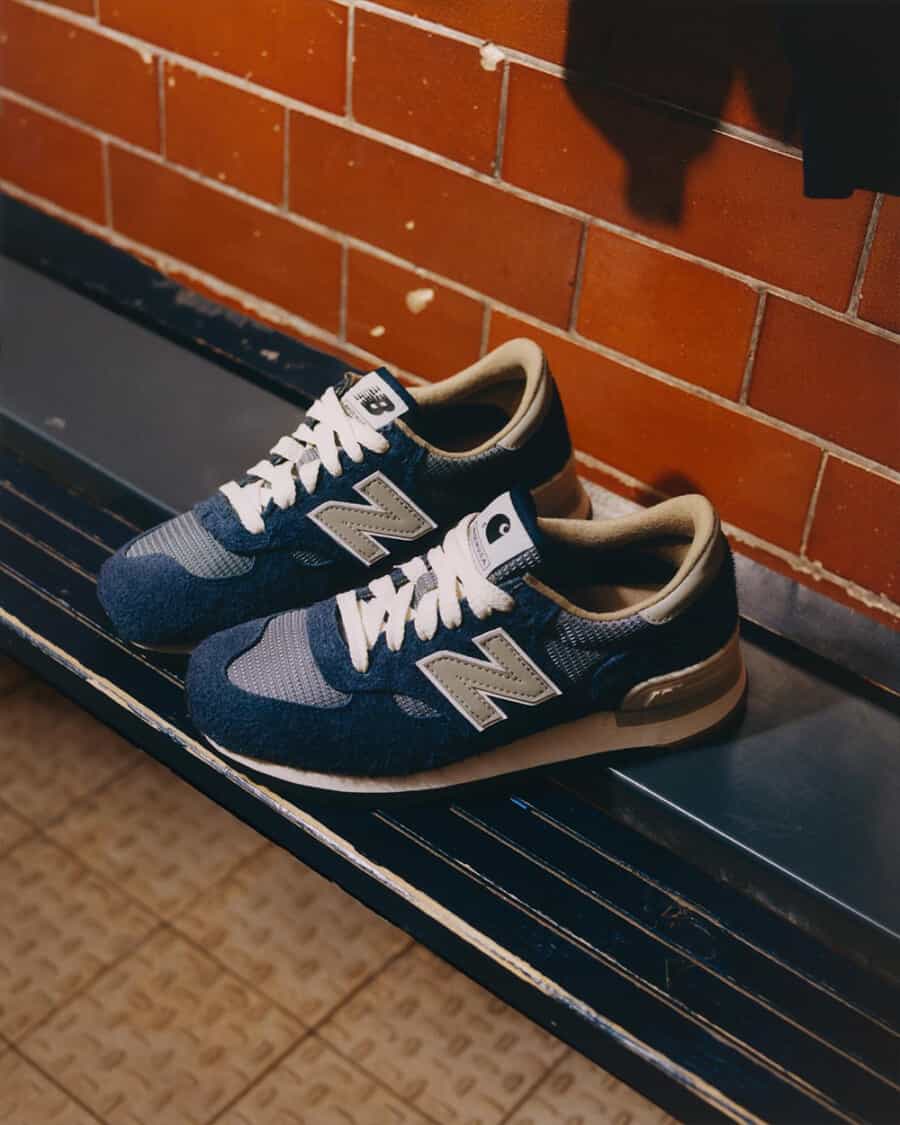 New Balance: the thinking sneakerhead's favourite brand. Whether it's high-tech running shoes or beautifully crafted suede lifestyle sneakers, the Bostonian brand can do it all.
It's one of the leading names in athletic footwear, but it's also well respected in the fashion world too. In fact, the brand recently appointed tastemaker Teddy Santis of Aime Leon Dore fame to head up its Made in USA kicks, and its 990 series of shoes is about as iconic as they come.
Converse
Its shoes may be simple, but Converse is arguably the single most important brand in the history of sneakers. The Chuck Taylor All Star laid the foundation for brands like Nike and Air Jordan by introducing the concept of endorsements and of athletic sneakers as lifestyle shoes that could be worn off the court.
Their simple canvas construction and distinctive rubber sole have become hallmarks of the brand, celebrated for their comfort and iconic aesthetic.
Check out the Chuck Taylor All Star 1970 for a slightly beefier take on the classic.
Vans
Skate shoes are a big part of the sneaker world, and Vans was the first brand to do it. Born in California, its founders started making simple canvas plimsolls with grippy gum-rubber soles. They caught on quickly with the local skate scene and it wasn't long before the company's shoes were routinely selling out.
Today, it's the biggest manufacturer of skate footwear on the planet and has become synonymous with counterculture, alternative music and an anti-establishment attitude.
Popular styles include the Sk8-Hi, the Old Skool, and the shoe that started it all, the Authentic.
Asics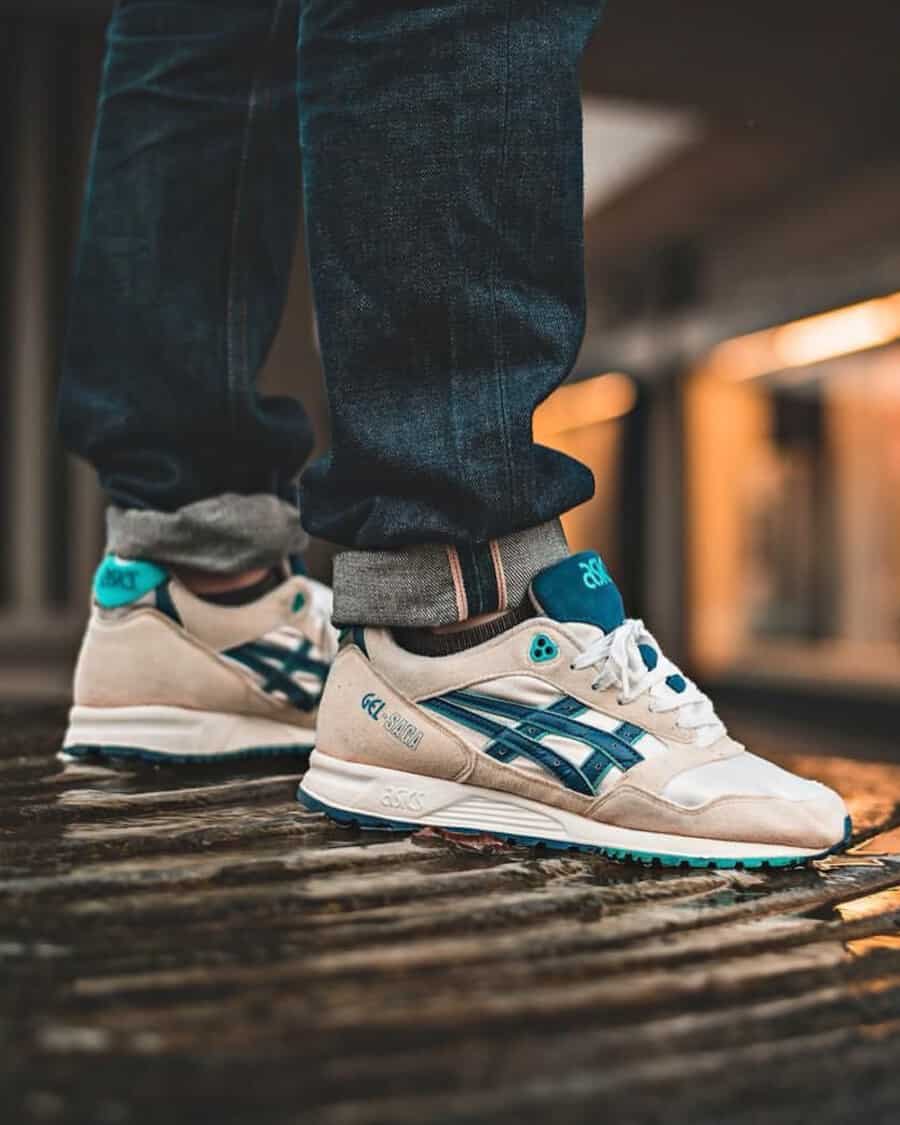 Formerly known as Onitsuka Tiger, this Japanese sneaker brand played a bigger role than you might be aware of in shaping the world of athletic footwear.
Nike co-founder Bill Bowerman distributed Onitsuka's shoes in the USA when Nike was still known as Blue Ribbon sports. If you look at the brand's Corsair model and Nike's iconic Cortez side by side you'll notice more than a couple of similarities.
Today the company is known for producing both high-performance running shoes and trendy lifestyle sneakers.
Salomon
A few years ago, Salomon would have never showed up on a best sneaker brands list, but it's a very different story today. Recently, the French alpine-sports brand has enjoyed an explosive rise in popularity in the sneaker scene thanks to its techy trail-running shoes that tie into the ongoing 'gorpcore' trend.
The XT-6 is the brand's most popular style and a firm cool-kid favourite. It has proven so popular that Salomon now has an entire range dedicated to the more fashion-led side of footwear where it often drops trail- and hiking-inspired styles in outlandish colourways.
Check out the XT-4, XT-Wings and the ACS Pro Advanced, too.
Hoka One One
French running brand Hoka One One is another performance footwear company that has found an unlikely audience in the fashion world.
Its heavily cushioned maximalist running shoes are pretty ugly by conventional footwear beauty standards, but given the ongoing trend for ugly kicks, it's perhaps less surprising that they've found their way onto the feet of the fashion crowd.
Puma
It's common knowledge in the sneaker world, but in case you didn't know, Puma was founded by a man called Rudi Dassler, who just so happens to be the brother of Adidas founder Adi Dassler.
Although his sportswear brand isn't quite in the same league as his sibling's in terms of global market share, Puma is still responsible for some iconic footwear silhouettes.
One that immediately comes to mind is the Puma Suede: a simple round-toe suede sneaker that's supremely comfortable and has been around for decades without ever going out of style.
Reebok
Bolton in the UK is hardly the global epicentre of style, but it's home to one of the coolest OG sneaker brands out there. Reebok may not be as big as the likes of Nike or Adidas, but it's consistent in its offerings and has some truly iconic models in its lineup, many of which have been around for decades.
Styles like the Club C and the Classic are a big part of UK sportswear and sneaker culture, and they're as relevant today as they were 30 years ago.
Saucony
Operating in a similar space to the likes of New Balance and Asics, Saucony is a sneaker brand that's loved by serious track athletes and style-conscious guys alike.
It creates some of the best running shoes in the game, but it also has a range of more aesthetically styled lifestyle shoes that take their cues from the retro running sneakers of yesteryear.
Crown Northampton
Northamptonshire has a longstanding and well-deserved reputation as the global capital of fine handmade footwear. But when you think of Northamptonshire shoe brands, you're probably imagining Derbies and Oxfords as opposed to sneakers.
Crown Northampton blurs this line, applying generations-old shoemaking techniques and attention to detail to modern silhouettes. The result is a range of upscale sneakers that are equally at home with T-shirts or tailoring.
Novesta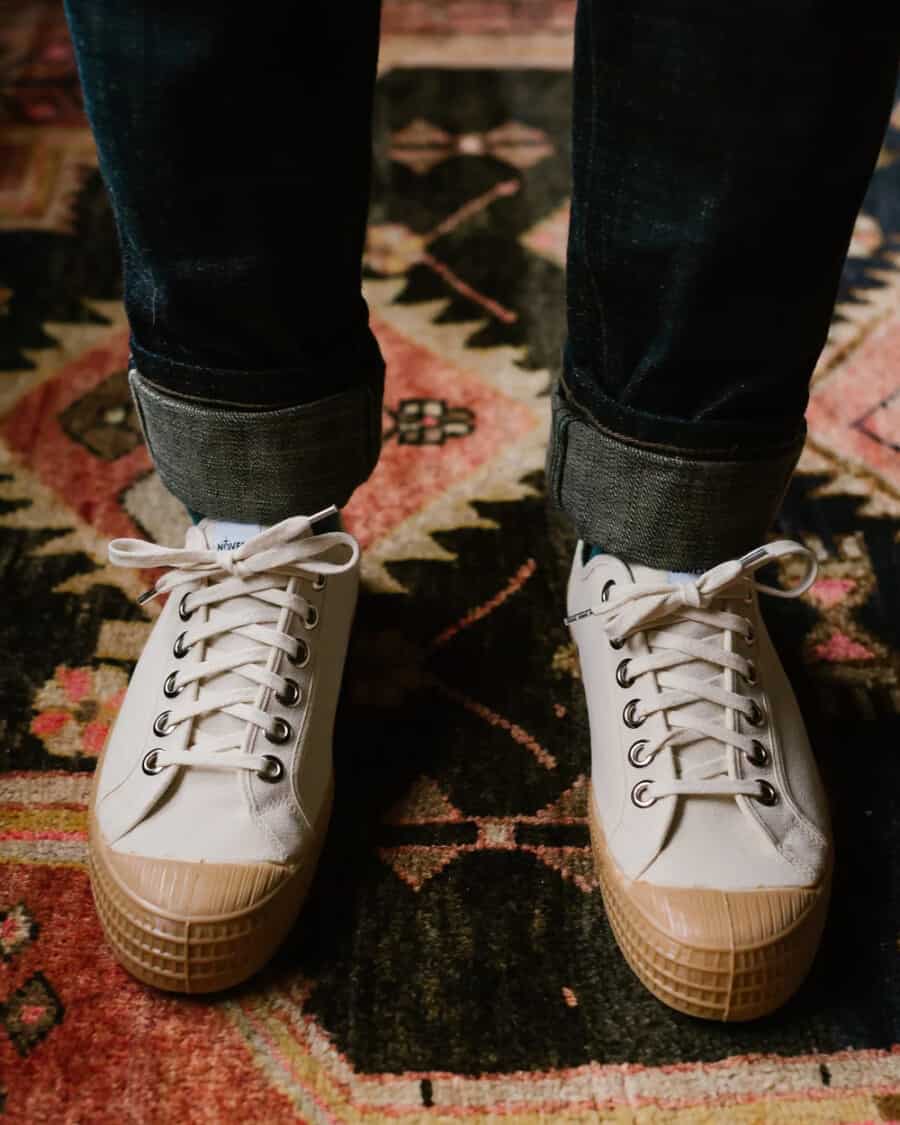 Slovakian footwear brand Novesta is about as no-frills as it gets, and not at all in a bad way. These sneakers are simple, stripped back and, most importantly, some of the most affordable. It's just an added bonus that they look great too.
The most popular model is the Star Master (or Star Dribble if you'd prefer the high-top version), which is made from heavyweight canvas with a chunky rubber sole and oversized metal eyelets.
It's cheap, it's cool and it goes with just about everything.
Common Projects
From a cheap and cheerful sneaker brand to a notoriously expensive one. Common Projects' trademark brand of luxury minimalism might have been out of fashion for a while now, but the brand still has a loyal following, and it's only a matter of time until the maximalist bubble pops and demand for understated silhouettes begins to rise again.
The Achilles Low is a hugely influential sneaker that essentially redefined what an 'athletic' shoe could be. It brought quality and craftsmanship to a market where very little had previously existed and turned the sneaker from a piece of sportswear into a luxury item.
Stepney Workers Club
British brand Stepney Workers Club specialises in stylish canvas sneakers with big chunky soles. They're a great casual option that can handle day-to-day duties with ease and go with just about anything short of a tuxedo.
The best-selling model is the Dellow, so check that out if you're looking for a place to start.
ON
ON has revolutionised the running shoe game with its patented CloudTec technology, which uses little 'pods' of negative space in the midsole to enhance rebound and cushioning.
The brand has fashion appeal too, though. Its sneaker designs are relatively minimalist yet instantly recognisable, and there have been a number of fashion-forward collabs, including ones with South2 West8 and Loewe.
Karhu
Finnish sportswear label Karhu has been around for over a century, but it maintains a much smaller profile than its contemporaries such as New Balance, Saucony and Asics.
Its best-selling models are mostly lifestyle sneakers based on retro running shoes, featuring lots of mesh, suede panelling and an unusual lacing configuration that has become something of a brand trademark.
Veja
French footwear brand Veja has become famous for its commitment to sustainability and ethical production. Its understated sneakers have become a common sight in cities around the world, with the now-iconic 'V' branding to each side marking them out.
The company is known for its use of environmentally-friendly materials, such as organic cotton and vegetable-tanned leather.
Balenciaga
Provocative and post-modern designs have dominated the runways of Spanish luxury label Balenciaga for the last decade, and the sneakers are as much of a talking point as the clothing.
The Triple S sneaker was a genuine trailblazer in bringing chunky and 'ugly' footwear design back into fashion, while models like the Speed Sock and Track took functional sporting designs and brought them into the realm of luxury streetwear.
Cheap it's not, even for collabs with the likes of Adidas, but few brands come with this much swag.
Alexander McQueen
The late, great designer Alexander McQueen could often be spotted in a pair of simple, chunky athletic shoes, so it's fitting that the label that still carries his name does that style of sneaker so well.
Oversized running and tennis shoes get the high-fashion treatment at McQueen with exaggerated dimensions and luxurious materials. But if the proportions are maximalist, the designs themselves are reasonably minimal: simple, wearable white sneakers with just the occasional embellishment.
Gucci
Never knowingly understated, Gucci does statement sneakers with with luxury finishes and throwback designs. Taking simple tennis or running silhouettes and making them Gucci usually means colour, patterned monograms or bold embroidered logos.
Alongside the popular Ace sneaker (about as minimal as Gucci goes), you'll also find chunky-soled trail runners and patterned high-tops with plenty of drip.
GREATS
Brooklyn brand GREATS takes timeless sneaker design and adds in consciously chosen materials and hand-crafted construction for investment footwear that's worth every penny.
All the great silhouettes are present and correct: minimalist tennis shoes, 80s-style basketball shoes, colourfully panelled runners and more.
Whatever your style, the label has a style to ground it.
Rothy's
Minimalist, preppy and greener than green, Rothy's is one of those rare sustainable sneaker brands that backs up the marketing jargon.
It creates recyclable sneakers from recycled materials and aims to create a closed loop to minimise waste in what is, let's face it, a very wasteful industry.
Looks-wise, the mood is relaxed but refined with throwback tennis styles, pared-back high-tops and easy-wearing slip-ons among the line-up.
OFF-WHITE
The late Virgil Abloh made his name as a ground-breaking designer who merged statement streetwear with luxury fashion like few could. Off-White is the brand that carries this legacy and its sneakers remain an elevated take on the chunky skate and basketball silhouettes we all know and love.
Signatures include exaggerated proportions, bold prints, slogans and motifs, plus hang tags and zip ties looped around the laces.
Maison Margiela
As a high-end French couture label, Maison Margiela doesn't do boring sneakers. Even its staple running shoe, the Replica, which is reasonably minimal in design, comes in a wild palette of colours.
Elsewhere, you'll find cloud-like chunky sneakers and deliberately distressed styles. But boldest of all is the Tabi, a split-toe design based on traditional Japanese socks from the 15th century.
ETQ.
There are minimalist sneaker brands and then there's Amsterdam's ETQ. Most of its designs are a single neutral colour, usually set on a low-top tennis shoe or chukka-style high-top. No patterns, very little panelling. Maybe a contrast sole if you're lucky.
Nubuck leather features heavily, lending the trainers a premium feel that works as well with tailored trousers as it does with shorts.
Quintessential smart sneakers.
Filling Pieces
The only trouble with minimalist sneaker brands is that once you've seen one, you've kind of seen them all. There are only so many ways you can make a block-colour leather low-top your own. That's why we're impressed with Filling Pieces, an Amsterdam brand whose minimalist sneakers manage to stand apart.
One of its distinctive design touches is an extended tongue, which gives the shoes a dramatic, angular look. Is that technically minimalist? Not sure, but it's cool.
Superga
It's been producing stylishly simple Italian sneakers since 1911 and Superga has no reason to change the formula now.
Its classic 2750 model – a canvas low-top on a rubber sole – typifies the pared-back aesthetic. There are colours galore and a few leather and suede tennis shoes in the mix as well.
Across the board it's a timeless collection you can wear summer after glorious summer.
Golden Goose
It's a love-it-or-hate-it move, but Golden Goose's signature style is a ready-distressed sneaker that comes out of the box looking like you've already been wearing it for five years.
Modern, retro, funny and infuriating all at once, the shoes are nevertheless very well made and comfortable, and the brand's bold star motif gives something of a 1970s Elton John vibe. In a good way, of course.