19 Retro Sneakers That Will Always Be Cool
These old-school sneakers have stood the test of time and are as cool now as in their heyday. How many of these vintage kicks are in your rotation?
The retro sneaker trend is one that withstands each fashion cycle. The big sneaker brands garner hype by recycling and rejuvenating silhouettes that feel both nostalgic and fashion forward.
From the iconic Adidas Originals Samba to the timeless Puma Suede, there are plenty of vintage sneakers that have stood the test of time, finding more popularity right now than ever before.
With their old-school look and feel, they add a playful edge to any outfit and make a statement without being too loud. And, with so many years of experience behind them, they're also a reliable choice – built to last and supremely comfortable.
So, if you're looking to jump on the retro sneaker trend, you can't go wrong with any of the classic designs below.
Adidas Originals Samba
The Adidas Originals Samba is a classic sneaker style that has been around since the 1950s. Its vintage appeal comes from its simple yet iconic design that features a suede upper, leather overlays and the signature three stripes branding.
It was initially created as a football shoe but quickly became a fashion staple, thanks to its versatility and comfortable fit. The Samba is experiencing a resurgence at the moment as vintage Adidas models find themselves back in fashion.
The brand's recent collaboration with Wales Bonner also sparked interest, bringing the silhouette back into vogue within fashion circles.
Converse Chuck Taylor All Star
The Converse Chuck Taylor All Star is one of the most recognisable sneaker styles in history. It was first introduced in 1917 and is still as popular as ever today.
The Chuck Taylor is defined by its canvas upper, rubber toe cap and thick, vulcanised rubber sole. It's available in a variety of colours and designs, from the classic white and black high-tops to bold and colorful prints.
The Chuck Taylor has been worn by everyone from basketball players to musicians and is a timeless shoe that looks good with just about any fit.
Puma Suede
The Puma Suede first hit the market in 1968 and it's been a staple ever since. Its simple, retro design features a suede upper, Formstrip detailing and rubber sole.
The Suede was initially marketed as a basketball shoe, but it quickly became popular as a casual sneaker thanks to its remarkable versatility. Every colourway under the sun has been released in the decades since its release, each time cut through by the classic Puma branding.
Puma Super Liga OG Retro
The Puma Super Liga OG Retro Sneaker harkens back to the 70s and yet somehow it still hits today. It features a leather upper with suede overlays, a gum rubber sole and a retro Puma Formstrip.
The Super Liga was originally created as a football shoe but became a hit on and off the terraces thanks to its timeless design and comfortable fit.
The black and white colourway with a gum sole has become the most noteworthy design but there's plenty more where that came from.
Nike Cortez
The Nike Cortez broke into the market back in 1972 when thinner soles were trending. This vintage-looking sneaker features a leather upper, foam midsole and a rubber outsole often dealing in classic colours.
Initially designed as a running shoe, it has since transitioned off the track, with the ever-popular white, red and blue colourway now seen pounding the pavements on the feet of stylish men across the globe.
The Cortez is still at the top of Nike's roster, particularly now as the vintage sneaker is firmly back on trend.
Adidas Originals Gazelle
The Adidas Originals Gazelle – with its suede upper, leather overlays and iconic three stripes branding – was originally introduced in 1968 as a training shoe. Throughout the years, it's been reproduced in many different colourways, floating in-and-out of fashion as the times change.
Recently, it's found itself back on trend thanks to Adidas' high-profile team up with Gucci, which has the Gazelle at the forefront. It's meant that this retro silhouette is currently enjoying a momenet, even for non hypebeasts.
Vans Authentic
The Vans Authentic made a splash in the 60s and has been the brand's signature shoe ever since. Its retro appeal comes from its simple, no-nonsense design, featuring a canvas upper, rubber sole and signature Vans branding.
It was designed first and foremost as a skate shoe and while it's still a go-to for the subculture today, it found wider popularity as a lifestyle shoe. Its large array of colors and durable, able-to-take-a-beating construction have made it a reliable everyday shoe that can be worn with little thought.
Meanwhile, collaborations with the likes of Supreme and Marc Jacobs continue to keep the silhouette fresh and relevant.
Reebok Club C 85
The Reebok Club C 85 is a retro sneaker that was originally released back in the 80s. Featuring a leather upper, rubber outsole and Reebok branding, it's become notable for its stark white uppers.
That was a perfect look for the tennis court but as time has gone on it's cemented its place as a reliable and affordable everyday shoe. It's also maintained relevance within the fashion industry thanks to a revolving door of collaborations that have covered everyone from Maison Margiela to Cardi B.
While we're fans of a crisp white tennis shoe, the chalky, off-white colourways are some of our favourites, giving the Club C an old-school, lived-in aesthetic that works well with its retro design.
Onitsuka Tiger Mexico 66
The Onitsuka Tiger Mexico 66 is a true hall of fame sneaker. Originally designed in 1966 as a running shoe, the Mexico 66 has since become a favorite among sneakerheads for its retro style and quality construction.
The shoe features a combination of leather and suede on the upper, with the signature Onitsuka Tiger stripes applied in contrasting colours to the side. Available in a range of hues, the Mexico 66 has seen many limited edition releases over the years.
One key moment in the shoe's history is when it was worn by Uma Thurman's character in Kill Bill: Volume 1 (2003), cementing its place in pop culture.
Diadora B.Elite
The Diadora B.Elite is a classic silhouette that has been a favourite among sneaker enthusiasts for decades. Originally designed in the 80s, the B.Elite features a clean, minimalist design with a leather upper and Diadora branding to the side and outsole.
The B.Elite was a popular choice among tennis players in its heyday, thanks in part to its comfortable design and quality construction. These same qualities have seen it go on to become a popular choice for casual wear, offering an easy to style option that won't break the bank.
Fila Original Fitness
The Fila Original Fitness really has stood the test of time. Originally released in 1988, the sneaker has a sleek look that has made it a go-to for those wanting a chunkier silhouette with a retro feel.
Featuring a clean leather upper, perforated detailing and a distinctive Fila logo on the side, it offers a unique 80s style that has managed to transcend decades.
Navy, white and red is the go-to colourway here, which is only elevated by the coordinating Fila branding.
Saucony Jazz Original
First released in 1981, the Saucony Jazz Original quickly became a favourite among runners due to its shock-absorbing midsole and rubber traction outsole, which kept them surefooted whether they were pounding the pavements or a race track.
The silhouette remains a popular choice today thanks to the supreme comfort offered by the aforementioned features, as well as its retro nylon and suede upper. It's arguably the perfect blend of old (looks) and new (technology).
The Jazz Original is available in a variety of vintage colourways, with many limited edition releases over the years helping keep things fresh and modern.
New Balance 990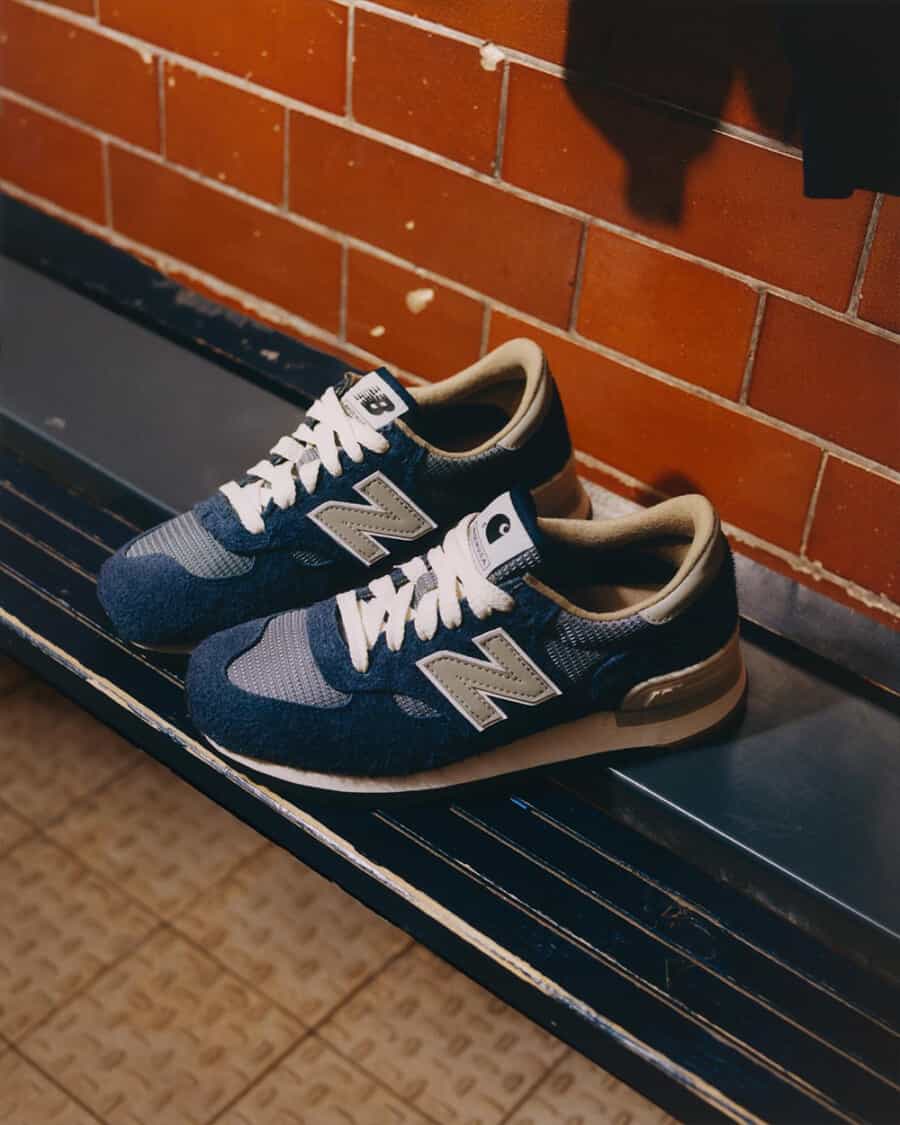 First introduced in 1982, the iconic 990 was initially built for the feet of avid runners, offering unrivalled support and supreme cushioning to make them supremely comfortable over long distances.
Today the 990 has transcended its athletic roots to became a mainstay in the wardrobes of middle-aged dads and fashion-forward hypebeasts alike. Both of which appreciate the stripped-back, vintage styling, legendary ABZORB midsole and premium pigskin and mesh upper.
The shoe has been updated in various colourways and materials over the years, but the original silhouette remains unchanged. Collaborations with brands like J.Crew and Kith have respected its origins while also keeping the model relevant for a new audience.
Ultimately, the popularity of the 990 has never shown any signs of slowing down, and it won't anytime soon.
Nike Dunk
The Nike Dunk has been a mainstay of sneaker culture since its debut in 1985, but has undergone a renaissance in recent years.
Originally designed as a basketball shoe, the Dunk has become a symbol of style and has been worn by numerous celebrities, including rapper Travis Scott and model Bella Hadid.
Recently, Nike has brought it back into the zeitgeist through high-profile collaborations with Off-White and Ben & Jerry's but that bold 80s silhouette will always be a head-turner.
Asics Gel-Saga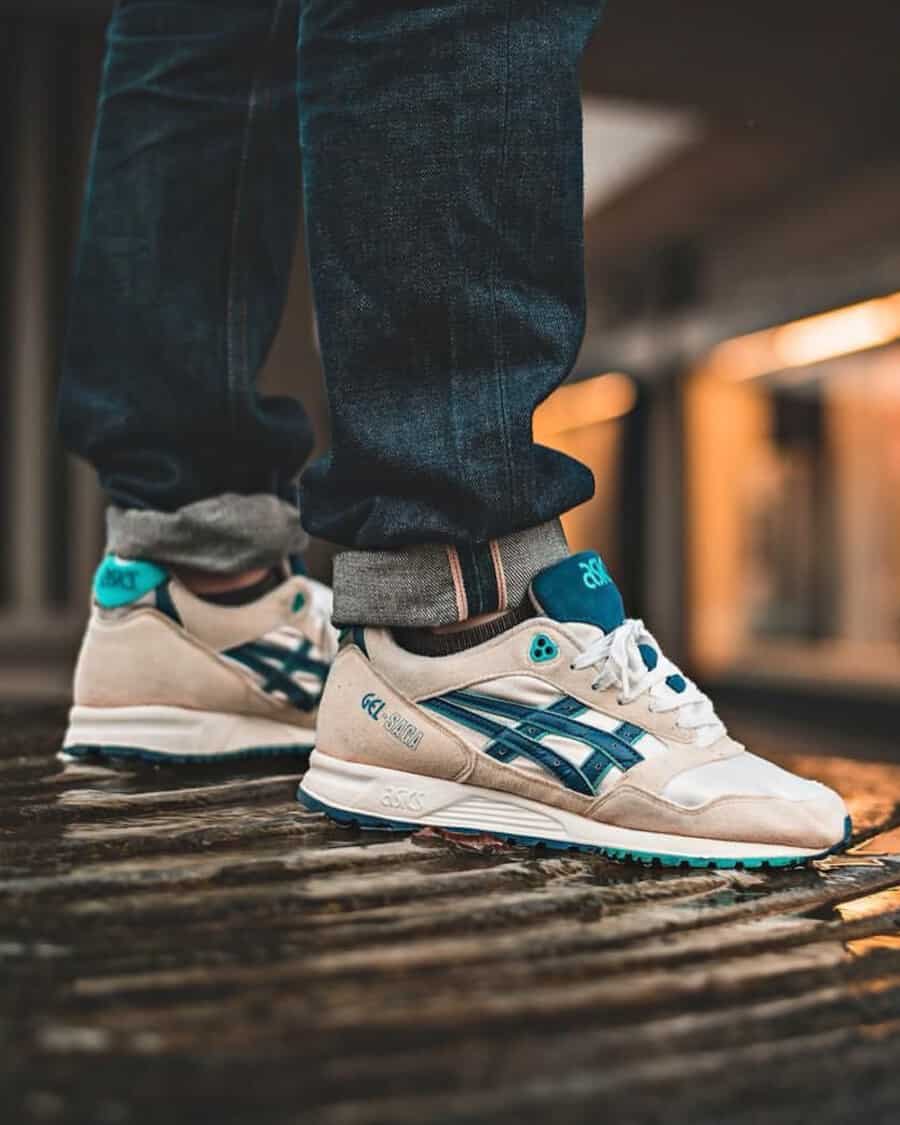 The Asics Gel-Saga was first introduced in the 1990s. The shoe design, with its combination of suede and mesh on the upper, is archetypical of the decade and therefore has found itself thrust back into the limelight as 90s nostalgia rages on.
Everyday running was its original purpose but it's now a comfortable, everyday choice. Repped by streetwear icons like Kanye West and Jonah Hill, it's also been subject to a number of collaborations with hyped brands like Footpatrol and Kith.
All of this has kept the Gel-Saga in the public eye and ensured that more than three decades on it's still a go-to.
Adidas Forum Mid
The Adidas Forum was first introduced in the 1980s but recently received another push when the brand recently brought it back into rotation.
Originally created for basketball players, it features a mid-top silhouette with a premium leather upper and velcro ankle strap for added support.
The Forum quickly garnered popularity in the hip-hop community and was worn by notable figures such as Run-DMC and LL Cool J. Adidas has since released a number of new iterations of the Forum, led by collaborations with Bad Bunny and Brockhampton – further extending the shoe's rich heritage within the subculture.
Nike Terminator High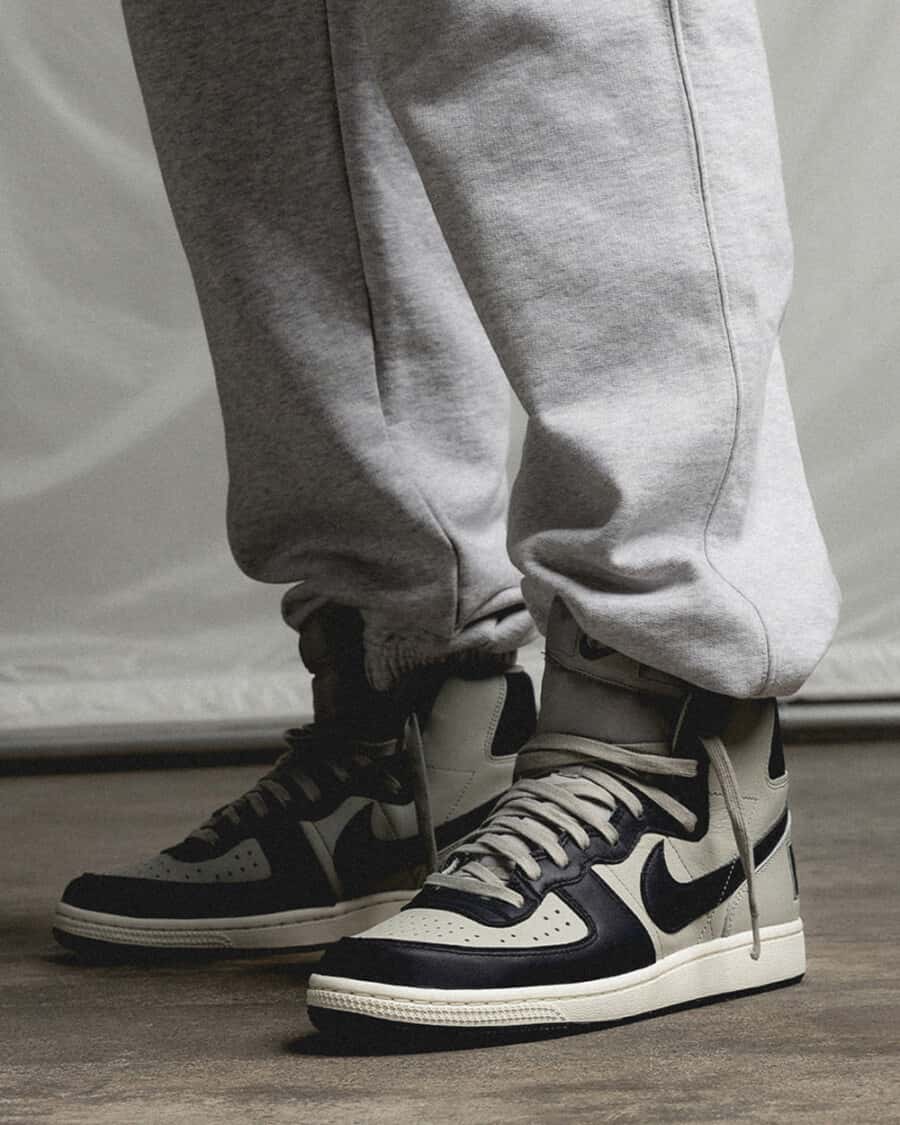 The Nike Terminator High is another retro sneaker experiencing a purple patch right now. Featuring a high-top silhouette with a leather and nylon upper, it unsurprisingly found its feet in the basketball community.
It was originally created to honour the Georgetown Hoyas basketball team, which won the National Championship in 1984. Instead of receiving the standard issue Dunk, like other college teams, Nike produced the Terminator, marking the first time in history that a University had a bespoke model made for them.
That was a pretty big deal in itself, yet it was pop culture that cemented this vintage kick's legacy when Michael J. Fox wore a pair in the original Back To The Future (1985). Almost 40 years later, the Terminator retains its throwback appeal, with endless collaborations (Stussy, Supreme) and limited editions (Chinese New Year editions) proving just how versatile this vintage silhouette is.
Nike Jordan Air Ship
The Nike Jordan Air Ship is a sought-after sneaker among collectors and basketball fans alike. Originally released in 1984, the Air Ship is often overshadowed by the more popular Air Jordan 1, which was released in the same year.
However, the Air Ship was actually the first sneaker to feature Michael Jordan's iconic 'Jumpman' logo, making it an important piece of sneaker history.
The shoe features a sleek, streamlined design with a leather upper and the signature 'Wings' logo on the side. The Air Ship was famously worn by Jordan during a preseason game against the New York Knicks in 1984, before he officially debuted the Air Jordan 1 in the NBA.
Today, the Nike Jordan Air Ship is an extremely desirable alternative to the Jordan 1 for those in the know, with limited edition releases often selling out within minutes.
On Running 'The Roger' Centre Court
This is a new sneaker to the market but it has a retro feel, much like its muse, Roger Federer. Its vintage appeal stems from the classy design, which incorporates a leather upper, rubber outsole and distinctive perforations for comfort and breathability.
The Centre Court was created with both style and performance in mind, making it a great choice for both casual wear and athletic activities.