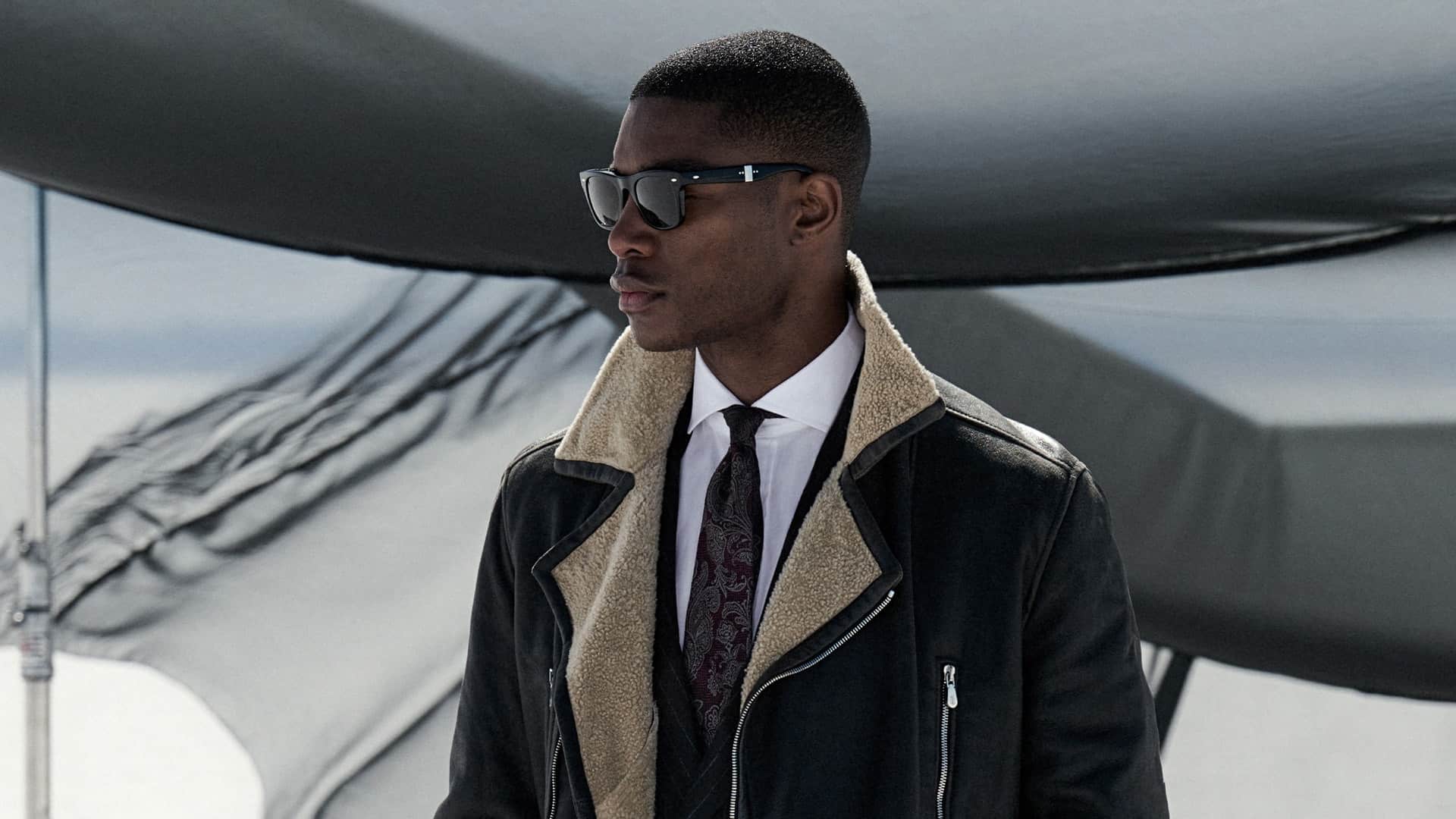 Credit: Brunello Cucinelli
Luxury Leather Jacket Brands That Are Worth The Investment
Masculine, sophisticated and dripping with status, the luxury leather jacket is one of the few true investment pieces in a man's wardrobe. Here's how to get maximum bang for your buck.
In a world in which we are told to 'shop less, but better' to lessen the fashion industry's impact on the environment, investment garments are becoming more and more important. But what is an investment piece?
Well, it has to tick one significant box, titled 'longevity', and it does that in two ways: 1) by being meticulously constructed with the best possible fabrics and craftsmanship; and 2) stylistically timeless so that transcends all fashion trends and remains wearable from one decade to the next.
That puts the leather jacket firmly in 'investment grade'. Ever since the 1920s, leather jackets have been a luxury element of the menswear cannon, evolving from military origins. Today, they are as potent a status symbol as anything in one's wardrobe, and below we'll tell you exactly what to look for and where to find it.
What makes a leather jacket luxury?
Leather type and quality
Not all leather and suede is made equally, and so you need to be mindful of this, especially when designer leather jackets can be the price of a small car.
Your first consideration when shopping is the type of grain, which generally falls into three categories: corrected, top grain and full grain. The latter is what you want to see in a luxury jacket.
Corrected is exactly that – using hides that have been sanded, treated and buffed in order to hide any imperfections, which leaves the jacket with a dull patina that doesn't age well.
Top grain is also corrected leather, just not as much. In fact, good-quality top grain will be pretty close to being perfect – sometimes it's preferred to top grain because it is lighter and can be more supple. But removing the superficial imperfections by sanding off the top layer of the leather does weaken the hide and impacts its ability to produce a patina over time.
Full grain on the other hand is perfect from the get-go and heads straight to the tanning process without any additional buffing.
When it comes to suede, you want to look for fabrics with the smoothest nap. This is an indication that the hide is from a young animal and therefore will be soft and very supple. Calfskin and lambskin are premium fabrics, while cow suede and certain hides from deer will be more durable and rougher.
That said, if you are looking for something rugged, such as a fleece-lined flight jacket, then tough hides such as pigskin can be perfect. But in general, the softer the better.
Craftsmanship
Naturally, the skill of the craftsman translates into the level of luxury you're dealing with. When it comes to leather, hand-working skills matter – more so if the jacket has a lot of pockets or other features that require stitching.
Look out for perfectly straight, consistent stitching everywhere, or intricate stitch details for evidence of highly-skilled work.
Of course, the fit of the jacket is also key, but it's difficult to tell from that alone whether a jacket is of high quality. However, one rule of thumb is that well-made jackets will often have slightly higher arm holes for a more precise fit.
Linings and hardware
The lining and hardware are elements of a leather jacket which a lot of mid-tier brands will look to reduce in quality so as to present a good leather garment at a more reasonable price.
Cheaper leather jackets will almost always have thin synthetic linings, which don't do the breathability of the hide much favors. Luxury jackets will often have 100% cotton linings, silk blends or in the case of flight jackets, shearling linings.
The hardware is another area where brands save on costs, opting for cheap zips. The price of zips varies wildly, so when you're a manufacturer producing thousands of jackets per season, small changes in costs can rack up. YKK zips are the most common type, whereas RiRi zips are shinier, stronger and very smooth. They're also about 10 times the price so if the designer has bothered to pay the additional expense, it's usually a good sign.
Brand Cachet
All things being equal – that is, craftsmanship and leather hides – the other major factor determining price is the brand cachet. Naturally, the esteemed fashion houses – the likes of Saint Laurent, Prada, Gucci et al. – all require you to pay a hefty premium for exclusivity and cachet, but they also create designs quite unlike you'll find anywhere else.
Would you find better value, and even better quality, at one of the leather specialists? Undoubtedly, yes. But what you won't get is that fashion stamp of approval. For some it's important, for others not so much, but luxury brands have a reputation to maintain so you can be guaranteed that the jacket you're purchasing has passed through many expert hands.
The best luxury leather jacket brands for men
Acne Studios
Cult Swedish brand Acne Studios, founded in 1996, has gained a dedicated following for its avant-garde designs.
Acne is synonymous with exceptional leather and shearling jackets. Its seasonal offerings include edgy distressed leather styles in classic biker silhouettes and beautiful shearling flight jackets crafted from luxuriously soft lambskin, all wrapped in a minimalist aesthetic.
Alfredo Rifugio
Renowned for his mastery of Italian leather craftsmanship, Alfredo Rifugio specializes in crafting bespoke leather jackets, ensuring unparalleled quality and artistry.
Notably, Alfredo received the prestigious honor of creating a custom jacket for the Pope, designed for his skiing and hiking adventures.
Meticulously handcrafted using premium leather from Italy's finest tanneries, Rifugio's creations adhere to the classic Italian mold, departing from the American biker, bomber and flight jacket styles. Instead, expect the refinement of lambskin sports jackets and the sophistication of deerskin blousons.
Baracuta
With a history dating back to 1937, Baracuta is a British heritage brand celebrated for its iconic Harrington jackets. The G9 is the poster boy of the collection, and it is now available in an array of suede tones.
Super versatile and easy to style, the suede G9 is one of those jackets you'll keep coming back to time and again.
Belstaff
With a rich heritage steeped in biking culture, British brand Belstaff delivers modern, lightweight interpretations of the shearling bomber.
From the Trialmaster Panther to hand-waxed cafe racers, Belstaff boasts an impressive collection of leather jackets, all constructed from soft lambskin or calf leather.
Its minimalist Tundra jacket offers incredible value, while the appropriately named Gangster and Outlaw styles are full of rugged appeal.
Berluti
Founded by Alessandro Berluti in 1895 as a high-end shoemaker, Berluti's heritage has leather at its core.
The luxury house has applied its hand-painted patina skills to leather jackets, offering an eclectic collection of silhouettes, including bombers, varsity jackets, chore coats, blousons, flight jackets and hooded blousons, as well as down-filled leather puffers.
Bottega Veneta
Daniel Lee can be credited with bringing Bottega Veneta back to the top table of fashion. The Italian luxury house is still going strong, with leather as its specialty.
Bottega Veneta has created some of the most stunning coat and jacket iterations, including a $12,000 leather printed trench coat and a crocodile-effect leather belted coat.
Pioneering techniques come at a cost, but garments like these are artworks worth collecting.
Brunello Cucinelli
For those seeking investment-worthy outerwear, Brunello Cucinelli should top your list. Crafted in Solomeo, Italy, Cucinelli's leather and suede jackets are perennial stars in its fall/winter lineup.
Cucinelli's aesthetic is smart and contemporary, with a sporty touch elevating casualwear. Don't miss the buttery-soft suede field jackets, thick shearling bombers, suede down vests and delicious shearling biker jackets.
Chapal
Parisian heritage brand Chapal represents some of the best-quality leather outerwear in the whole luxury market, especially its shearling-lined jackets.
Since 1832, it has been producing exquisite leather styles, including A1 and B3 bombers, known for their craftsmanship and timeless style.
Chapal even invented the water-resistant coating applied to shearling in 1920, later supplying the US Air Force.
Celine Homme
Under the auspices of Hedi Slimane, Celine Homme produces a range of leather jacket styles, most crafted in super-soft lambskin and calfskin.
Iconic perennial pieces include an oversized Teddy silhouette and rugged Perfecto silhouettes. The aviator jackets and western blousons are also well worth further inspection, all bearing Hedi Slimane's signature touch.
Cromford Leather Company
While Cromford Leather Company might fly under most people's radars, true leather connoisseurs recognize the treasures this small company produces.
Offering ready-to-wear collections, made-to-measure options and fully bespoke pieces, Cromford sets the bar for quality.
The Douglas shearling-lined flight jacket, a true work of art, showcases the hallmarks of excellence: robust stitching, RiRi zippers and unique hides.
Diesel
Since its inception in 1978 by the visionaries Renzo Rosso and Adriano Goldschmied, Diesel, the iconic Italian brand, has consistently embraced leather as a fundamental element in its seasonal collections.
Blending a moto-inspired aesthetic with a gritty urban denim vibe, Diesel offers a striking array of dyed leather jackets in bomber and trucker styles, seamlessly enhancing your streetwear wardrobe.
Eastman Leather
For those who appreciate the nostalgia of vintage flight jackets, Eastman Leather is your gateway to the past.
Established in the UK in 1984, Eastman specializes in creating meticulous replicas of historical flight jackets. Crafted entirely in the UK by skilled artisans, Eastman offers a captivating array of RAF replicas, including the Leslie Irvin issue with Devon fleece.
Fear of God
Fear of God, led by designer Jerry Lorenzo, represents the convergence of streetwear and luxury fashion. Its leather jackets are characterized by understated designs, oversized silhouettes and a modern aesthetic.
If you're seeking a high-end interpretation of street style, Fear of God's leather bombers and blousons will be the statement pieces you've been looking for.
Loewe
Under the creative direction of Jonathan Anderson, Spanish brand Loewe shines as a premier destination for men's leather and suede jackets. Loewe's fall/winter collection showcases the brilliance of Anderson, with avant-garde pieces such as padded bombers in nappa lambskin.
From full-length pleated coats to chore jacket silhouettes and classic biker jackets, these pieces blend modernity with timeless shapes and consummate luxury.
Loro Piana
Loro Piana, a prestigious Italian company, is synonymous with opulence and quality. Its leather jackets are a testament to the brand's dedication to craftsmanship, ensuring that each piece is a work of art that exudes sophistication.
From full-length leather trench coats to classic blouson styles, Loro Piana's leather offerings are made from the finest lambskin, representing the best of the best.
Mr P
Mr P, the in-house brand of luxury retailer MR PORTER, offers a contemporary take on luxury leather jackets. Known for its minimalist designs and impeccable construction, Mr P's leather jackets are a symbol of understated elegance.
Each piece is crafted with precision and a focus on quality, making them ideal for those who seek a refined yet relaxed aesthetic.
Officine Générale
Officine Générale, the uber-chic Parisian label founded by Pierre Mahéo, is renowned for its contemporary take on classic tailored silhouettes and an uncompromising commitment to craftsmanship and premium materials.
Lambskin leather and goatskin suede make up its timeless offering of bomber and blouson shapes, all dripping with easy elegance and Parisian nonchalance.
Saint Laurent
The French luxury house Saint Laurent has long been recognized for its svelte silhouettes and unwavering dedication to black collections. And the leather jacket sits firmly in this remit.
From the Hedi Slimane era to the present day, the Saint Laurent aesthetic has borrowed from rock 'n' roll archives, creating different iterations of the classic Perfecto jacket.
This season features new full-length silhouettes (leather trenches and long coats) as well as classic blouson styles, all made from the finest lambskin.
The Real McCoy's
Hailing from Japan, The Real McCoy's stands as one of the foremost purveyors of vintage classics. The Real McCoy's shearling iterations, particularly the Type B-6 bomber, are absolute gems.
Crafted to the highest standards in its home country, its B-6 jacket boasts a contemporary twist, streamlining the original design with sleek details and authentic sheepskin for that genuine 1943 look and feel.
Tom Ford
Even though the iconic American founder is no longer part of the brand, Tom Ford's leather jackets are in the safe hands of new owner Ermenegildo Zegna.
Ford boasts a large array of luxury styles, most of which come in sumptuous suede, such as the 'Members Only' jackets. But the leather biker styles are exceptional too, not least a quilted café racer that will turn heads wherever it goes.
Valstar
Founded in Milan in 1911, Valstar has a long-standing legacy of crafting luxury leather jackets with unparalleled Italian craftsmanship.
The brand is renowned for its meticulous attention to detail, using the finest materials to create timeless pieces that exude sophistication.
Valstar's leather jackets, including the iconic Valstarino, are known throughout the industry for their quality and style.