Credit: Johnstons of Elgin
15 Luxury Scarf Brands That Will Instantly Upgrade Your Winter Looks
Bringing visual interest, texture and brand cachet to any cold-weather look, these are the designers making the highest quality scarves in 2023.
Meticulously woven from the finest natural fibers, a luxury scarf is the most essential winter accessory, not only keeping the cold out but offering an effective way to introduce texture, color or pattern to your outfit.
The scarf has an innate sophistication, whether woven in silk or fine wool. But more recently scarves have transcended their utilitarian appeal to become a style statement too, able to completely change the dynamic of a look.
This has not been lost on the world's foremost luxury brands, who do a roaring trade in fine merino, cashmere and silk scarves every winter season. In plain wool and silk, the scarf offers a subtle textural complement to any aesthetic, but when in bright tones or bold patterns, it adds something special, breaking up an outfit with vibrant prints or logo treatments.
So, with that in mind, if you're looking for a simple way of elevating your cold-weather getups then these brands will bring quality and cachet to your neck in equal measure.
Burberry
With Daniel Lee now at the helm of the British heritage giant, it will be interesting to see the direction Burberry's ready-to-wear takes. But one thing's for certain, the brand won't stop making scarves.
The Burberry check scarf has been a hero product for the house, and remains so, with a vast array (we counted 176 unique styles) of cashmere, silk and wool check options to choose from, as well as more contemporary logo styles and silk skinny versions.
The check permutations are all sublime, and completely timeless to boot, so think of the financial outlay as an investment that should last you decades.
E. Marinella
Legendary Neapolitan tie maker E. Marinella has a way with silk, but is a dab hand with wool too. While his luxury ties are renowned the world over, Marinella's scarf collection is something to behold, with an excellent and eclectic offering of silk, cashmere and wool designs.
For a lightweight yet warm option that isn't bulky and has sartorial flair, check Marinella's silk and wool blends featuring elegant geometric prints.
The plain cashmere scarves come in some beautiful understated tones, woven in a herringbone style, and will slot seamlessly into smart and casual winter outfits.
Zegna
Zegna is a fashion behemoth, producing some of the finest fabrics in the world as well as some of the best luxury menswear collections. When you own one of the biggest wool mills in Biella, it only figures that the Italian brand would produce some top-end scarves, and you won't be disappointed by the current assortment.
The Oasi cashmere collection features a stunning array of plain tones, each one a stylish and understated option that you can wear with anything. However, it's the silk scarves that garner most of the plaudits, and rightly so. Impossibly soft and luxurious, they come in a dizzying array of beautiful designs incorporating bi-colors and stripe details.
The house has also recently collaborated with cashmere specialist The Elder Statesman, producing three colorful check styles in soft cashmere.
Acne Studios
Acne Studios has developed a reputation for its high-quality oversized scarves, producing some stunning designs season after season. If you want to make a winter statement, then the Swedish label should be your first port of call.
With 140 styles to choose from, they range from colorful check styles in textural mohair to plain fringe wool styles in every shade you can think of.
Typically oversized, they can't fail to garner attention and will instantly lift a casual look.
Johnstons of Elgin
Master weavers Johnstons of Elgin have long been recognized as Scotland's preeminent luxury wool brand, combining a storied heritage and dedication to craftsmanship with a keen contemporary eye.
Needless to say, its scarves are top-drawer, woven for the most part in beautifully soft and lightweight cashmere. With plain fringed styles as well as plenty of checks, the collection typically uses a muted color palette of nudes and neutrals for a timeless and sophisticated look.
Loewe
Spanish luxury fashion house Loewe, under the creative direction of Jonathan Anderson, has gone from strength to strength in recent years, projecting an assured aesthetic incorporating bold shapes and individual expression. Hence its scarves are far from ordinary, with over 70 styles in rich cashmere, mohair and wool fabrics.
The Loewe logo is used creatively throughout, applied in a variety of vibrant color treatments. The mohair styles are our favorites, bringing a fuzzy and tactile texture to your elevated casual looks.
Loro Piana
When it comes to high-end luxury fabrics, nobody does them better than Loro Piana, the Italian luxury fashion house and fabric producer. Its wide, fringed cashmere scarves are some of the softest you'll find anywhere, and are available in a wide variety of rich tones, as well as subtle checks and herringbone weaves.
If you're looking for an outlier, then Loro Piana's revered viçuna (a fiber obtained from a rare camelid that inhabits the inaccessible areas of the Andes, no less) styles will tick the box for the price of a secondhand car.
Brunello Cucinelli
The Italian maestro of quiet luxury has long been known for his expertise with fine natural fibers, producing menswear and womenswear collections of understated elegance.
His seasonal scarf collections are compact compared to many on this list, but every single style is peerless. Cucinelli uses an array of fine fabrics such as cashmere, silk, wool and alpaca, all in a predictably understated palette of sophisticated neutral tones.
Louis Vuitton
The jewel of the LVMH group, Louis Vuitton is recognised the world over for its luxury goods and probably has more brand cachet than any other fashion house. That LV branding gets everywhere, and is still very much regarded as a signifier of taste.
Naturally, then, its scarves provide ample canvas for some logo flexing. Unlike some of the other names on this list, though, that cachet comes at a price – or rather, the quality of the fabric. For the money that would buy you cashmere somewhere else, at Louis Vuitton you'll get 100% wool, so you have to determine how much the bragging rights are worth to you.
That's not taking away anything from the designs, which are admittedly stunning.
Connolly
British heritage brand Connolly originally started life as a leather specialist but has since become revered for its luxury menswear and womenswear.
With a focus on fine fabrics and fluid silhouettes, the brand is a purveyor of stealth wealth, and its scarves are no exception. It produces a wool and silk polka dot style in a number of different colorways, as well as an incredibly soft natural Cervelt scarf, woven from the fibers of a red deer found in New Zealand, that's even softer than cashmere.
Será Fine Silk
If your wardrobe has a discernibly sartorial aesthetic, then the silk scarves of Italian artisan brand Será Fine Silk will be a welcome addition to your tailoring rotation.
Offering an eclectic range of wool and silk scarves, the latter incorporates a wide range of beautiful geometric prints and paisley patterns in dark tones to perfectly complement elegant suiting.
Stefano Ricci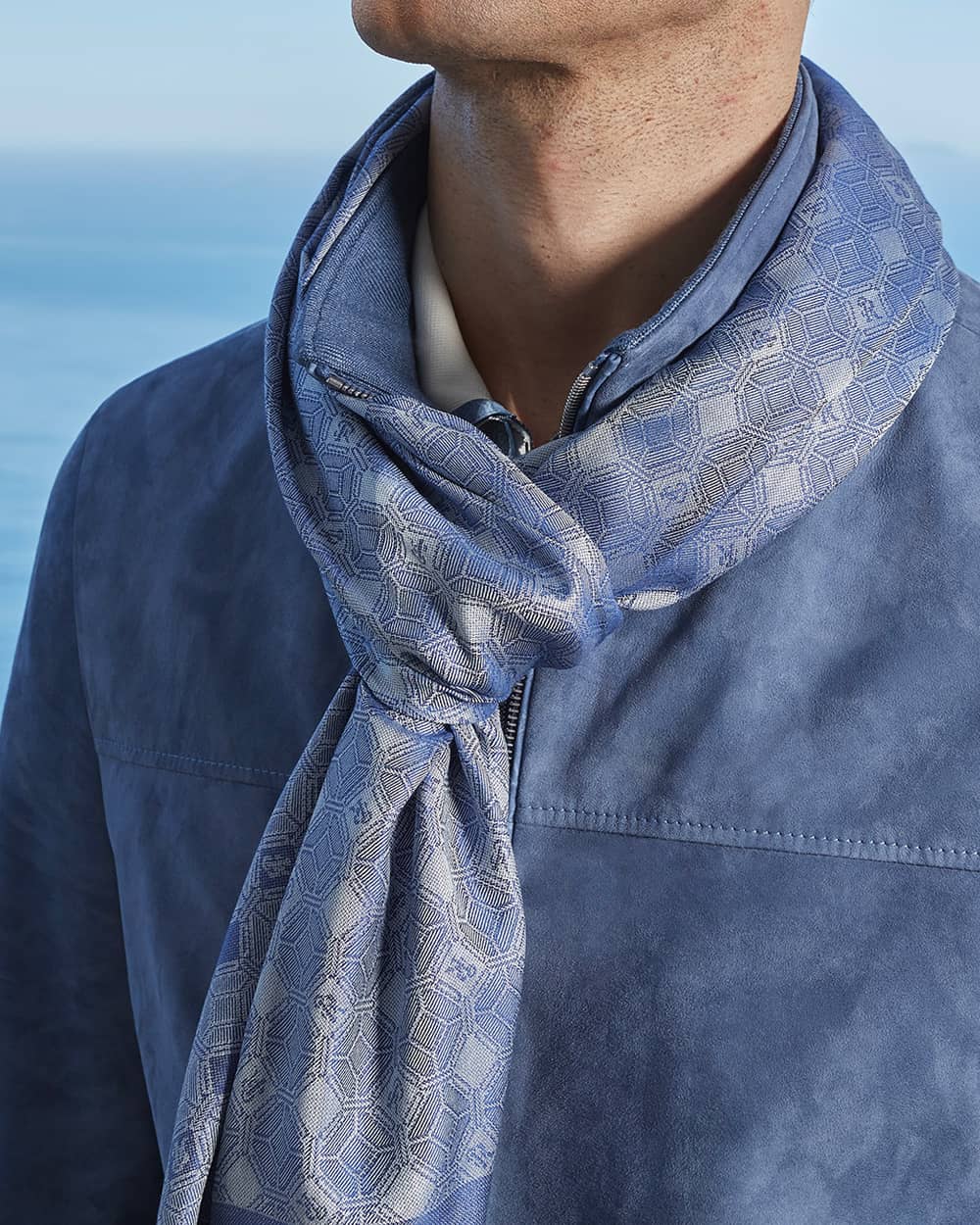 Italian brand Stefano Ricci is known for its unapologetic opulence, using both fine fabrics and exotic textiles throughout its menswear and womenswear collections.
Its scarves are an extension of that same ethos, with some beautiful single- and mixed-color designs crafted from pure cashmere, silk-cashmere, and linen-cashmere blends.
All made in Italy to exacting standards, they will slot perfectly into modern elevated wardrobes.
Gucci
The Italian giant is no longer under the direction of Alessandro Michele but it continues to set the bar for luxury fashion. Its scarf collection is awash with classy jacquard wool styles, many of which incorporate the double G logo in various ways, some flexing the brand cachet more than others.
With both cashmere and wool styles available, they make for elegant winter wraps with just the right amount of status repping.
Story MFG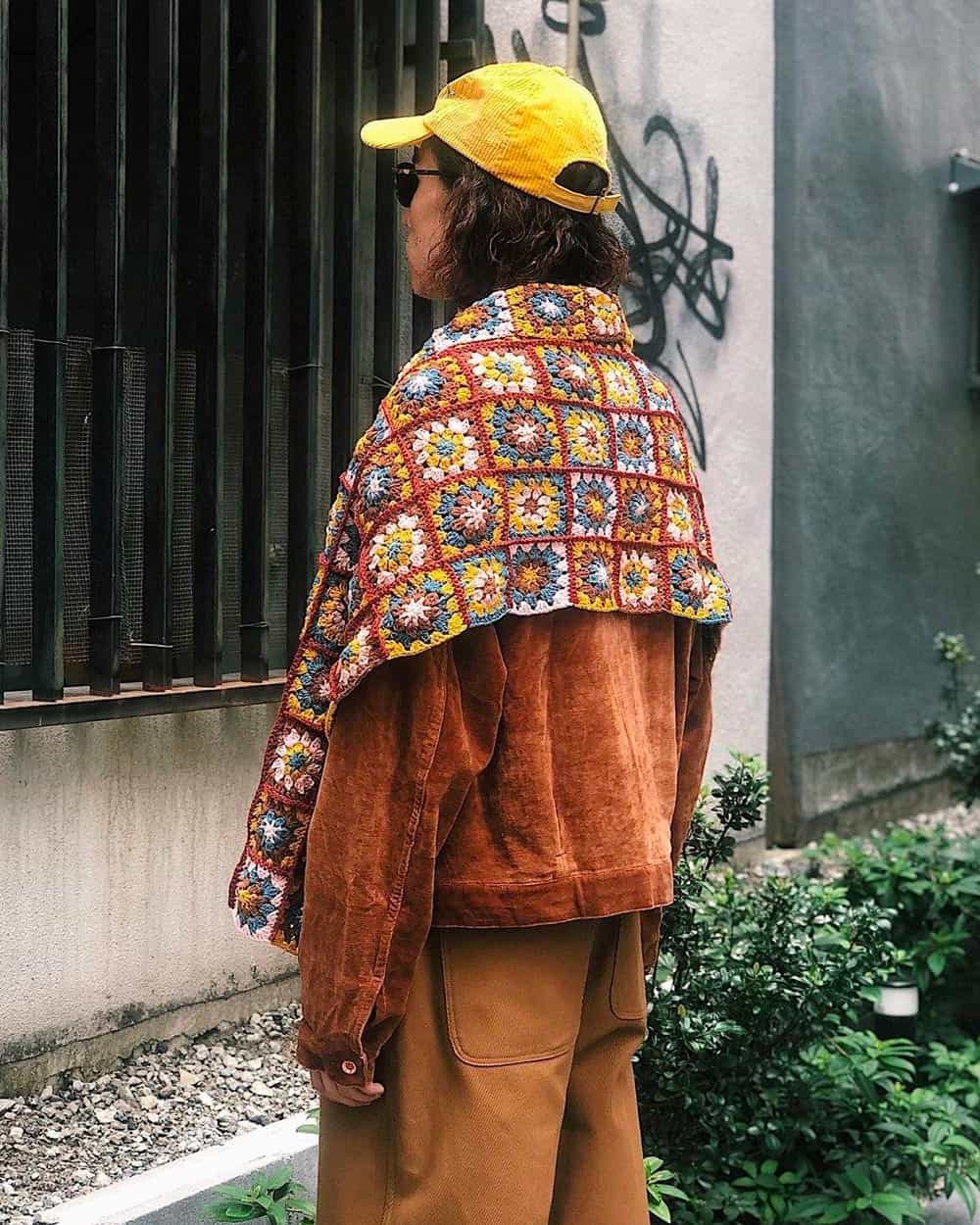 If you like your scarves with plenty of personality, and the sustainability credentials to match, then UK label Story MFG is the perfect match. This season its produced a number of oversized patchwork scarves that are great for introducing a bold injection of colour and pattern to your fits.
Hand-crocheted by artisans in India using 100% organic cotton, they're also hand-dyed using only natural plant dyes.
Bohemian in style, they will bring a fun design element to your off-duty looks.
Saint Laurent
The French master of sophistication, Saint Laurent is peerless when it comes to modern elegance with a contemporary flavour. The collections are almost entirely black season after season, and you can expect the same monochromatic treatment with its winter scarves.
Fabrics such as cashmere jacquard, silk twill, silk satin, wool and mohair are used to create understated scarves in black, grey and cream tones.
If your wardrobe is predominantly black you needn't look anywhere else for your scarves this season.