The Luxury Polo Shirt Brands That Will Upgrade Your Everyday Wardrobe
Great fit, superior fabrics and brand cachet - these are the labels crafting the most sophisticated polo shirts today.
Polo shirts were preppy fodder long before Ralph Lauren decided to build an empire off the back of them. But credit where credit's due – Mr Lauren and a few others have made the polo shirt one of menswear's most essential garments, one that straddles the smart-casual divide with aplomb.
The humble polo shirt has not been content with staying in the confines of mere sporting garments – it has become a bona-fide luxury item, crafted in fine fabrics by some of the most prestigious luxury houses in the world.
Silk and knitted cashmere styles are now the calling card of stealth wealth brands, and the classic polo silhouette, while little changed, now feels ever so much at home among wardrobes replete with fine tailoring.
So if you like to look put together and enjoy the finer things in life, you'll find lots to love in this curation of the very best luxury polo shirt makers in the world.
What makes a polo shirt luxury?
Fabric
As with most items, the materials that constitute them largely make up the bulk of the price. And the higher the price, the greater the exclusivity, and thus the more 'luxury' we perceive them as.
Polo shirts are no different. Today's luxury styles can be constructed from a number of different cloths, from organic cotton and linen to knitted cashmere or merino and silk.
The knitted styles, which often incorporate silk into the blend, are naturally pricier due to the farming and knitting processes involved, and they have an undeniable luxuriousness in the handle of the cloth, too.
But don't turn your nose up at cotton piqué, which is the go-to fabric for most polo shirt makers. It can come with a sporty open weave, or can be fine-gauge and tightly knitted for a smoother feel. Either way, it's lightweight, breathable and just a great all-round summer fabric.
Fashion cachet
Brand power means luxury margins, even if the construction of the polo or the quality of the fabric doesn't merit quite such a high price tag. Some might call it 'overpriced', whereas others see it as an investment in their status (and let's face it, us humans tend to organise ourselves based on status).
There's no right or wrong, only personal preference. But where luxury clothing brands might focus on logos, it's left the door open for stealth wealth labels who might not have the fashion status, but do have the means to make exceptionally crafted shirts using the finest possible fabrics. And often at a price point that's more accessible, thanks to lower marketing overheads and tighter supply chains.
Heritage and quality
'Original and best' has a lot of merit to it. If a brand has been making quality polo shirts for decades and is renowned for them, then ultimately they will be able to charge a premium for this time-honoured heritage.
Lacoste, Fred Perry, Ralph Lauren – none of them use fancy merino blends or contemporary resort collars or colourways, but their histories with this garment make them authorities on it.
The best luxury polo shirt brands for men
In the list below, you'll find a curation of brands, all of which tick one or more of the luxury boxes above. If you're looking to elevate your casualwear wardrobe, or want to give your suits and separates a more modern spin, you'll sure to find something that appeals here.
Collars & Co
Collars & Co was founded on bugbear we can relate to. What's the point in spending money on expensive dress shirts (and then getting them dry cleaned) if you only wear them under knitwear or casual blazers in our increasingly business-casual workplaces?
The brand's solution: luxury polo shirts that do the same job for less, and which you can wear with more freedom, too.
Collars & Co's collection includes plush polos with a range of dress-style collars, colours and patterns. And four-way stretch fabric ensures they're more comfortable than your stuffy dress shirt, too.
The Resort Co
The warmer months are prime time for the polo shirt and so one of the first names on the list is The Resort Co, which has been quietly building a dedicated fan base thanks to its premium resortwear.
The aesthetic is that unique brand of European Riviera minimalism, otherwise known as quiet luxury, and the polo plays an integral part of the look.
Its knitted polos are cut from a beautifully soft organic cotton in both short and long-sleeve versions, but it's the terry cloth versions that we're backing up the truck for – super-soft terry towelling with an open collar and single chest pocket, they would look right at home at a relaxed St Tropezienne lunch spot.
Luca Faloni
There are sports polo shirts and there are luxury polo shirts, and Luca Faloni sits squarely as a maker of the latter. Faloni's luxury credentials go without saying, given the brand's uncompromising 'Made in Italy' approach that uses skilled artisans from all over the country.
It's also evident from the fabrications used that quality and provenance are everything. Its summer polos therefore are pretty hard to beat from a stealth wealth point of view, constructed from fabrics such as classic cotton piqué, a silk and cotton blend, cashmere, and linen from one of Italy's oldest linen mills, all with zero visible branding.
These are polos designed to be worn with suits and separates in that inimitably Italian 'sprezzatura' way.
Aurélien
When you say the term 'Dutch masters', it usually conjures up names such as Johannes Vermeer, Frans Hals and Rembrandt, but in today's menswear vernacular, you're more likely to think of Aurélien, the super-chic quiet luxury brand producing some of the best value modern minimalist attire on the market.
Using fabrics such as cashmere, linen and organic cotton to craft beautiful garments with a contemporary tailored aesthetic, Aurélien has quickly developed a loyal audience, and you only have to take one look at its Cashwool polos to understand why.
That's not taking anything away from its three-button linen polos, but the ribbed Cashwool designs are next-level elegance, and look and feel far more expensive than they actually are.
James Perse
If you're a regular reader of Men's Flair, you'll know that we're big fans of Los Angeles-based James Perse's unique brand of modern luxury minimalism.
Perse's aesthetic is unwaveringly dark, rooted around a fabric-first concept to create everyday essential menswear silhouettes, of which the polo is most certainly one.
Perse's polos are cut for athletic builds, using an eclectic array of fabrics such as slubby linen and the brand's 'Lotus' cotton jersey sourced in Japan. Perfect for a laidback sporty vibe, or a great addition to a monochrome quiet luxury wardrobe.
Sunspel
Sunspel, the brand preferred by everyone's favourite secret agent with a license to kill, has long been renowned for its luxury T-shirts and polos – and that doesn't look like changing any time soon.
The Riviera polo shirt, as worn by Daniel Craig in Casino Royale (2006), is the British brand's hero product, constructed from a unique supima cotton mesh (which uses long cotton fibres for extra durability and is sustainably sourced from a single farm in California) and featuring an elegant two-button placket.
It's available in a wide variety of colours, and we love every single one of them.
Ralph Lauren
How could a luxury polo shirt article not include the brand that effectively transformed the garment into a must-have item the world over?
Ralph Lauren turned what was a simple sporting silhouette in 1972 into a fashion garment thanks to some very smart marketing and that small iconic logo of a polo player.
Now constructed from a breathable and lightweight cotton mesh, Mr Lauren's polo shirts come in a huge variety of colours and fits, and while they may not have the 'luxury' credentials of some on this list, it's hard to topple one of the originators.
Vilebrequin
Luxury swimwear brand Vilebrequin is best known for its vibrant ocean print swim shorts that dial up the summer colour volume, so it's no surprise that the label has produced a polo shirt collection that's not exactly shy and retiring.
Vilebrequin has constructed a number of different styles, among them a series of bright block-colour options with buttonless plackets in organic cotton piqué, as well as a truly unique 'colour-changing' style that uses a weaving technique which brings out reflective highlights, thus changing the shirt's tone in the sun and shade.
Oliver Spencer
Self-taught tailor Oliver Spencer is obsessed about fabrics. It's something that has helped him maintain a front seat at London's menswear scene for over two decades, all while pioneering a more sustainable approach to garment production.
His own unique blend of workwear and relaxed tailoring means the polo shirt plays a key role in his spring/summer collections, and they never disappoint.
You can expect organic cotton seersucker, terry cloth corduroy, slubby linen and waffle knit cotton jersey among his eclectic polo offerings each and every year. All will slip easily into a laid-back off-duty wardrobe.
Prada
With the creative direction coming in the form of both Miuccia Prada and Raf Simons, Prada's fashion cachet has climbed even higher in recent years. Still, the mainline collection form the Italian luxury brand rarely deviates far from its signature black palette and modernist silhouettes.
The polo shirt offering is given more room to breathe however, with cotton piqué and terry cloth styles at the entry level (the former of which also comes in an avant-garde longline version) and stunning silk polos for those willing to break the bank.
Just a little over $1,400/£1,400 gets you an admittedly stunning oversize polo in 100% silk with a three-button placket and a ribbed knit hem. To be worn with your even higher end suits.
Alexander McQueen
Although more regarded for its directional tailoring, Alexander McQueen has been adept at honing in on hyped garments, such as the chunky sole sneakers that have quickly become a fashion editor favourite.
McQueen's polo shirts are no different, thanks to this season's harness motif and selvedge logo tape details. The shirts themselves are constructed from a cotton poplin.
There's also a more classic style that has been crafted from a loose knit cotton mesh with ribbed trims and a wide spread collar, which will provide a contemporary edge to a smart summer wardrobe.
King & Tuckfield
It's a bold statement but we're going to say it anyway: King & Tuckfield, the small British brand headquartered in East London, makes the best knitted polo shirts anywhere in the world.
Everything from the style to the construction and fit is carefully considered, plus they just look cool. From the diamond curved-placket polos to the textured open-placket polos via the crochet shawl collar polos, they just ooze contemporary style and sophistication, with more than a drop of nostalgia in the aesthetic.
Made from 100% merino wool, the polos come in a light and bright colour palette that you can't help but love.
Fred Perry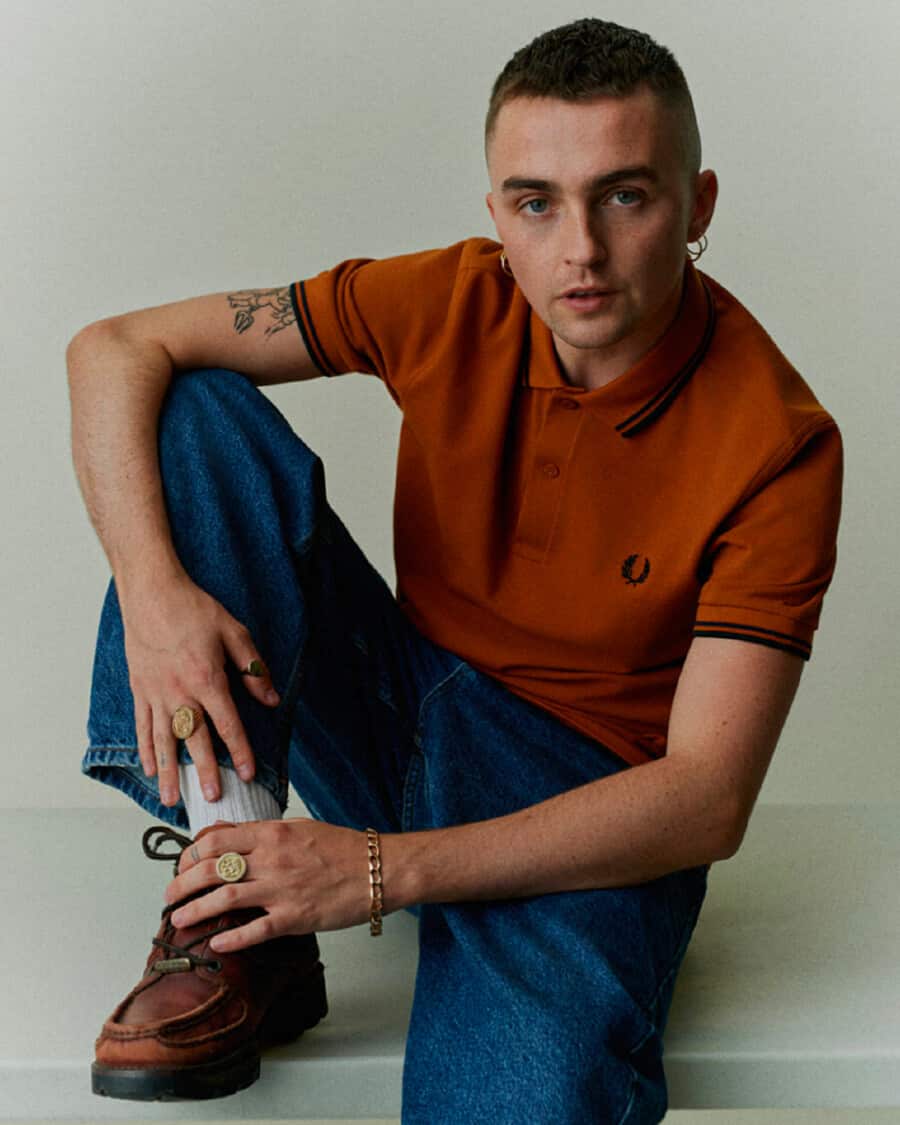 Like Ralph Lauren and Lacoste, Fred Perry brings an undeniable authority to the menswear scene thanks to its iconic polo shirts, which it has been making for decades.
With a rich heritage in tennis, as well as taking pride of wardrobe space in many a Mod household, Fred Perry's polos reference the original athletic silhouette, and are typically constructed from cotton piqué for a lightweight, breathable finish.
With a two-button placket, twin stripes on the collar and sleeve hems, and that iconic laurel logo, Fred Perry's polo shirts are a modern sporting classic.
Lacoste
While the roots of the modern polo shirt hark back to colonial India, French tennis legend René Lacoste is largely credited for making it truly popular to the masses.
Looking for a competitive edge, Lacoste upgraded his kit with a cotton piqué shirt with short sleeves, which thanks to its open weave and flexible construction, afforded him increased comfort and manoeuvrability on the court.
He was also one of the first sportspeople to understand branding, using his nickname, 'Le Crocodile', as the inspiration for his logo. The rest is history.
Although the company produces a number of different styles now, the original L.12.12 in a plain block colour and soft petit piqué is still the best.
Gucci
If you are looking for a simple understated polo shirt you can wear with a pair of chinos and boat shoes, then give Gucci a swerve. The Italian king of maximalism does not do 'understated', favouring instead a bold and nostalgic logo-rich aesthetic that has served the brand so well in the last five years.
Its polo shirts conform to the same script: expect plenty of styles featuring the interlocking 'G' logo, either in badge or geometric form, along with plenty of Gucci's twin red and green stripe motif.
They are available in a number of different luxury fabrications, from silk cotton to wool jersey via cotton piqué.
Burberry
Burberry's polo shirt collection represents a great distillation of modern Burberry: the iconic check jacquard represented in numerous ways, alongside pared-back oversized technical cotton styles and subtle monogrammed cotton piqué versions.
What is a constant is the use of exquisite fabrics, from superior cotton jersey to super-soft wool and silk blends.
Orlebar Brown
The King of resortwear made its name through its widely imitated Bulldog tailored swim shorts before branching out into a wider collection for which its summer polos are a major highlight. Foremost among them being the excellent terry towelling styles, which are the epitome of poolside chic.
Four other collar styles are also available, in a number of different fabrics too, from cotton jersey to lightweight linen.
If your holiday wardrobe featured no other brands but Orlebar Brown, you'd still be guaranteed to be the best-dressed guy at the resort.
Tom Ford
As you might imagine from a designer with such a chic heritage as Tom Ford, the American's small but perfectly formed offering of polo shirts is as sophisticated and luxurious as they come.
Don't expect patterns or graphic treatments – Ford's brand of luxury is all about the silhouette and the fabrics, such as micro-textured viscose silk, fine-gauge cashmere silk, fine-gauge merino, and of course cotton piqué.
Immaculately constructed and cut for a svelte silhouette, they are the perfect polos to dress down a smart tailored look.
Thom Browne
American avant-garde designer Thom Browne is renowned for his playful experimentation with proportion, most notably through his cropped suiting.
His four-stripe motif has also become an iconic emblem of the brand, which he uses to great effect throughout his casualwear pieces, including polo shirts.
From rugby-inspired stripes to intarsia knits birds and bees graphics, Browne's polos are eclectic in design and unique in silhouette, with a slim cropped fit accentuated by long narrow sleeves, and available in a range of cotton and merino options.
Loro Piana
Loro Piana produces some of the world's finest luxury fabrics, so suffice to say that it doesn't cut any sartorial corners.
One of the true icons of stealth wealth, Loro Piana's reputation is built on the quality of its fabrics, so of course its polo shirt collection is not going to be brash or logo-rich, but rather a supremely sophisticated expression of the Italian's manufacturing skill.
Simple elegance is the aesthetic, with stunning polos constructed from the softest slubby linen, as well as virgin wool and cotton-silk variations, with a colour palette that revolves around billionaire beige.
Canali
Canali is the master of smart Italian tailoring and has been for some time, so it goes without saying that the luxury house founded in 1934 would produce a tailored polo shirt collection of exquisite standards.
Naturally, Canali's polos are meant to be worn with suits and separates, hence why you'll only find fine-gauge styles cut with a slim silhouette so as not to bulk out the jacket.
We love the garment-dyed styles cut from a cotton-silk blend and featuring a subtle ribbed hem and sleeves, ideal for dressing down an elegant suit or injecting some high-end sophistication into an unstructured sports coat.
Cotton piqué as well as wool-silk blends round up a pretty faultless collection of polos.