7 Shoes That Work For Business Casual Dressing (And How To Wear Them)
The average office was becoming more casual long before the pandemic killed the work suit. So now that 'business casual' has been wholly adopted, what are the best shoes to have in your Monday to Friday rotation?
'Business casual' has been on the ascent ever since the 60s when the enterprising Hawaiian Fashion Guild invented 'Aloha Fridays' in a bid to sell more Hawaiian shirts. Dress-down Fridays, as they are more commonly known, was just a ruse, and a damn good one!
Nevertheless, in major financial districts at least, the hegemony of the suit still reigns in the city, even if the tie has seen something of a demise. But in most other industries, office life has most definitely taken a turn for the more casual.
Business casual, as it has come to be known, is a pretty loose genre of menswear that basically includes anything and everything that isn't a lounge suit on one side of the spectrum, and workwear and sportswear at the other. Shirts, chinos, sports jackets and fine-gauge knitwear are all permissible, and even smart selvedge denim jeans will get a pass on Fridays.
Back in the suit days, footwear hardly needed to be thought about: black Oxfords Monday to Friday. But business casual requires more dexterity when it comes to your shoes, so read as we break down the most suitable styles in 2023…
What are business casual shoes?
Business casual shoes encompass a pretty broad spectrum of both smart and smart casual shoes, from Derbies at one end to minimal sneakers at the other. If we're going to be restrictive, we'd say that Oxfords are too formal and fashion sneakers are too casual, but everything in between is fair game.
As a rule of thumb, if the shoes can be worn with a pair of tapered cotton twill chinos, they'll be good for most business casual looks. Boots are fine when they're somewhat refined, so rugged hiking and outdoorsy styles, as well as contemporary military silhouettes are typically a no-no, whereas sleek Chelseas, chukkas and dress boots are on the menu.
If you have any doubts, think about it like this: if you were about to walk into a room to schmooze a bunch of clients, would you feel confident in your footwear, or embarrassed by it?
The best business casual shoes for men
Monk straps
The monk strap shoe, with its recognisable side buckle(s) detail, is at the smart end of the business casual spectrum and is perfect to wear with smart trouser and blazer separates or an all-black look.
As the name would suggest, the monk strap shoe dates back to the European monasteries of the 15th century, when monks typically wore a strapped sandal that eventually morphed into a closed shoe to give them more protection when toiling in the fields.
Thus those early incarnations were very much designed as a rugged outdoors shoe, but the contemporary monk strap is a much more sophisticated style, constructed from a smooth leather upper with a single or double strap. The single version tends to look that little bit more formal than the double.
How to wear them
Our preference would be to opt for a burnished calf leather style in a dark veg-tan or black. Single or double strap are both fair game, so choose whichever you prefer. We're not averse to a tan suede style either, which you can wear more casually with tapered chinos or wool trousers in fall and winter.
The leather option is slick, but not nearly as formal as an Oxford, which enables you to wear them with dark tailored separates, or black tailored trousers with a knitted black polo. They're great for the days when you need to smarten up for an important client meeting but still want to introduce some flair to your look.
The best business casual monk strap brands
Northamptonshire shoemaking legend Crockett & Jones does a fantastic collection of single and double monks with leather soles in beautifully burnished calf leather, as well as buttery soft suede, so we'd definitely recommend you check them out first. Although not exactly cheap, they offer excellent value compared to some of the other Northamptonshire names, plus you're buying a shoe for life provided you look after it and have it resoled regularly.
At the more affordable end, direct-to-consumer brands like Velasca, Cobbler Union and Morjas produce high quality versions that stick to the same time-tested manufacturing techniques but come without traditional retail mark up due to the removal of the middleman.
Loafers
One of the most widely worn shoe styles, the loafer seems to have originated from two contemporaneous sources, the first being a London shoemaker called Wildsmith who created a pair of slip-ons for King George VI to wear around the palace in the early 1900s.
Around the same time, a Norwegian shoemaker, Nils Gregoriusson Tveranger had also designed a slip-on for outdoor use which proved popular in the US and was called a 'Norwegian moccasin'. It wasn't until the 1930s that American shoemaker G.H. Bass coined the term 'Weejuns' for its own brand of loafer, which remains largely the same today.
While the American loafer tended to be more robust in style, the European variant was a dressier casual shoe, which hit the big time in the 50s when Gucci designed its now-iconic horsebit loafer. Also around the same time, Belgium's shoemakers were getting busy with their own flexible variant, the Belgian loafer, which has become a hugely popular in recent years thanks to the Pitti Uomo crowd.
How to wear them
Although the loafer as a genre is typically regarded as a casual shoe, it really depends on the style. Belgian loafers for example, are almost slipper-like in their flexibility and softness but can be worn with smart separates, whereas a Weejun is a much more chunky and hardwearing option that would be better paired with chinos, a tee and overshirt.
The classic 'Gucci' horsebit style can come across as a touch spivvy, so you'd want to dress them down a little at the risk of coming across like an 80s New York stock broker.
Tassel and penny loafers are a matter of personal preference – what's more important is the leather quality. Opt for burnished calf leather if you're looking for a smart option, whereas a nice tan suede loafer will be all the more versatile with chinos during the week and denim at the weekend. A pair of brown suede Belgian loafers is the archetypical men's summer shoe that keeps on giving.
The best business casual loafer brands
For classic smart styles, all of the traditional British shoe brands are second-to-none, with Edward Green perhaps the cream of a very abundant crop. G.H. Bass is a no-brainer for those who love a collegiate preppy style, while the Belgian loafers of Belgian Shoes and Baudoin & Lange are both excellent.
In Italy, Gucci is of course your status choice, while Tod's Gommino moccasin is a perennial summer favourite. If you've the cash to splash, you certainly need to check out luxury shoemaker Santoni, whereas if you're on a budget, Scarosso provides fantastic value for money.
Derby shoes
The Derby, aka the Gibson, is basically defined by any shoe with the shoelace eyelets or quarters sewn on top of the vamp, creating open lacing. Originating in the 1850s, it was originally designed as a versatile and rugged hunting shoe but quickly found itself becoming an everyday casual piece of footwear, smart enough to wear around town.
These days, they come in many different guises and are always considered the casual alternative to the Oxford.
How to wear them
A Derby shoe's greatest asset is its versatility, neatly straddling the smart casual spectrum and hence making them an ideal option for Monday-to-Friday work looks.
Traditional styles in tan are great for dressing down but still look refined, pairing well with light-coloured chinos as well as selvedge denim, with suede styles dropping the formality a further notch. In fact, the suede Derby is a brilliant allrounder, especially for summer occasions when you need something more robust than a loafer.
If your style is based more around contemporary fashion trends, then the Derby will be right up your street – the chunky fashion-forward Derby has become a key shoe trend in recent seasons, with a huge variety of urban-leaning, military-inspired options to give your wardrobe a modern edge.
The best business casual Derby shoe brands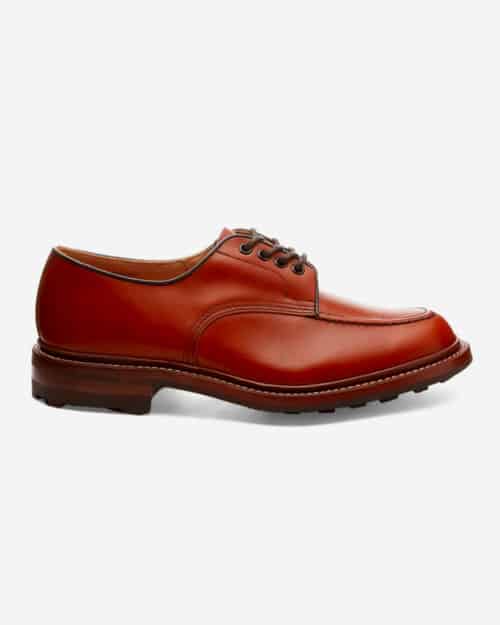 For traditional styles, Northamptonshire-based Tricker's handcrafts some stunning Derby options, as does bespoke shoemaker George Cleverley, but any of the legacy British shoemakers will do you proud.
French shoemakers Kleman and Paraboot are also well worth checking out. The former offers durable, workwear-inspired Derbies that have been worn by national institutions such as Air France and the French Army, while the latter's iconic Michael Derby, with its recognisable nose shape, teams well with everything from chinos to tailored wool trousers.
For fashion heads, the world is your chunky-soled oyster – brands such as Zegna, Alexander McQueen, Saint Laurent, Celine Homme, Bottega Veneta and Prada have all produced awesome iterations for a contemporary wardrobe.
Minimalist sneakers
It wasn't all that long ago that you couldn't even get into a club or bar with sneakers on, so turning up to the office in a pair would have certainly raised the eyebrows of your superiors. But the idea of sneakers being nothing but a sports shoe about-turned in the 2000s with the arrival of the minimal sneaker, led at first by Common Projects.
Roll the clock forward to 2023 and just about every fashion house in the world produces its own variant of the minimal sneaker, as well as there being a slew of specialist brands such as C.QP, Zespa, Oliver Cabell, Uniform Standard, JAK and many more.
Conforming to the classic tennis pump silhouette, the minimalist sneaker is sleek, free of embellishment, comfortable and very versatile, offering a modern edge to tailored trousers and chinos, thus being perfect for creative work environments.
How to wear them
Minimalist sneakers are probably the most adaptable style on this list, so it's difficult to get them wrong. Smart tailored trousers are a good match-up, especially in navy. Hence a relaxed, unstructured suit worn with a crisp white tee or polo shirt is a good combination.
Otherwise, classic khaki pants, an Oxford shirt and a cardigan is a timeless preppy outfit that works well with minimalist sneakers. For a more contemporary look, black wide-leg trousers in either cotton or wool are great with a pair of slick white kicks.
The best business casual sneaker brands
Of the specialist minimalist sneaker makers, you can't go wrong with the aforementioned C.QP, Zespa, Oliver Cabell, JAK, Uniform Standard and, of course, Common Projects.
The luxury fashion houses all offer high-end options that ooze designer cachet, but in our opinion the best come from Saint Laurent, Gucci and Alexander McQueen (for the chunky sneaker crew).
Veja gets a special mention for its vegan leather styles, too.
Brogues
The original country shoe, the brogue has crept its way into urban wardrobes over the years, and is similar to the Derby in terms of where it sits on the smart casual spectrum. Whereas once it would never have been worn on social occasions, brogues are now perfectly acceptable for business casual situations.
Broguing refers to the decorative perforations adorning the shoe. It can come in a number of different configurations, almost all of them with a toe cap, from full brogues (AKA wingtips) to semi-brogues and quarter brogues.
As a rule of thumb, the less broguing, the smarter the shoe. The most common colours are black, brown and tan, with oxblood brogues also proving a popular option in 2023.
How to wear them
Brogues tend to work best with heritage looks that lean more closely to the dressed-down end of business casual so think chinos and Oxford cloth button-downs rather than smart tailored trousers.
Tan styles work well with a more outdoorsy setup in neutral tones (think corduroys, flannel shirts and quilted jackets), so probably not ideal if your office is city-based.
Darker styles in black, brown and Oxblood work well with textural wool and flannel trousers, and complement relaxed tailored separates nicely. For those who prefer a more contemporary fashion look, chunky black brogues are a great way to add a smart twist to an all-black fit.
The best business casual brogue brands
Of the British heritage shoemakers, while all of them handcraft stunning examples of the traditional brogue, we especially like the styles coming out of Grenson and Tricker's – the latter of which makes a beautiful chunky country brogue that is perfect for a business casual look.
We're also big fans of Church's Burwood Oxford brogues as well as its Grafton Derby brogues, but expect to pay for quality.
Italian shoemaker Doucals is an excellent and more affordable option, and don't overlook designer brand's like Paul Smith, Dolce & Gabbana and Alexander McQueen, who regularly release contemporary brogues in their seasonal collections.
Chelsea boots
From its heyday in the 50s and 60s, the Chelsea boot took a back seat as sneakers began to dominate, but when it comes to business casual attire, they are an extremely dependable style.
Many brands have taken the Chelsea boot blueprint and run with it, creating chunky contemporary styles that swerve into the casual streetwear realm, but whether you're more of a classic dresser, prefer a rock 'n' roll edge or love your fashion labels, Chelsea boots new and traditional offer a versatile and timeless silhouette that you shouldn't be without.
How to wear them
Polished box calf leather, soft suede and occasionally vegan leather are the typical options today. More formal styles tend to come in leather with a beautiful burnished patina, whereas more casual boots will opt for a matte leather finish. Suede straddles the smart casual divide pretty well and is therefore a versatile option, black suede being smarter than the popular tan variety.
Traditional polished leather Chelsea boots, especially in black or burgundy, are more than smart enough to wear with tailored separates. Wider, straight-leg trousers tend to jar with the Chelsea boot's slim silhouette and are therefore best avoided.
The best business casual Chelsea boot brands
For traditional styles of Chelsea boots, we would thoroughly recommend the British trio of Crockett & Jones, Cheaney & Sons and Edward Green, all of whom produce stunning iterations at various price levels.
Santoni and JM Weston are great representations for Italian and French shoemakers respectively, while Australian bootmaker R.M. Williams produces a broad selection of more rugged styles better suited to offices with loose business casual dress codes.
To make a statement, we'd recommend paying Saint Laurent a visit: its iconic Wyatt is a mainstay of its footwear collection season after season and will bring a rock 'n' roll edge to any tailored look.
Chukka boots
The chukka boot's origin goes back to 1941, when one Nathan Clark was stationed in Burma with the British military. He observed that the local military men wore crepe-soled rough suede boots as part of their uniform, and discovered that they came from a bazaar in Cairo, Egypt.
So he picked up some pairs, took them back to Somerset, and four years later launched a suede boot that has become a classic. Given that the chukka is invariably constructed from suede, it's generally regarded as a warm-weather shoe, and offers a great way to bring a soft textural element to a business casual look.
How to wear them
Chukka boots are extremely versatile summer boots. The standard colours range from a dusty grey to dark brown, with light khaki styles tending to be the most popular.
With a preppy aesthetic, they're a natural fit for khakis, chinos and selvedge denim jeans, combined with a shirt or polo, but are probably not an option for offices that require a more formal approach to the dress code.
That said, this is the type of relaxed boot that works great with an unstructured suit, particularly in textured fabrics such as flannel, cord or linen.
The best business casual chukka boot brands
Almost every footwear brand on the market now makes its own version of the chukka, AKA desert boot, but for originality and value, Clarks is still the top of the pile.
Look for a soft suede upper and a natural rubber crepe sole for a traditional aesthetic and you can't go wrong. Clarks is great value for any type of boot, but if you want to splash out, then the styles by Scarosso, Henderson Baracco, Tod's, Officine Creative, Brunello Cucinelli and Tom Ford are all worth checking out.